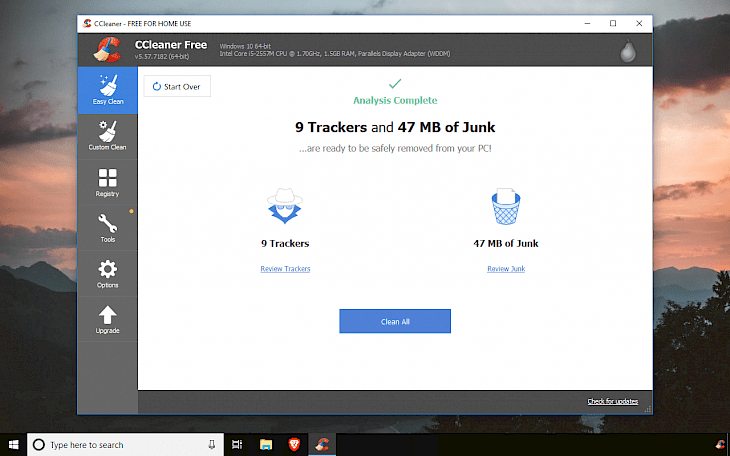 Download CCleaner Free
CCleaner Free is one of the most popular software to clean your PC from temporary files, memory dumps, browser cache, Windows log files, registry errors, and more. Moreover, from the app Tools menu, you can uninstall apps, find duplicate files, wipe a drive, etc.
CCleaner is a simple tool with the option to remove leftovers and not used files by Windows components, and installed software.
Use the cleaner to delete Internet cache and history, cookies, download history, las download location, sessions, recently typed URLs, Run (in Start Menu), Thumbnail cache, Taskbar Jump Lists, Windows log files, memory dumps, temporary files, DNS cache, desktop shortcuts, Windows error reporting, passwords, etc.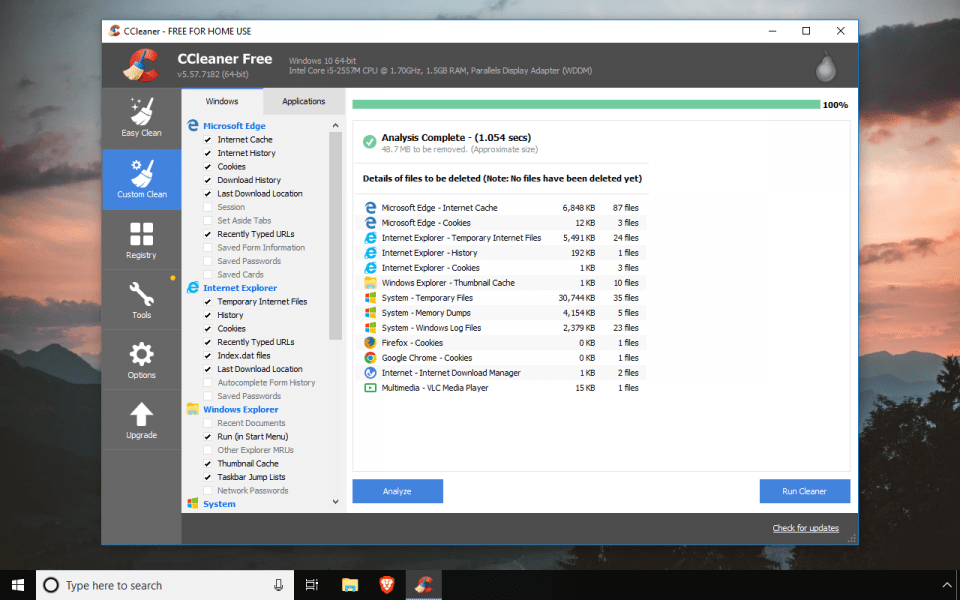 The app can clean the current user's account only.
Advanced features allow you to wipe free space, delete tray notification cache, menu order cache, old prefetch data, Windows event logs, environment path, user assistant history, custom files and folder, and windows size/location cache.
Moreover, the cleaner can recognize files created by popular software including Daemon Tools, Windows Media Player, eMule, Avast Free Antivirus, Google Toolbar, Microsoft Office, 7zip, Adobe Acrobat, WinRAR, WinZip, Mozilla Firefox, Google Chrome, Maxthon, Chromium and more.
The program offers also a built-in registry cleaner. This tool allows you to scan for issues in Windows registry entries regarding missing shared DLLs, unused file extensions, ActiveX and class issues, type libraries, applications, fonts, help files, application path, installers, run at startup, start menu ordering, MUI cache, sound events, Windows services, etc.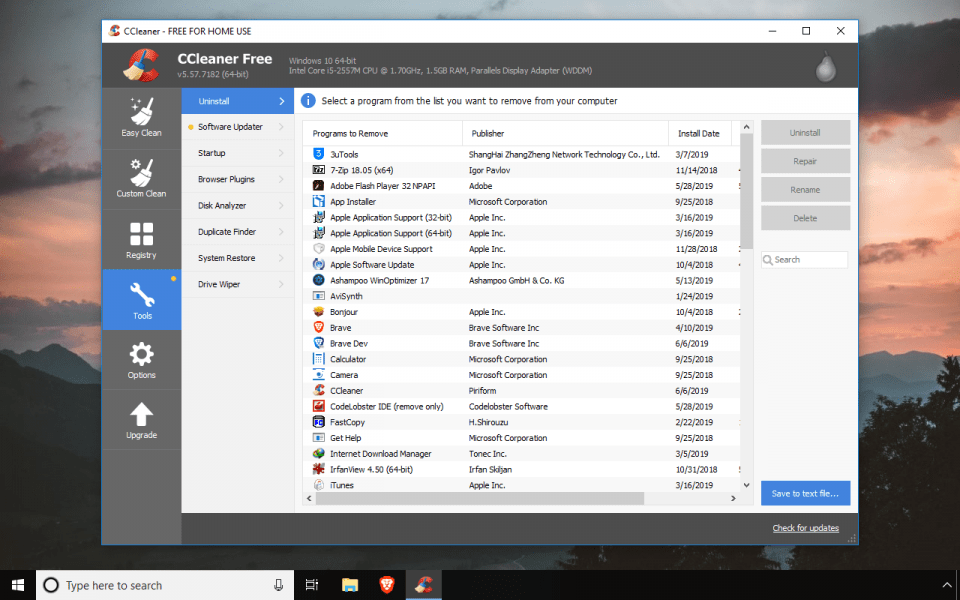 Easily fix problems with the registry and create a backup of the registry before making changes. CCleaner Free download is available for Windows and Mac users.
The free cleaner is packed also with useful system tools. You can repair, delete, rename, or uninstall unused apps, and generate a TXT report of installed programs. There is also a Startup manager, allowing to delete, enable, or disable programs that run when your computer starts, edit a Scheduled task and manage Windows Context Menu.
Other tools available in CCleaner Free include a disk analyzer, duplicate file finder, system restore manager, and drive wiper for secure erase of the entire drive or free space only.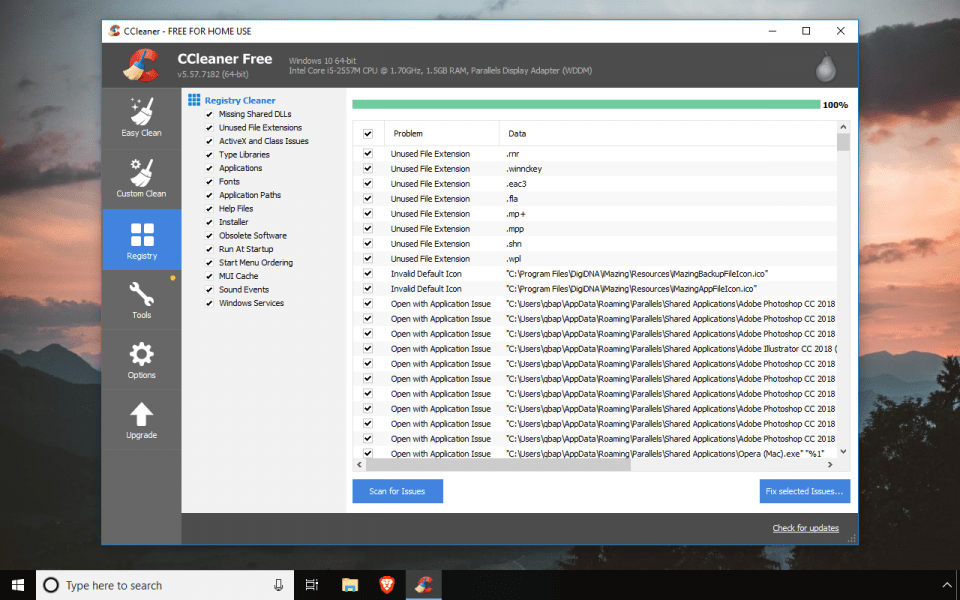 CCleaner by Piriform is my must-have software for PC users to optimize, speed-up, and clean the Windows system. The software is available in a free and professional version. In my opinion, CCleaner Free offers everything that would average user expects.
Clean your system from unused files, scan registry for errors, uninstall apps, manage system startup, find duplicate files, analyze disk, or secure delete files from your hard drive. CCleaner offers it all and it's available for free. If you are looking for a simple and fast tool to take care of your privacy CCleaner Free is the men for the job. In a few clicks, you can clean traces of your work in the system, remove browser history, opened documents, and apps, etc. CCleaner for Mac offers a similar experience but the software is packed with fewer features.
Command line examples
You can use the cleaning tool from the command line in silent mode. When you run CCleaner.exe using the /AUTO parameter, CCleaner Free does not run the Registry cleaner. You cannot run the Registry cleaner through a command-line parameter.
Run CCleaner silently, using default settings

ccleaner.exe /auto /shutdown
Secure delete of files in CCleaner

ccleaner.exe /delete C:\CCleaner\*.*|D:\CCleaner\file.png /method (0-3)
Restore Registry Backups
Registry backup files created by app are saved as .REG file in My Documents folder. To restore registry settings simply navigate to this folder, and double click on .REG file to confirm. You must be login as administrator to restore registry settings.
CCleaner Features
If you like to have more control about how the cleaner works go to the Options tab. You can select there default secure deletion method, add "Run CCleaner" option to Recycle Bin context menu, set the cookies you want to keep, add or exclude selected files and folders to be removed, skip users account control warning, close program after cleaning, display advanced reports, save all settings to INI file, minimize to tray, etc.
Registry Cleaner

How to clean the registry using CCleaner Free? It's really simple. Navigate to Registry item from the menu, and click Scan for Issues. When the program will find errors in Windows registry you fix them by clicking Fix selected Issues button.
CCleaner Pro
CCleaner Free is the basic version of CCleaner Pro. When you will buy the Professional edition you will access additional features.
What can you expect from Pro version?
For example, instant product updates, automatic functions to keep you from running of free space, scheduled cleaning, option to detect and remove internet trackers, more advanced cleaning options, real-time monitoring, and private browsing history.
Start a free 14-day trial of Professional version and activate this possibility from the Options menu.
CCleaner Professional Plus
Professional Plus is a marketing name for a set of tools to clean, optimize, and speed up your computer with complete PC optimization and recovery toolkit.
Professional Plus offers CCleaner Pro, Defraggler, Recuva, and Speccy software. You can download the software separately from our software hub.
CCleaner for Mac

CCleaner offers a similar workflow on Mac computers. You have access to Cleaner module allowing you to find and delete internet cache, cookies, sessions, download history, recent documents, recent applications, logs, recent places, directory service cache, etc.
Mac version can also recognize 3rd part software, and find files that can be safely removed from the system. The Tools section in CCleaner for Mac offers simple software uninstaller, Mac OS startup manager, and free space eraser. CCleaner for Mac is available in Free and Pro edition.
CCleaner for Android
The app can also optimize Android devices in seconds. CCleaner for Android can remove junk files, reclaim free space, and is packed with system monitor of used storage and RAM. You can also use this tool to uninstall multiple unwanted apps for the Android system.
The Android version works with Android tablets and smartphones. There is also an option to stop running tasks with Task Killer, and App hibernates feature to stop apps from running in the background.
Frequently Asked Questions
Is CCleaner safe?
Yes, using CCleaner is 100% safe. If you are not an advanced user simply use the default CCleaner settings to clean your PC. I had never problems with using this software on my Windows PC. CCleaner download contains a simple installer that will help you to start.
How to add new programs to CCleaner?
If you like to add support for more applications compatible with CCleaner please use free software CCEnhancer. This small tool will add support for over 1,000 new programs into the CCleaner. CCEnhancer uses the winapp2.ini system built-in into CCleaner to easily add new rules and definitions for programs.
Why should I want to erase free space?
The erase free space feature available in CCleaner allows you to remove files from the hard drive, that you already removed. There are recovery programs that can recover deleted files. Erase free space function will make it much harder to recover data from your hard drive.
Will CCleaner make my computer faster?
Yes, CCleaner can make your computer run faster. The result depends on individual system parameters. CCleaner is a PC cleaner and optimization tool. If you will remove not needed files from the system it can increase the speed of Windows.
Should I use the analyze function before cleaning?
CCleaner offers an Analyze feature before deleting files. It's a good idea to use it to review files that CCleaner will delete when you run cleaner. Sometimes you can files that you would like to save or move to a different location.
CCleaner updates
CCleaner Free doesn't offer an auto-update feature. If you like to have the newest version of CCleaner, what is recommended, visit our software hub for CCleaner Free updates. Usually, a new version is released once a month. We always provide a link to the actual version of CCleaner.
Supported languages
CCleaner is available in 47 languages: Albanian, Arabic, Armenian, Azeri (Latin), Belarusian, Bosnian, Brazilian Portuguese (Portugues do Brasil), Bulgarian, Catalan, Chinese (Simplified), Chinese (Traditional), Croatian (Hrvatski), Czech Danish, Dutch (Nederlands), English, Estonian (Eesti keel), Farsi, Finnish (Suomi), French (Français), Galician, Georgian, German (Deutsch), Greek, Hebrew, Hungarian (Magyar), Italian (Italiano), Japanese, Kazakh, Korean, Kurdish, Lithuanian (Lietuviu), Macedonian, Norwegian, Polish (Polski), Portuguese (Portugues), Romanian (Romana), Russian, Serbian (Cyrillic), Serbian (Latin), Slovak, Slovenian, Spanish (Espanol), Swedish (Svenska), Turkish (Türkçe), Ukrainian, Vietnamese. You can change manually the language from CCleaner Option menu, under Settings Tab.
System requirements
Windows 10 (all editions, including 64-bit)
Windows 8/8.1 (all editions, including 64-bit)
Windows 7 (all editions, including 64-bit)
Windows Vista (all editions, including 64-bit)
Windows XP (all 32-bit and 64-bit)
Windows Server 2003, 2008 and 2012 (all editions)
You might also like