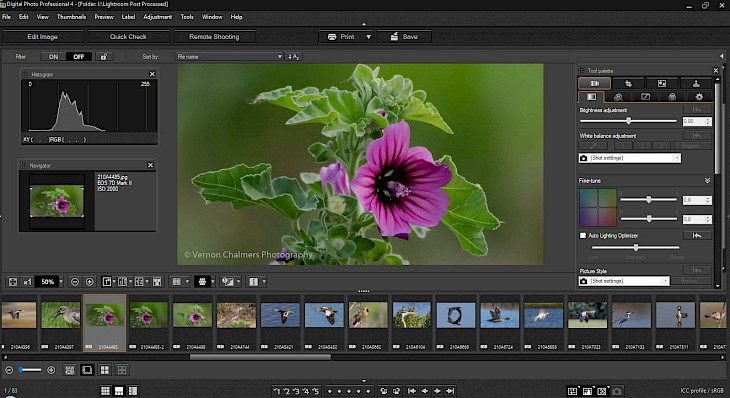 Download Canon Digital Photo Professional
Canon Digital Photo Professional (DPP) is a famous high-performance program for processing, displaying, and editing RAW images for EOS digital cameras and RAW-capable PowerShot models.
Using Digital Photo Pro, simple and advanced editing and printing of RAW images can be done quickly. The picture rotation, white balance adjustment, dynamic-range adjustment, color adjustment, and fine-tuning of tone curve characteristics are an example of the available editing functions.
Using the International Colour Consortium (ICC) Profile, Canon Digital Photo Pro supports sRGB, Adobe RGB, Wide Gamut RGB, and Colour Management System (CMS). In the original software setup for your Canon camera, Digital Picture Pro is included.
Features of Canon Digital Photo Pro
The remarkable features of Canon Digital Photo Pro are mentioned below.
Color Adjustment Pallete
For eight individual color games, a new color adjustment palette enables hue, saturation, and luminance adjustment, allowing the user to change one particular color in isolation without affecting the image as a whole. This is especially helpful when changing background tones in portraits, where for example, there could have been a possibility of giving a color cast to skin tones previously.
Improved Highlighting
Canon program developers have re-engineered the processing algorithms to improve tonal rendering independence. It is now possible to replicate tones such as those in clouds and people's faces that would have previously seemed washed out by changing highlights.
Supports Dual Display
DPP 4.0 enables a secondary monitor to be used as the preview window on the main display for those photographers with dual monitors. Although the main display can be used to make delicate changes, it is possible to use a secondary camera window for images as a magnifier to inspect part of an image more closely.
Enhanced Integration of EOS Utility
An improved EOS Utility 3 arrives with the launch of Canon Digital Photo Pro 4.0 and the two pieces of software now provide better integration. The implementation of EOS Utility 3 allows the camera to be activated directly from the DPP tool palette and access to all other remote shooting features of the EOS Utility without the need to launch a separate program, making for a more streamlined and optimized workflow.
OS Support & Camera Compatibility
DPP 4.0 is compatible with Canon's existing full-frame DSLR range at launch, including the EOS-1D X, EOS-1D C, EOS 5D Mark III, and EOS 6D. An upgrade to DPP 3.14 will be released for other versions.
Download & Install Canon Digital Photo Pro for Windows PC
Download the updated version of Canon Digital Photo Pro by visiting the official Canon website. You can even do that from any other affiliate website on the net. Once you have downloaded the Canon DPP setup files, run the setup installer to install the software on your Windows PC.
After installing Canon DPP on your system, you can easily launch the program to start editing the photos you have clicked effectively. Enjoy bringing out the real beauty from within your pictures by editing them with Canon Digital Photo Pro!
You might also like