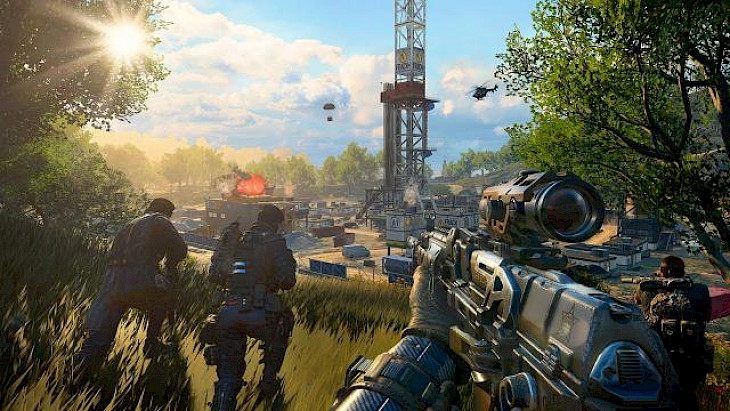 Download Call of Duty: Black Ops 4
Shooting games haven't changed drastically in the past decade or so, however, the storyline and way the game is implemented is quite different from one title to another. Every shooting game has one clear objective, which is to find enemies and kill them. It's much more prominent when you play games on a computer than on a mobile phone. Though other distinguished shooting title offers some great gameplay and storyline, few come out of their comfort zone and offer much more. If you are someone that is looking for the same, then we have one exciting title up for you today. Check it out.
What is Call of Duty: Black Ops 4?
Call of Duty: Black Ops 4 is a shooting game that takes things to the next level. Instead of offering games that have a concrete storyline where you have to fight people in an imaginary universe, this version of COD offers different gameplay methods that make it quite interesting and exciting at the same time. The game is made exclusively while adhering to the battle royal, multiplayer, and zombie modes that it offers. Unlike the traditional call of duty games, this game steps out of its boundaries and goes up and beyond in providing a surreal fighting and shooting experience.
Key Features of the Game
In battle royal, you have matched with 100 other players on a map. Your objective is to find all of them and kill them before they kill you. You get guns and other ammunitions from houses and exciting drop packages that fall occasionally. You have vehicles and other special ammunition that can be used to have the edge over others. It's exciting, and you have to keep playing and pushing hard to kill everyone as the zones in the maps keep shrinking, moving everyone closer to one another.
It's not the traditional multiplayer, but these are timed ones. It's where you can play with your friends and have a match off with five other players. You can play for the faster kills, the highest number of kills, domination, ranked matches, and much more.
It's quite self-explanatory as to what you have to do here. Kill zombies and its fund. Although the more zombies you kill, the tougher every level gets.
Minimum System Requirements
CPU – Windows 7 or higher

RAM – 8GB or higher

Storage – 25GB or higher

Network – 1MBps or higher

Graphics card – GTX 660 or higher
How to Download and Install Call of Duty: Black Ops 4 on PC
The game is available on multiple online game stores that have the game. Though it's available, you will have to buy the game.
Once bought, open the downloaded contents and set up the installer. The installation might take several minutes to complete.
Once installed, enjoy playing the game as per your preference.
You might also like