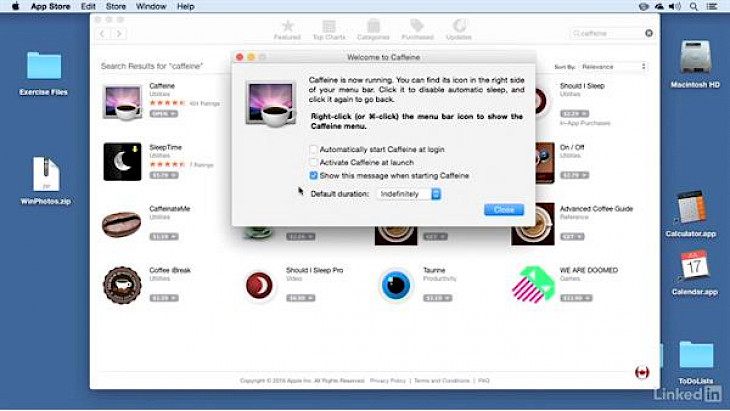 Download Caffeine
Ah, coffee...the world's greatest power booster. Regardless of whether you drink coffee or not, you know the power that is layered in its liquid. It douses a steaming wave of energy over you, jostling your drowsy senses to wake. Although carbonated drinks inhibit the same secret ingredient, they are not as intensely refreshing as coffee is. Just like humans, computers tend to shut down during long periods of inactivity. It is particularly irritating when there is a long process going on in the CPU. The shutdown halts the process and you need to resume it when the system wakes from its nap. It is therefore ideal the computer get its dose of caffeine to stay awake.
Caffeine software is designed to serve that very purpose. It hinders the computer from slipping into sleep mode. This way, your processes can run for as long as they like in the background. With regular shots of Caffeine, the computer will stay awake for as long as you need it to be.

Key Features Of Caffeine
Runs In Background
Regardless of whether you switch it on or off, Caffeine will stay mute on the system. You can find its icon i.e. an empty cup of coffee lying in the system tray. Whenever you require the system to run for a long period of inactivity, you can switch the app on from the control panel. It will start feeding the system occasional cups of coffee that deter it from sleep. Since it works quietly in the background, you can peacefully continue with your work.
Customization Available
Set the number of hours you would like the computer to fight off sleep. Configure the time interval of caffeine shots. You can set it to once every minute or every five minutes. By default, Caffeine will be enabled. But if you wish to disable it, you can do so by toggling the switch from the control panel. You can also toggle it by pressing the F15 button on your keyboard.
System Requirements Of Caffeine
Ensure your system meets the given requirements for the software to run smoothly
It should have a Windows XP/Vista/7/8/10 operating system (64-bit).

The embedded processor should be either Dual Core Intel or AMD with 1.5 GHz processing speed.

It should be enabled with NVIDIA 750 or AMD 290 graphics card.
How To Download It On PC
Click on the download button next to the software's description. You will be directed to another page. Here, the software's zip file is downloaded automatically.

Extract the contents of this file to a desktop folder. Then run the exe file that you find in it.

Follow all the installation instructions in the setup window. When you finally click 'Finish', Caffeine will get installed on your system
You might also like