Start BWMeter download now, for free!
What is BWMeter?
BWMeter is a small utility designed to control and monitor incoming and outgoing transfers. The program supports such connections as LAN, WAN, VPN, ADSL, xDSL modem or dial-up. Download BWMeter trial version for free. The app offers support for Windows 10.
BWMeter features include a graphical and numerical display of bandwidth, option to shows hostile internet traffic (hackers, viruses, etc.), Ping support for monitoring web servers, monitor all network interfaces and adapters, control Traffic and access control and speed limits, display alerts and notifications, monitor and display all traffic on the network, filter by network address, port, application and much more.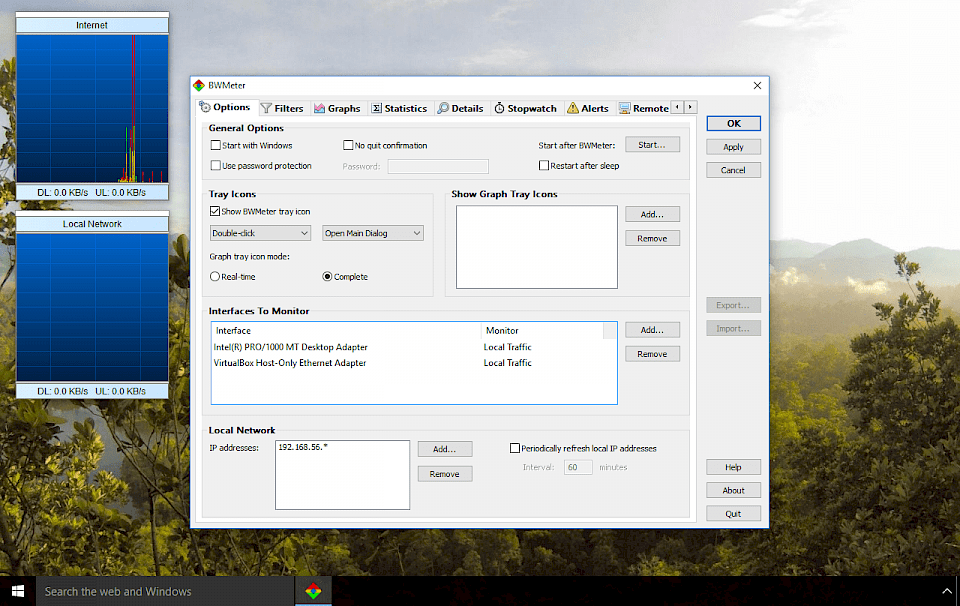 BWMeter offers some advanced statistic features. Using the software you can create daily, weekly, monthly and yearly statistics, show statistics of other computers running BWMeter, create statistics of all local network and internet traffic, and even export and import statistic data. BWMeter allows you also to restrict access to specific Web sites, filter data by the used transfer from various applications running on the system or analysis open ports.
BWMeter offers the ability to block Internet access for selected programs (firewall function), limit download and upload seed used by specific app or display detailed information about the packets of data.