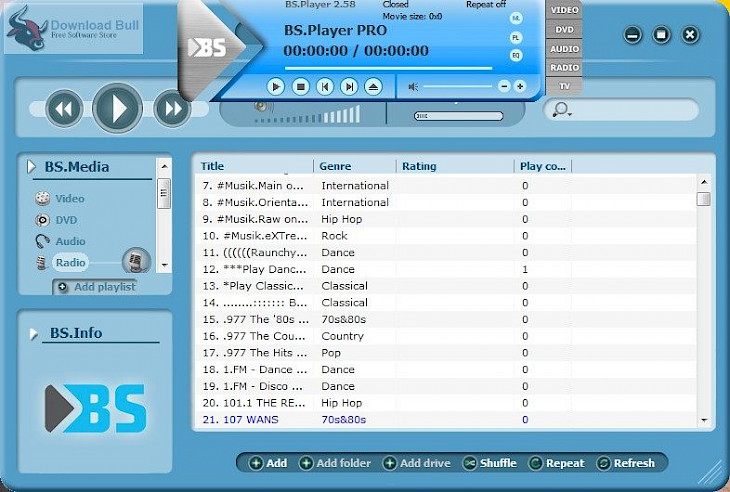 Download BS.Player
Media files including movies and videos are a great source of entertainment. These files or videos are put up on various websites. People use these online sites or platforms to download their favorite content in formats that are not supported across all platforms. Sometimes you may not have a powerful system to run the content of your choice. To resolve this issue, BS player is launched. Developed by BS global organization, it is a free media player that is considered as one of the best media players on the market that supports high-quality playback of every existing format.
BSPlayer is a reliable platform used by millions of users worldwide and it has been translated into more than 100 languages to date. This fantastic software has a trusted user base in different countries and fortunately, it does not use much processing power which makes it suitable for all those who use slightly less capable computers and still willing to watch high-quality content. The software provides a tremendous user experience and this will not be disbursed by any annoying technical problem.
This excellent media player platform is also an AVCHD player and enables the users to display advanced video codec high definition (AVCHD) video format movies used in digital tapeless camcorders. BS.Player can automatically search and download the missing subtitles for currently playing content if it is available.
FEATURES
Playlist support
The playlist support provided by this platform is quite awesome. They can be imported from BST and M3U records, saved, edited, and added to new files from any holders and URLs as well.
Display subtitles
Apart from the basic functions including the font type and size application, this fabulous platform also supports many others like shadows, outlines, subtitle locations on the screen, and more. You can even fix the bad subtitle timings within the program itself by using the simple keyboard shortcuts.
BS.MediaLibrary
To manage your multimedia files easily, you can list all your media files in the BS.MediaLibrary. You can access your files anytime, they will be within your reach.
Resolution changing
You can avoid the oversized picture by using the resolution changing feature available on this fantastic platform. BS.Player allows the users to adjust their TV resolution and optimize the quality of movie reproduction.
Fully skinnable
The modern looks and interface of this software is quite fascinating for the users. The developers include the easy skin selection option and enable the users to customize skin of their own choice.
How to install BS.Player on your PC?
BS.Player is a stunning media player platform that you can use on your system to watch your favorite movies and videos. To install this application on your device, follow the instructions and guidelines described below.
Step 1: It is always preferred to install this software from the developer's official website. To visit the official site, click http://www.bsplayer.com/.
Step 2: Alternatively, open your browser and search "Download BS.Player for Windows" in the search box.
Step 3: Now, you will get a list of websites on your search result page. You can select any trusted website like filehorse.com to download the setup or .exe file of this software.
Step 4: Once you have downloaded the setup file, follow the step-by-step guidelines and instructions to start the installation process and run this software on your system.
Step 5: After following all the steps, click on finish, and now you can use this fantastic software on your Windows operating system.
You might also like