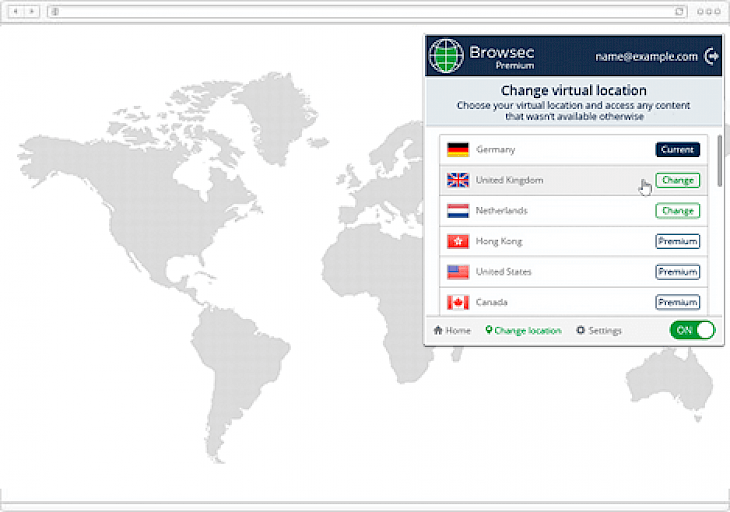 Download Browsec VPN
Data protection is one of the very crucial concerns of all those individuals who are internet savvy and spend most of their time on internet research. Browsec VPN is a reliable and popular chrome extension that you can use to enhance the productivity and browsing security of the users. It is a one-click solution that helps you to browse safely and bypass various regional restrictions on the web. This fantastic platform encrypts all your traffic and protects your data from various malicious sites and third parties that may be willing to steal your data.
Browsec VPN is compatible with all the latest chrome versions, users can also access it with many chrome browsers, firefox, opera, and more. It provides a tremendous user experience and will transform the way you access the content online. Various websites may be blocked in your home region, you can legally access these sites on your operating system.
Like other relevant security solutions, it enables the user to browse the web by rerouting all of your uploads and download streams via a secure virtual location that masks your real identity or presence, this will fool the target website and as a result, you can access any content available on various online platforms. Most of the data flowing through the VPN is encrypted on the fly, which would prevent even your ISP from knowing what data is flowing in and out of your browser.
Fortunately, the free version of this excellent software is available for all users of chromium browsers and other compatible browsers and portable devices, but the free version has some limitations compared with the premium version. If you are a free user then you will get access to four servers located at the most popular VPN locations in the world including the Netherlands, Singapore, the United Kingdom, and the United States with an access speed of 1Mbps.
FEATURES
It is excellent software that is a full-featured and streamlined VPN solution for all Chrome browser users.

Fully encrypted data transfer.

Browsec VPN enables the user to gain privacy against data sniffers, ISP monitoring, government oversight, and malicious websites.

You can browse anonymously without showing your identity and home location.

The installation procedure is very easy. You can successfully install the software on your device in just a few clicks.
How to install Browsec VPN on your Windows Operating System?
Browsec VPN is a reliable platform that you can use on your PC to perform internet research freely and safely. The PC version of this software is conveniently and easily available on various trustworthy websites. To install the software on your operating system, follow the steps and guidelines described below.
Step 1: It is always preferred to install this software from the developer's official website.
Step 2: Alternatively, open your browser and search "Download Browsec VPN for Windows" in the search box.
Step 3: Now, you will get a list of websites on your search result page. You can select any trusted website like filehorse.com to download the setup or .exe file of this software.
Step 4: Once you have downloaded the setup file, follow the step-by-step guidelines and instructions to start the installation process and run this software on your system.
Step 5: After following all the steps, click on finish, and now you can use this fantastic software on your Windows operating system.
Browsec VPN provides a 7 days premium trial to the users.
You might also like