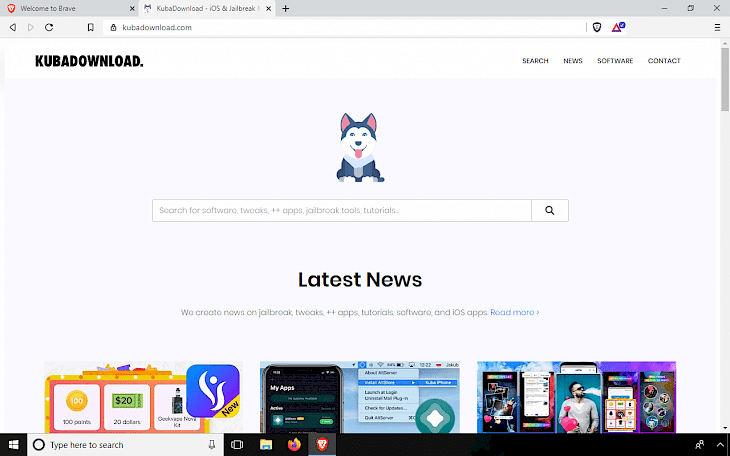 Download Brave Browser
Download Brave Browser for Windows, Linux, and Mac. The program works on a 64-bit system and was tested to operate from Windows 8 and up to Windows 10, and macOS 10.13 High Sierra or above, and Linux Debian 9+, Ubuntu 14.04+ and Mint 17+. Brave can block ads and trackers that follow you around.
Brave is a free browser-based on Chromium created by Brendan Eich, the co-founder of the Mozilla Project and creator of JavaScript. The browser was created to improve online privacy on Mac, Windows, and Linux by sharing less data with advertising customers and allow users to earn money.
Popular sites host as many as 70 trackers. The Browser blocks the software that follows you around. The "private" or "incognito" browsing mode that others offer is not truly private. Those tabs mostly stop other people that use your device from seeing where you've been. Brave's private tab stops trackers and with the feature "Tor in the tab," providing even deeper privacy.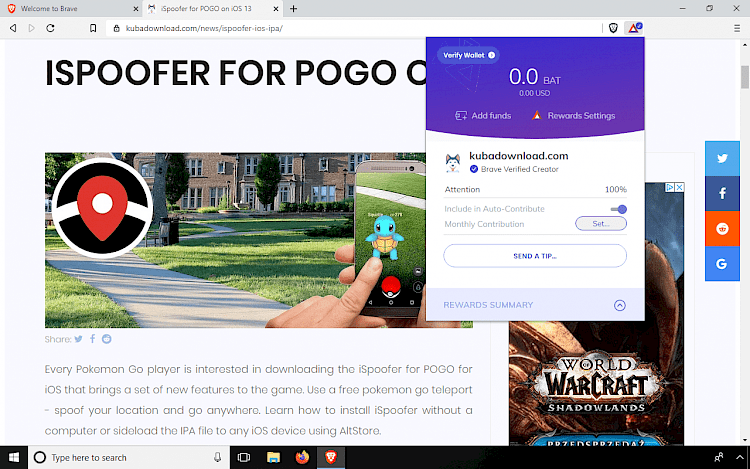 By default, the browser blocks trackers and ads so you can browse the web faster and safer. In other browsers, you can add ad blocking extensions but they still allow display some ads and all trackers. Brave Browser solves this issue.
You can check statistics of blocked elements and you have access to advanced settings where you can define if you like to use HTTPS everywhere, blocks scripts, 3rd part cookies, ads, phishing and malware components, etc.
The Browser offers also a Brave Sync option that allows you to sync encrypted browser data between your devices. The other advantage of a web browser is saving about 5 seconds of load time per page on a typical cell connection by not downloading ads and trackers. Desktop users see similar savings. You can download Brave for Windows, Linux, and Mac.
Extensions are programs that live and run directly on the browser. They do not require installation on your computer and do not require a system restart the way traditional programs often do. The browser supports extensions from Chrome Web Store.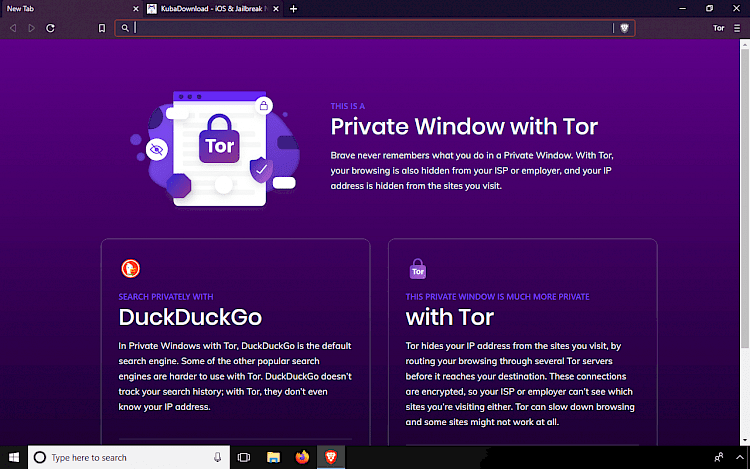 A private window in Brave Browser prevents Internet browsing history from being stored and cookies vanish when you close the window. Downloads and bookmarks are still saved even after closing a private window. Sites can learn your IP address when you visit them — even inside a Private Window.
Tor hides your IP address from the sites you visit, by routing your browsing through several Tor servers before it reaches your destination. These connections are encrypted, so your ISP or employer can't see which sites you're visiting either. Tor can slow down browsing and some sites might not work at all.
When you are inside a Private Window with Tor, Brave Browser doesn't connect directly to a website like normal. Instead, you connect to a chain of three different computers in the volunteer-run Tor network, one after another, and only then to the website you're visiting.
Between those three Tor computers, only one knows where your connection is really coming from and only one knows where it's really going. And those two don't even talk to each other because there's another computer in the middle!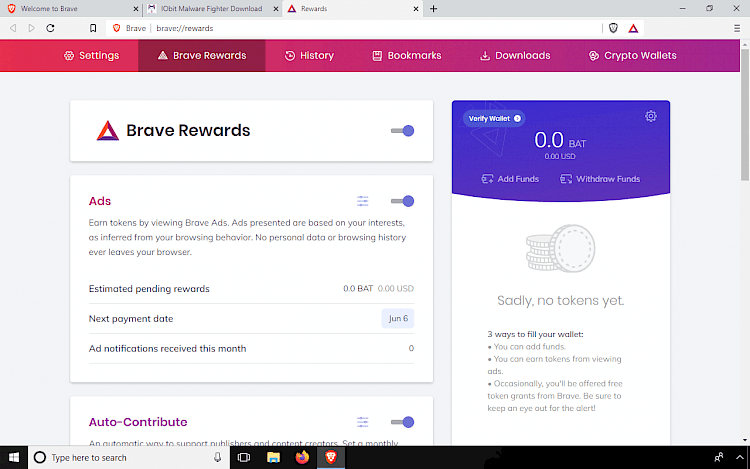 BAT stands for Basic Attention Token. It is a utility token based on the Ethereum technology that can also be used as a unit of account between advertisers, publishers, and users within Brave Rewards. The token is not a digital currency, security, or a commodity.
The Basic Attention Token (BAT) is built upon the ERC20 token standard. As such, any purchased BAT is not subject to a 6-month "use it or lose it" policy.
Tokens are being set aside in the User Growth Pool (UGP) and being distributed as grants to incentivize users to join the platform. If these tokens are not claimed by recipients within 90 days then they will be returned to the UGP.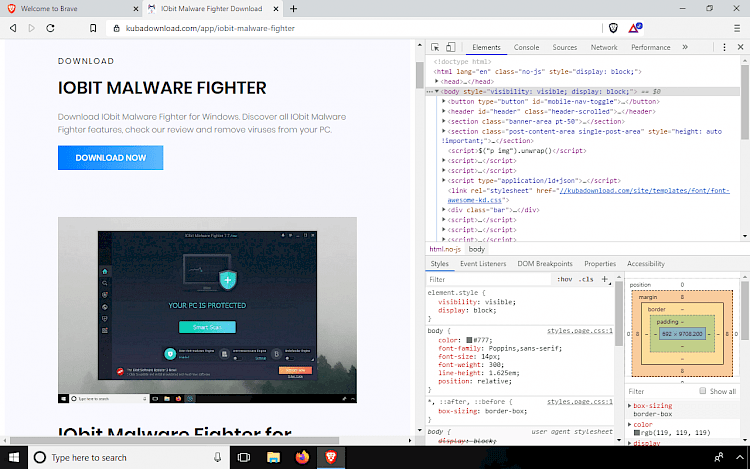 Earn rewards and give back to your favorite publishers.
Support your favorite sites with micropayments. Brave Browser features blockchain-based tokens which can be used to reward content creators. Tip content creators directly as you browse or give tips to videos and tweets that you 'like'. You can also set up recurring monthly tips so you can support sites continuously.
You can also set monthly payments and browse normally. The sites you visit receive your contributions automatically, based on your attention as measured by Brave Browser.
History of Brave Browser
The project started on May 28, 2015, by CEO Brendan Eichthe, the co-founder of the Mozilla Project, and CTO Brian Bondy. Brave Software launched the first public version of the browser on January 20, 2016. The app was packed with partial ad-blocking features and plans for the ad revenue sharing program.
As part of our 0.11.6 release of Brave for desktop on Sep 1, 2016, the publisher announced the beta version of Brave Payments, the Bitcoin-based micropayments system that can automatically and privately pay users' favorite websites.
October 12, 2017, was a big step for the web platform. BAT integration into Brave 0.19 made the Brave browser the first application on the BAT platform. The Brave Payments system was integrated with BAT wallet.
In June 2018, a pay-to-surf testing version of the browser was released. The new version was preloaded with over 200 ads allowing users to start earning revenue from displaying brave ads.
Brave Browser Mobile
The mobile version of Brave Browser for iOS and Android devices offers only partial features that you can enjoy using Desktop edition. It is packed with a fast ad blocker and HTTPS Everywhere. Moreover, you can block scripts, phishing, fingerprinting, activate always use private mode, etc.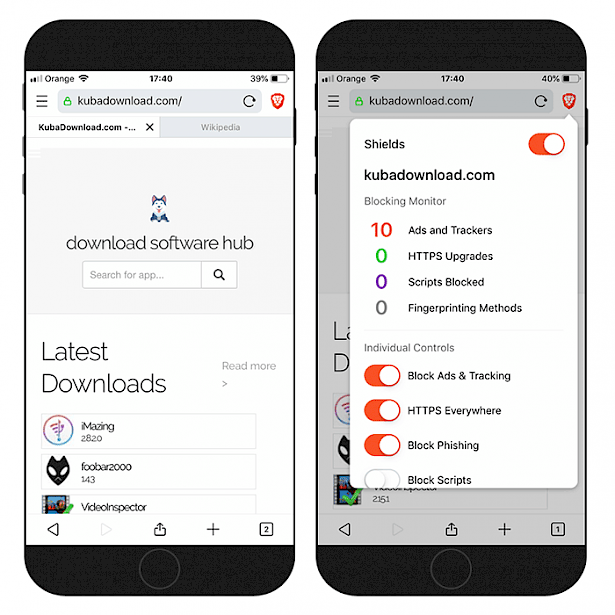 Overall, after you will download Brave Browser for Desktop you will immediately access ad-free web experience and faster webpage loads. The browser supports all modern web technologies, and it offers users to earn money by viewing special ads based on your interest as inferred from browsing behavior.
What's more, send tokens to your favorite websites to support their work. Furthermore, I really enjoy that Brave offers native support for Tor technology allowing me to browse the Internet 100% anonymously.
Remember to support kubadownload with tokens.
You might also like