Start Boostnote download now, for free!
Category: Text editors
Version: 0.11.15
Last update: Feb 8, 2019
OS: Windows, Mac, Linux
License: GPL
What is Boostnote?
Boostnote is a free multiplatform software for developers to create notes and code snippets with highlight code syntax in more than 100 languages, including Javascript, Python, HTML, and CSS. You can also store multiple code snippets within the same snippet.
All markdown notes are saved automatically as you write and various formatting options have semi-live previews so you can double check what you're writing.
Also, the text is formatted as you type. It's easy to sync all notes and code snippets via Dropbox, GoogleDrive or any other file-based cloud services. Just put your storage to your local folder for syncing. Created notes can be easily saved as plain text or markdown files.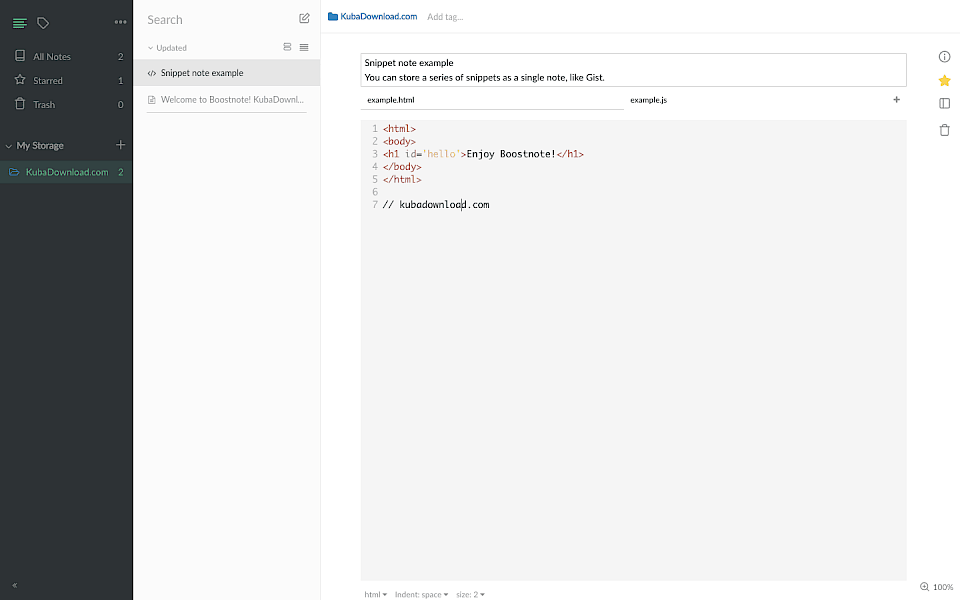 Boostnote notes can be stored in folders. The user can also add tag to code snippets and notes for quicker access. The most important documents can be stared.
You can also organize multi snippets in one note. For example, you can add an HTML code next to JavaScript or CSS in one note. Quick preview allows you to see immediately the formatted markdown document preview.
Boostnote displays also the number of words and letters in documents, modification date, and an option to print the document. Most of the popular functions can be accessed using useful shortcuts.
Moreover, you can customize the user interface by selecting Overall, Editor and Code block theme you like. Also TeX is supported to display math formulas. The software is available for Linux, Windows, and Mac.