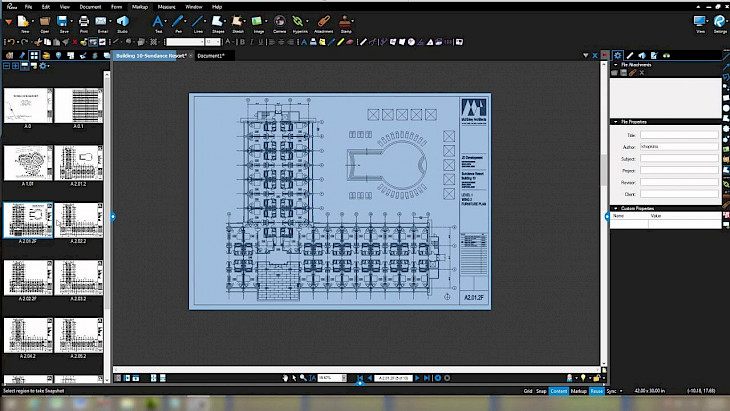 Download Bluebeam Revu (64-bit)
BLUEBEAM REVU is a plugin that is present inside Microsoft Word, Outlook, Excel, and PowerPoint and CAD programs like AutoCAD. This plugin is used to bring customizable PDF markups, PDF editing, creation, and image handling to many commonly used design and office applications. The software is available in three different versions – Standard, CAD and eXtreme. The software runs on both 32-bit and 64-bit systems, and also tablet versions of Windows 8.
Features of BLUEBEAM REVU
Bluebeam Revu Standard: This feature offers users a single-click PDF creation, real-time collaboration, and 2D/3D markups. Advanced PDF editing features in this software include customizable layouts, headers, footers, and fonts. The software allows users to split their PDF's into different sections, rotate and extract pages, and then export them as editable Word documents. The word documents also perform color processing and grayscale conversion. The platform is capable of performing PDF conversions of all types of Windows files and also batch processing to apply changes across multiple documents all at once.

Bluebeam Revu CAD: This version of the software contains all the features of the Bluebeam Revu Standard editor while also adding some specialized functions for different kinds of design professionals. This version of CAD plugin works with platforms like AutoCAD, SolidWorks for 64-bit versions and Revit. The software brings 2D and 3D PDF handling and also editing, which comes along with a full slate of customizable parameters. This version of the software also has the ability to compare versions and export annotations. The software allows users to add digital stamps, embedded security features, and signatures to documents. For a 3D PDF creation, Bluebeam CAD can also integrate with Navisworks Simulate for 64-bit versions, Navisworks Manage, and Sketch Pro (2013-14)

Bluebeam Revu eXtreme: This version of the software includes all kinds of document management, handling features, and markups of the Bluebeam Revu Standard and Bluebeam Revu CAD versions, while also adding professional PDF management features. The plugin versions let users redact sensitive content permanently, add complex bookmarks, and also create complex PDF forms. This software also contains a full suite of automatable parameters which include fully customizable scripting. This version of the software also comes with a batch slip sheet, which helps users to create new PDF versions quickly while carrying over markups, links, and bookmarks. The software also allows users to redact markups, control file access, and link items with documents.

Cloud: All version of the Bluebeam Revu comes with a cloud-based collaboration which features all the plugins via Bluebeam Studio, ProjectWise integration, and also SharePoint.
Installation Requirements for BLUEBEAM REVU
To install the BLUEBEAM REVU on PC, make sure that the following requirements are met by the user in the PC desktop.
PC – Make sure that your PC is on Windows 7 or higher with at least 4 GB of RAM.

Compatibility Mode is enabled.
How to Download BLUEBEAM REVU on Windows
Follow the below steps to download and install the BLUEBEAM REVU on your PC:
Go to BLUEBEAM REVU's website, and go to Downloads.

Click on Download Now.

Select 'Save' to download the program. The file will be saved in the Downloads folder.

If you want to save in a specified folder on your desktop, then click on 'Save As' and select the folder you want the program to be saved.

After the download is complete click on the .exe file.

The installation process will start.

Run the installation package.

Wait until the update completes

Follow the Windows installation instructions and select options accordingly.

Click on Finish to complete the installation.

The program icon will appear on the desktop.

Select the icon to start the application.
You might also like