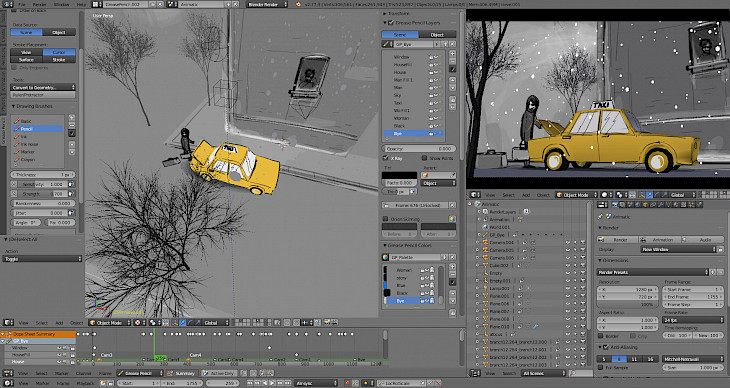 Download Blender (32-bit)
Blender (32-bit) is an open-source platform that helps designers who want to try 3D modeling. Developed by Blender Organization, this excellent software provides a wide range of tools and features for editing, rendering, animation, and 3D modeling. You can use this great designing platform for video editing and game creation.
This platform is useful for beginners and professionals who employ the tool's API for Python scripting to customize the application. You will get a consistent experience by designing on this amazing platform. Blender will act as your personal 3D software to create multiple models and enhance your creativity and designing skills.
FEATURES
Rendering
This amazing platform provides an advanced and powerful rendering engine called cycles that offers fabulous ultra-realistic rendering.
Modeling
Blender has an extensive modeling toolset that makes creating, transforming, and editing the model more effective.
Realistic Material
the Possibilities for material are endless with this new rendering engine of this program.
Fast Rigging
The user can transform a model into a poseable character very easily. The software's rigging tools include envelope skeleton and automatic skinning, mirror functionality, B-spline interpolated bones, and easy weight painting.
Grease Pencil
This useful blender tool helps the user to draw directly in the 3D space. The Grease pencil has three essential components, points, edit lines, and strokes.
File formats
This excellent platform comes packed with import/export for many different programs. For images including JPEG, JPEG2000, PNG, DPX, Cineon, TIFF, Radiance HDR, and OpenEXR. For videos, AVI, MPEG, and Quicktime (on OSX). For 3D, Alembic, 3D Studio, COLLADA, FBX, Autodesk (DXF), Lightwave, Motion capture (BVH), SVG, STL, VRML, X3D.
Interface
Either you are a beginner or a professionals, you will surely like the layout customization ability of this software. Blender works for you from simply splitting the viewport to fully customizing it with python scripting. The interface of this excellent software offers various other privileges too including consistency over all platforms, no disruptive pop-up windows, and crisp text (including support for hi-dpi/ retina displays)
Library of Extension
This program has many extensions that you can turn on or off easily and make your work more effective.
Simulations
Whatever you need like crumbling buildings, rain, fire, fluid, or full-on destructions. Blender 2.70a will provide great results which can present effectively.
How to install Blender (32-bit) on your system?
Using this fantastic program on your desktop will be a tremendous experience. You can download this 64-bit software on your Windows operating system by following the instructions described below.
Step 1: You can download Blender (32-bit) from its official website. To visit the site, click https://www.blender.org/.
Step 2: Alternatively, open your browser and search "Download for Blender (32-bit) Windows" in the search box.
Step 3: Once the downloading completes, click the setup or .exe file twice to start the installation process.
Step 4: Follow the instructions and guidelines very carefully.
Step 5: When the process has finished, Blender (32-bit) icon will appear on the desktop.
Step 6: Click on the icon to open this graphic tool on your system.
You might also like