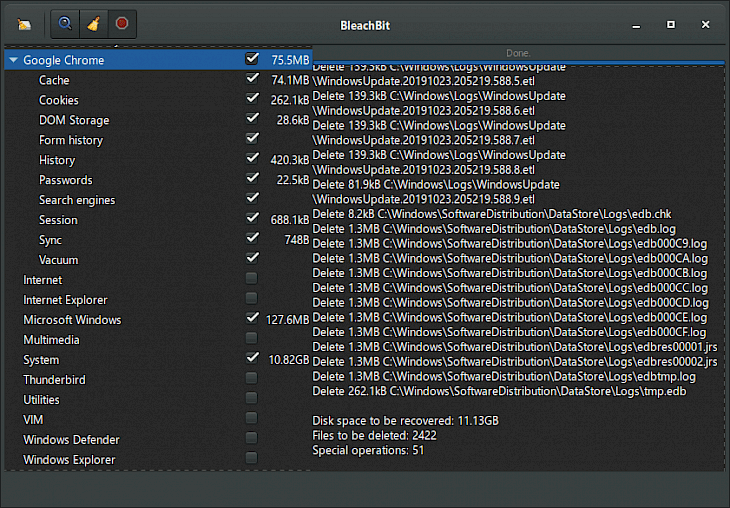 Download BleachBit
Are you tired of undue lags and slowdowns on your Windows PC? Are you wondering what tool to use for clearing all the clutter within your PC for extracting a faster, more efficient performance from it? Do not worry anymore, because BleachBit is here to help you out!
BleachBit is free, open-source software that can be used as a privacy manager, PC optimizer, and a disc space cleaner. The source code of BleachBit is licensed under Version 3 of the GNU General Public License. Developed by Andrew Ziem using Python, the latest version 4.0 of BleachBit frees storage space quickly when your machine gets full.
BleachBit protects your privacy when your data is just your business. You can free cache with BleachBit, uninstall cookies, clear Internet history, shred temporary files, delete logs, and discard junk that you didn't know existed there. This wipes clean thousands of apps, including Firefox, Adobe Flash, Google Chrome, Opera, and more, built for Linux and Windows systems.
In addition to merely deleting data, BleachBit provides advanced features in addition to simply deleting files, such as shredding files to avoid recovery, wiping free disc space to mask evidence of files removed from other programs, and vacuuming Firefox to make it quicker. Open Source BleachBit is better than free.
Features of BleachBit
Although most of the features of the software have already been hinted at in the section above, below, we have mentioned the most celebrated and highlighted features of BleachBit 4.0.
Cache Cleaner
BleachBit helps identify and uninstall Firefox, Opera, Safari, APT, Google Chrome Web cache, HTTP cookies, URL history, temporary file log data, and Flash cookies.
Locale Remover
BleachBit aids in removing unused localizations that are translations of applications also called 'locale' files.
Disk Cleaner
Apart from regular cache cleaning, BleachBit also assists in shredding files to reduce data remanence and wipe out unallocated disc space, and wiping unallocated storage space to increase the compression ratio of data for backups of disc images.
Defragmenter
BleachBit is also useful in vacuuming the SQLite Firefox database that suffers from fragmentation.
Advanced Interface
BleachBit presents a command-line framework for headless operation and scripting automation.
Download & Install BleachBit for Windows PC
Download BleachBit for Windows PC
To download the latest version BleachBit 4.0, you may just head over to their official website and get it downloaded for free, or even do the same from any readily available retail website on the internet. Once the setup executable file starts downloading, please wait for the download to finish before double-clicking on it to run the file.
Install BleachBit for Windows PC
Once the setup file has been downloaded and run, the installer will pop up on your screen. Then, follow these steps.
Agree to the User Agreement.

Click on 'Next' on each tab till the installation starts.

Once the installation ends, click on 'Finish'.
In doing so, you will have successfully installed BleachBit 4.0 on your Windows PC which can be easily accessed from its desktop icon. Simply click on it twice whenever your computer starts slowing down to get your PC's performance back on track.
You might also like