Blackmagic Fusion 9 Studio download for Windows, Mac, and Linux.
Category: Video editing
Version: 9.0.2
Last update: Mar 29, 2018
OS: Windows, Mac, Linux
License: freeware
What is Blackmagic Fusion 9 Studio?
Blackmagic Fusion 9 Studio is an application designed for post-production movies. The program has been used on over 1000 major Hollywood blockbuster including Thor, The Amazing Spider-Man 2, The Hunger Games, Kingsman: The Secret Service, as well as the television series Orphan Black, Breaking Bad, Grimm, Adventure Time or Battlestar Galactica.
Blackmagic Fusion 9 Studio includes all of the tools you need to create spectacular visual effects and advanced 3D motion graphics. The powerful and unique flow graph interface helps you easily build sophisticated composites by simply connecting nodes together.
Fusion's true 3D compositing environment lets you combine live action, 3D models, cameras, lights, 3D particles, volumetric effects and powerful image processing tools. Extract clean mattes with great control to create realistic looking composites!
Use a broad range of keyers and matte tools including Primatte and Fusion's own Ultra Keyer.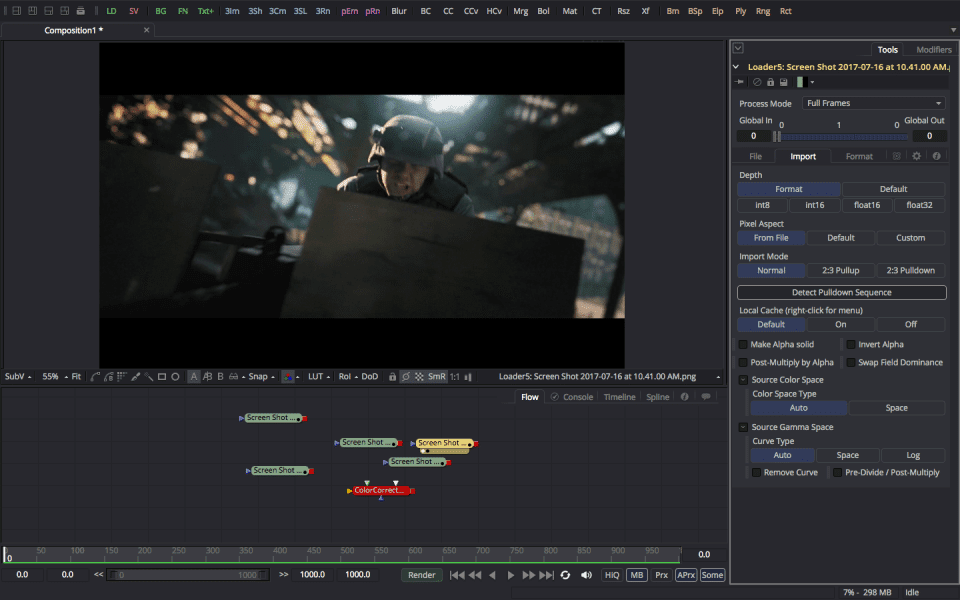 Working with Blackmagic Fusion 9 Studio is based on nodes that allow you to mix and match different effects. This solution is extremely fast and allows to experiment at each stage of effects.
A user without problems can create alternative branches of nodes, because it has complete control over the hierarchy of applied effects.
As you can imagine such a solution is extremely useful when you want to push a project in a different direction than originally expected.
With Blackmagic Fusion 9 Studio you get everything from Fusion 9 plus advanced optical flow image analysis tools for stereoscopic 3D work, VR tools, retiming and stabilization.
Fusion 9 Studio also includes support for third-party OpenFX plugins and Fusion's native SDK, unlimited distributed network rendering, and Studio Player along with a bin server for studio wide multi user collaboration that lets you track, manage, review and approve shots on complex projects.
Fusion features a powerful node based interface, a massive range of tools, incredible VR and 3D support, GPU accelerated performance, unlimited network rendering and more. Blackmagic Design released Fusion 9.
The software has been designed to support the latest workflows and features new VR tools, camera tracking, entirely new keyer technology, planar tracking, multi user collaboration tools and much more.
The new release with a VR toolset that makes it indispensable for virtual reality projects. We get a full 360º true 3D workspace, along with a new panoramic viewer and support for popular VR headsets such as Oculus Rift and HTC Vive. Working in VR with Fusion is completely interactive.
GPU acceleration makes it extremely fast to interact with elements in a VR scene in realtime. Fusion 9 also supports stereoscopic VR. In addition, the new 360º spherical camera renders out complete VR scenes, all in a single pass and without the need for complex camera rigs.
The new planar tracker in Fusion 9 calculates motion planes for accurately compositing elements onto moving objects in a scene. For example, the new planar tracker can be used to replace signs or other flat objects as they move through a scene.
Planar tracking data can also be used on rotoscope shapes. That means we don't have to manually animate motion, perspective, position, scale or rotation of rotoscoped elements as the image changes.
Fusion 9 also features an entirely new camera tracker that analyzes the motion of a live action camera in a scene and reconstructs the identical motion path in 3D space for use with cameras inside of Fusion.
This lets to composite elements with precisely matched movement and perspective of the original. Fusion will auto analyse the shot and calculate lens focal length and lens distortion.
The new delta keyer brings state of the art image science to Fusion's keying tools. In addition to new image science and processing, delta keyer features a complete set of matte finesse controls for creating the cleanest possible keys while preserving fine image detail.
There's also a new clean plate tool that can smooth out subtle color variations on blue and green screens in live action footage, making them easier to key.
For multi user collaboration, Fusion 9 Studio includes Studio Player, a new application that features a playlist, storyboard and timeline for playing back shots. Studio Player can track version history, display annotation notes, has support for LUTs and more.
The new Studio Player can output via Blackmagic DeckLink and UltraStudio devices. Remote synchronization lets users around the world synchronize Studio Players in multiple locations. In addition, Fusion 9 features a bin server so shared assets and tools don't have to be copied onto each artist's local workstation.
Fusion 9 Studio also gives unlimited network rendering. This means that large studios working on complex shots and high end visual effects heavy feature films no longer have to pay a license fee for each render node.
You can install Fusion 9 Studio on all of their artist workstations and then install it on as many render nodes as they need, without any additional charges or ongoing maintenance costs.
In addition to all of the new features, Fusion 9 has more GPU and OpenCL acceleration, making it faster than ever. Fusion 9 also works with additional formats and file types such as DNxHR, MXF and more.
This makes it suitable for use in an even broader range of workflows and provides seamless integration with DaVinci Resolve files.
Blackmagic Fusion 9 Studio Alternative