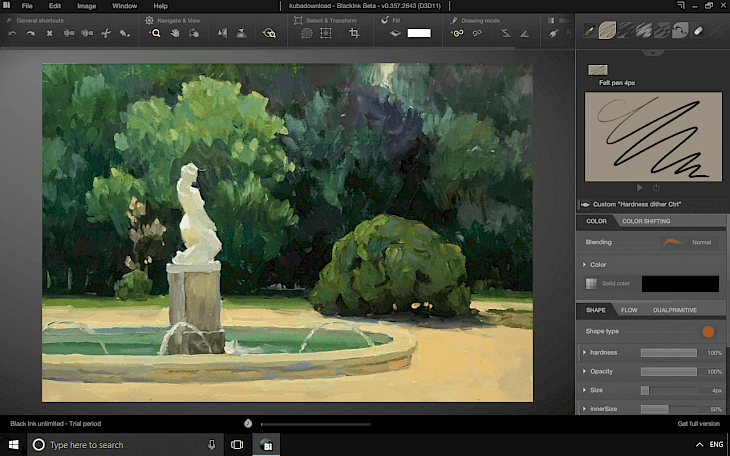 Download Black Ink
Black Ink is a digital painting solution with offers great tools to create realistic, and natural painting effects. The software offers freedom to create and use unique brushes. You can create, tweak, combine new tools using Black Ink painting software.
One of the best features offered by Black Ink is unique brush customization tool. Controllers are a great way to customize brushes. Assign pressure, speed, randomness in any parameter you want and make your brush act exactly as you like using a simple visual block-based system. You can also mix values, experiment with rotations, scales, and gradients to create new and unique effects. Creating your perfect brush is as simple as plugging a behavior block in the desired output.
Black Ink offers three color models. The classic solid color, the powerful gradient editor offers a lot of options including the ability to select multiple colors and modify them simultaneously, and the image-Based color lets you provide a picture that will automatically drive the brush color. It can be used with any brush to create incredible effects on existing pictures. Black Ink allows you to draw on very large resolutions (100 megapixels) without any drop in performance or responsiveness.
Moreover, Black Ink offers a real-time brush preview system, that shows how the final brush is affected by every setting you change. Black Ink brush history lets you recall previous brush settings instantly. The color history keeps previously used colors for quick access, and with Favorite colors, you can save colors and recall them in every Black Ink session.
You might also like