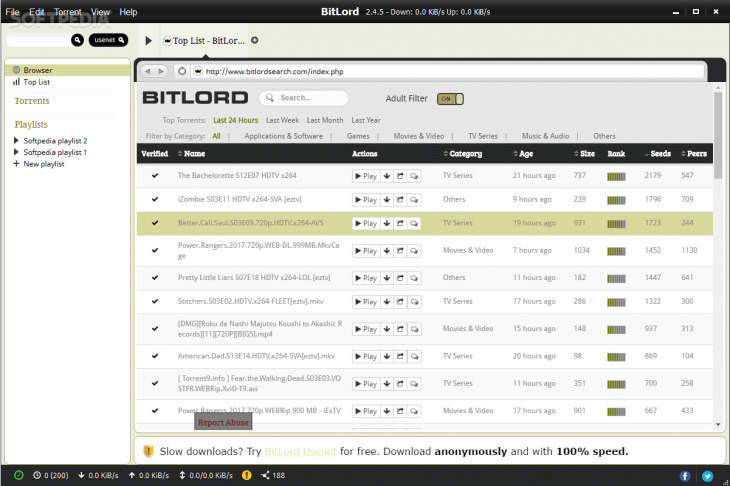 Download BitLord
Do you regularly use torrent to download various essential software and multimedia for your business or personal use? Are you looking for a reliable torrent client that can guarantee a safe, secure, and quick download of your files? Consider downloading and using BitLord.
BitLord is a Microsoft Windows, macOS, and Android free ad-supported and proprietary BitTorrent client. Marketed as "The easiest torrent downloader" The software uses the C++ library of the libtorrent-raster bar. As of release 2.4, BitLord is developed using Python and the cross-platform framework of Qt. Using a built-in version of VLC, it can stream video.
BitLord, based on and under license from BitComet, was first published in December 2004, as BitLord 0.56. BitLord was based on Deluge from version 1.2 until 2.3.2 but has since introduced some features of its own.
Features of BitLord
BitLord is a peer-to-peer file-sharing standalone client that enables easy access to a wide range of useful resources, such as a built-in browser and a search engine to discover videos, music, documents, and many other file types.
The outstanding features of BitLord include the following ones mentioned.
Full-Featured Download Manager
Built on top of the open-source torrent-managing engine, but distributed as a walled garden client, this application has grown into a fully-featured download manager that also allows users to request sequentially downloadable files quickly, allowing them to stream video files as they are downloaded to their local storage.
Tags
Apart from the regular peer-to-peer file-sharing clients' features, BitLord offers the feature of letting you separate and classify downloads using tags.
Set Desired Limits
BitLord lets you set limits to your download speeds, upload speeds, connection, and upload slots so that you have complete control over your torrent downloads.
Comprehensive Preferences
BitLord offers a comprehensive module of Preferences that allows for an incredible amount of customization available through its nine main tabs, which are General, Downloads, Network, Bandwidth, Queue, Interface, Browser, Scheduler, and Proxy.
Simple User Interface
There will be no problems for users who have experience with other torrent clients adapting to the BitLord user interface, which often follows conventional solutions. With simple to manage listings of active and past downloads, tabbed torrent status at the bottom, integrated solutions for building and maintaining playlists, updating trackers, re-allocating torrents, the ability to manage link status automatically, and much more, the UI does not break the mold.
Custom UI Elements
Immediately, experienced clientele will note a few custom UI elements that support this app's exclusive offerings. The BitLord app proudly promotes the presence of Browser and Top List resources that not only allow users to search for new files quickly gathered from around the world but also to see what is common on top lists that are frequently updated.
Instant Streaming with Subtitles & Chromecast Support
In addition to allowing users to play videos when downloading files instantly, the client also allows downloaded media files to be shared via full Chromecast support on your nearby TV or other screens. This torrent client also features complete integration with the OpenSubtitle online platform for hosting subtitles in an enormous variety of languages to streamline the process of streaming video or playback of fully downloaded files.
Download & Install BitLord for Windows PC
BitLord is readily available for download free of cost from the official BitLord website or any other third-party website. Run the setup file once downloaded to start the BitLord installer.
Once the installer pops up on the screen, follow the simple instructions shown to you to complete the installation process. Once finished, BitLord will launch automatically.
Now you can enjoy downloading your favorite torrents safely and securely via this trusted torrent client. Happy downloading!
You might also like