BCUninstaller download for Windows.
Category: Uninstall utilities
Version: 4.14
Last update: Jun 11, 2019
OS: Windows
License: freeware
What is BCUninstaller?
BCUninstaller (Bulk Crap Uninstaller) is a free program uninstaller for Windows. It excels at removing large amounts of applications with minimal user input. It can clean up leftovers, detect orphaned applications, run uninstallers according to premade lists, and much more.
This uninstall utility features option to detect and uninstall of Windows Store apps, uninstall of multiple items at once, advanced grouping, sorting, filtering and searching, automatic detection and closing of running applications, automatic updating, and error reporting.
Moreover custom commands can be executed before and after uninstallation. BCUninstaller creates backups and generates .reg files, removes junk to recycle bin and displays list of protected and invalid entries.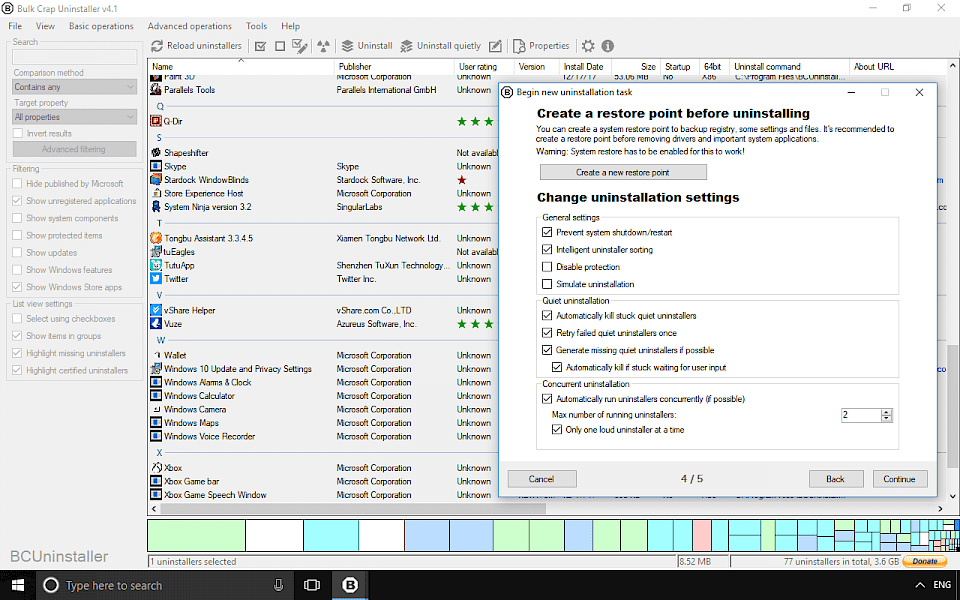 BCUninstaller will search for temporary files, settings, shortcuts, etc. and offer an option to remove all of the data automatically. As any uninstall manager in existence BCUninstaller offers a startup manager.
The manager is tied into the main application list. You can check which software is starting on boot and disable them.You can create special lists that will automatically select all matching uninstallers.
BCUninstaller can search and test digital signatures attached to the uninstallers. Green entries are verified, while blue failed verification for some reason. Take note that it is common for legitimate MSI uninstallers to fail verification, this is caused by internal workings of Windows Installer.
The search algorithm will look through all of that data when filtering. While most of the time there is little use for all of that info, it can be a godsend while trying to corner a worm or debug your uninstaller.
BCUninstaller Alternative