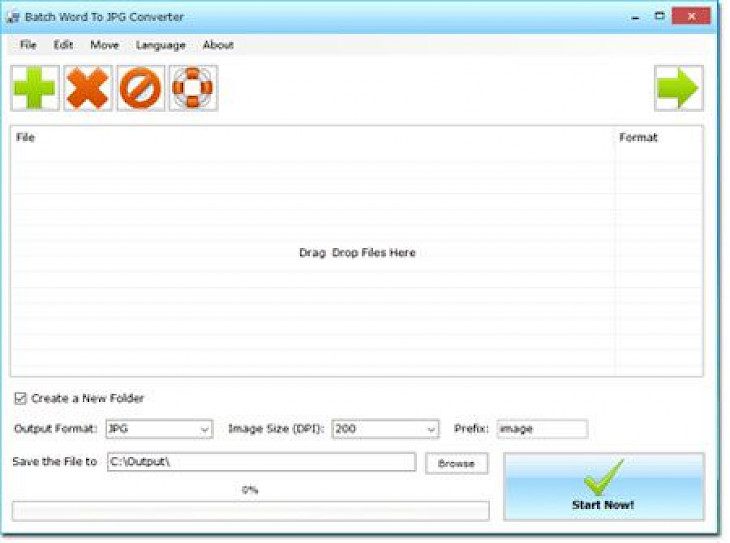 Download Batch WORD to JPG Converter
Arranging the files and performing data management is not an easy task. There is software in the market which helps you not only in data management but also in extracting and presenting the data in a defined format easily. Batch WORD to JPG converter is one of the best tools which helps you to present your data on the web in an organized manner and without taking much time. Developed by Reezaa Media Inc. this excellent software converts your MS Word file to JPG and other image formats like PNG, BMP, GIF, TGA, and many more.
FEATURES
The user interface of the software is easy to use and well structured. You can execute the whole conversion process by using the shortcuts and advanced toolbar features provided by the developers.
To save your time, Batch WORD to JPG converter offered you to convert thousands of files at once.
This software supports multiple formats which help you to get the required format on one platform. Not only the image format, but you can also convert your WORD file to PDF, PNG, and PCX. You will get all these options in the dropdown menu.
You can convert your MS-Word or Docx files directly, which means you do not have to install MS-office on your system.
Batch WORD to JPG converter has multi-language support. If you are facing any issues then you can contact the software developer company without any language barrier.
The quality of the image converted will not get diminished and you can save a high-quality image.
Apart from Docx format files, this excellent software can also convert rich text RTF formats, HTML, and HTM web page formats into various image formats of your choice.
HOW TO DOWNLOAD?
You can install this easy-to-use software on your system by directly downloading its setup file from any trusted or published websites. No emulator or any other supporting software is required. Make sure that you should check and match the minimum requirement of your system with the version that you are willing to install on your PC.
This software is the best choice for those who want to represent the web content by using their text files. You can split your MS-Word or Docx file in your preferred file format in just a few clicks. To download Batch WORD to JPG converter on your Windows Operating system, follow the step-by-step instructions described below,
Step 1: Click on the Download button to save the setup file. Once the downloading of the setup file of this software gets complete, locate the file in your convenient folder.
Step 2: Now you can run this software on your PC. For successful installation read and follow the guidelines of the installation process carefully.
Once you have run this software on your PC, you will observe the icon on your desktop. Click on the icon, to start using this extremely useful software and start converting your files.
You might also like