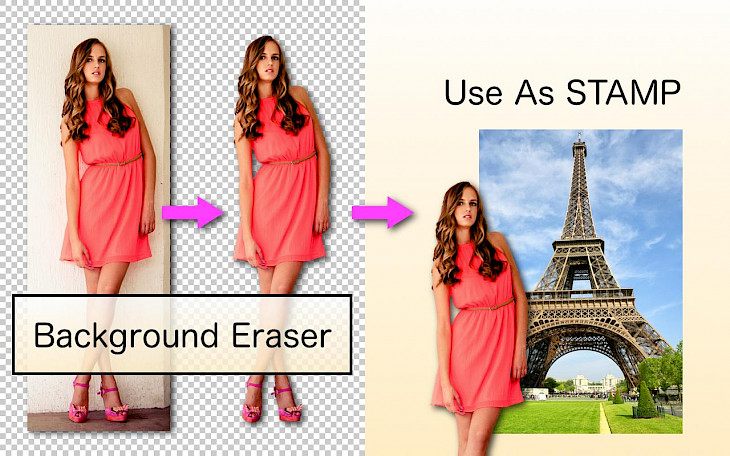 Download Background Eraser
With the technical advancement, various software is launched in the market that makes your photograph more fascinating and pleasant. Background eraser is one such tool that enables the user to make photograph background transparent. Developed by Apowersoft Ltd., Background eraser is an enormous and beneficial software that allows you to cut out your picture's background effortlessly in just a few clicks.
The user interface is just amazing, and you can use it easily without any prior technical experience. It is a fantastic tool that covers all your needs and enhances your photograph by offering some great tools. From beginner to professional, anyone can use this automatic tool. Apart from making your photo background transparent, you can also add a new background to it by using the software's templates.
You can use Background Eraser for multiple purposes, whether you want to create a social post, an advertising banner, or a greeting card, this platform fits well for your every need and provides relevant templates to save your time. Many templates are available on this fantastic platform that helps the user create their artwork and represent it to the audience without consuming much time. New designs are updated regularly to provide a tremendous user experience.
FEATURES
Fast and free
This stunning and beneficial platform provides fantastic tools that enable the user to remove their photos' background.
Accurate and stunning
Removing and enhancing the photograph is an easy task and you can perform it in just a few clicks. The platform provides high-quality results and enables the user to show their creativity effectively.
Drop and remove
It is very convenient to use this editing platform. You will not need to do any red or green marks. The online tools are easy to use and provide effective and productive results.
How to install Background Eraser on your Windows Operating system?
Editing would be more convenient if it is performed on a big desktop screen. Fortunately, the PC version of the Background Eraser is available easily and you can install it by following the guidelines and instructions described below.
Step 1: It is always preferred to install this software from the developer's official website. To visit the official site, click https://bgeraser.com/.
Step 2: Alternatively, open your browser and search "Download Background Eraser for Windows" in the search box.
Step 3: Now, you will get a list of websites on your search result page. You can select any trusted website like filehorse.com to download the setup or .exe file of this software.
Step 4: Once you have downloaded the setup file, follow the step-by-step guidelines and instructions to start the installation process and run this software on your system.
Step 5: After following all the steps, click on finish. The software icon will display on your desktop screen. Now you can use this fantastic software on your system and use your creativity to represent your pictures effectively.
Background Eraser can be used easily. You will need to import the image that you want to remove from the background. Now you can select the templates and use other tools to enhance your selected picture and after previewing the applied effects, click on the download button to save the picture on your device.
You might also like