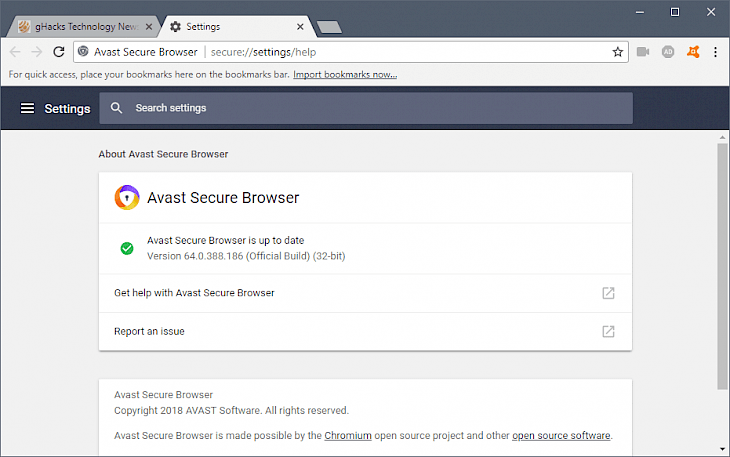 Download Avast Secure Browser
Avast is well known for its anti-virus software of the same name. It has helped secure thousands of computers from infiltrating viruses for years, establishing itself as one of the most efficient anti-virus software available in the market. Empowered with this high reputation, Avast furthered its influence by developing a Chromium-based browser called Avast Secure Browser. When we use the term 'Chromium-based', it just means that you can access Google features like bookmarks, widgets, and your account on it. It successfully replaced the Avast SafeZone Browser with its release in 2018. While its basic functions are a lot like Chrome Browser's, it differs in its security provision.
In Chrome, you have constantly been tracked thanks to site cookies and other tracking elements. But that is not the case in Avast Secure Browser. This browser lets you explore the expanse of the internet without the fear of having your activities followed. This is especially important if you are trying to do online banking. The name of the software speaks for itself. It is letting you browse through the internet whilst remaining under a secure virtual hood.

Key Features Of Avast Secure Browser
Privacy Control
Avast securely ties all-important privacy control measures into one package. Some of these measures are anti-fingerprinting, anti-phishing, hack checks, and cookies blocker. These features ensure that you have the most secure browsing experience. And in today's world of hardcore hackers and crackers, we definitely need it.
Useful Extensions
This browser software comes with many extensions that enhance the user's surfing experience. While they may not be at par with Google's number, these extensions certainly prove to be beneficial in the long run. Adblock is one of the extensions that help with blocking pesky browser ads that show on our screen. Bank mode is yet another vital extension that lets you switch to a virtual site for secure access to bank sites. There are a couple more, which you will find once you download the software.
VPN Service
Avast offers its VPN service on the same platform. It is regarded as one of the most trustworthy VPN services in the market. If you are looking for maximum stealth and obscurity, you should try it.
System Requirements Of Avast Secure Browser
Ensure your system meets the following requirement before you download the software:
It should be compatible with Windows 7/8/8.1/10 operating system (64-bit)
How To Download It On PC
The given steps outline the installation process of Avast Secure Browser on PC
Upon clicking the download button, you are directed to another page. Click the download button here. This initiates the download for the setup file.

Run the setup on your system by skimming through the installation instructions.

When you reach the end of the above step, Avast Secure Browser finally gets installed on the system.
You might also like