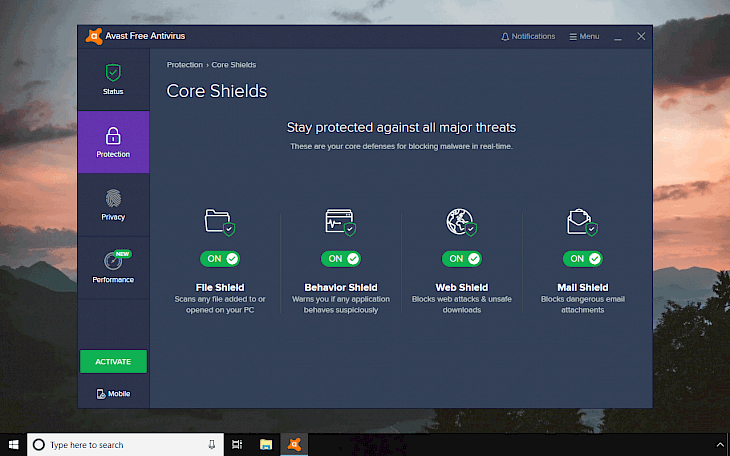 Download Avast Free Antivirus
Avast Free Antivirus is a free virus protection software for Windows that protects PC in real-time, offers virus protection, easy password management, and home network security. Download Avast Free offline installer for Windows and Mac.
One of the most interesting features available in Avast Antivirus is the Smart Scan. With a single click, the app launches all major modules and generates collective results in a simplified form. When problems are found, you can fix them quickly.
Avast Free Antivirus is packed with intelligent antivirus that can detect and block viruses, malware, spyware, ransomware and phishing, and Wi-Fi Inspector that automatically detect weaknesses in-home Wi-Fi and strangers piggybacking on the network.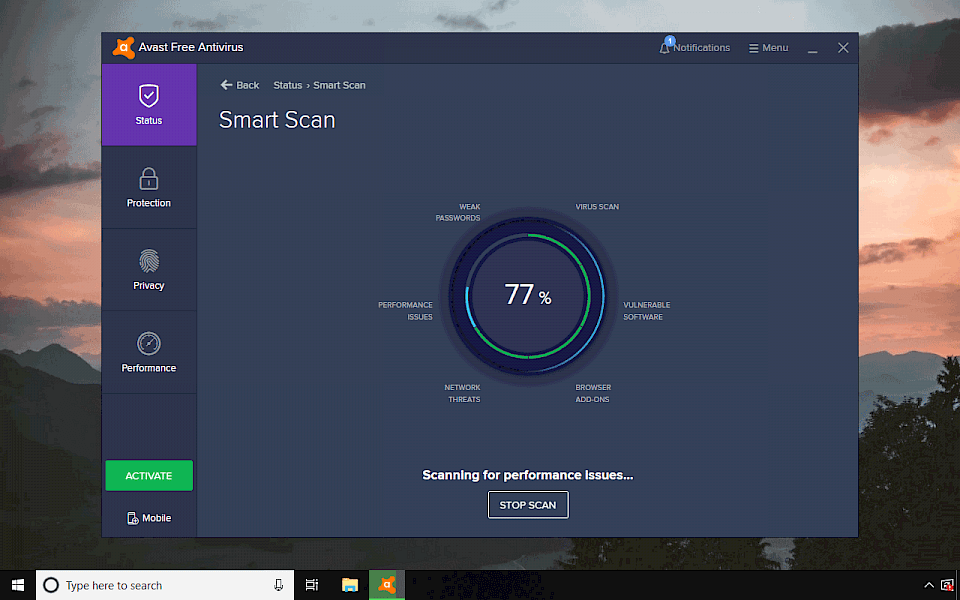 The Password management system integrates with users' browsers. All passwords will be saved automatically to the password manager, and the user can auto-fill instantly saved credit cards, and online password using one uber-secure master password.
The software core shield is File Shield, Behavior Shield, Web Shield, and Mail Shield. The antivirus can run on any PC with Windows 10, 8.1, 8, 7, Vista, or XP SP3, and 256 MB + RAM or Mac. Avast Antivirus download links are available for Windows and Mac.
The app offers also an option to install a few additional features like SecureLine VPN to protect user privacy during browsing or Software Updater to download and update installed apps. SecureLine a virtual private network (VPN) that encrypts the connection to the network using supported servers around the world.
Via Avast Free you can additionally install Driver Updater, which can automatically detect missing, incorrect, or out-of-date drivers and download them with a single click.
Avast Free Antivirus is one of my favorite security solution for Windows. To be hones I recommend it to all my friends not only because it's free, but mostly because it offers commercial level protection against viruses. The antivirus works best on modern computers, and I love the Password Manager feature. I use it across all devices. I don't need to remember every password I generate, Avast Free will do it for me. The best way to test it how Avast will work on your PC is to get Avast Free Antivirus installer and try it by yourself. We offer Avast Antivirus Free offline installer for Mac and Windows.
Core Shields

Core Shields will protect your computer and block malware in real-time against major threats. File Shield scans any file added to or opened on your computer.
Web shield blacks all attacks and unsafe downloads. Mail Shield blocks dangerous email attachment, and Behavior Shield warns the user about suspicious application behaves.
Do Not Disturb Mode
Avast Antivirus offers also a do not disturb mode, where users can select programs that in full-screen mode will be not disturbed by any notifications on Windows and other installed applications.
You can add new apps manually through the Performance Tab, and all full screen running apps will automatically appear in Do Not Disturb Mode.
Free Wi-Fi Inspector

Free Wi-Fi Inspector is a tool that can help you to defend the source of your Internet. The software identifies and helps users to fix any routers issues.
You can use the Wi-Fi Inspector to see which devices are connected to your router. If you will see any guests connected, this can be annoying neighbors or hackers. When the scan will finish you will see ale connected devices to your rooter.
Password Manager

Another tool available in Avast Free Antivirus is Passwords, where users can safely manage all passwords. Passwords, credit card numbers, secure notes can be added directly from the Password Manager.
In order to activate auto-filling and auto-saving passwords while you browse the web, you can activate Password extension in a popular web browser. Of course, Mozilla Firefox, Chrome Browser, and Avast Secure Browser are supported. To prevent other users from accessing your saved logins, it will be required to lock Passwords with Master Password. All passwords can be synced across PC, Mac, iPhone, and Android devices.
Driver Updater
Driver Updater that can be downloaded via Avast Free Antivirus Performance Tab allows users to reduce PC crashing by updating old and broken system drivers.
Driver Updater installs official drivers from over 100 major brands to keep you Windows hardware running fast. Using the software, you don't need to search for drivers anymore. Driver Updater will do it for you automatically download and update out-of-date drivers.
Create backups and restore older drivers when required with Driver Updater.
Software Updater
Software Updater will help you to download the latest version of software to stronger protect your Windows system. Old software can provide an easy way to install malware on your PC.
Software Updater will help users to manage updates and install critical updates of installed software. All updates can be downloaded via Software Updater with one click so you can keep your software up-to-date.
SecureLine VPN

SecureLine VPN will keep all send and receive data secret. When we use public Wi-Fi networks, we are exposed to eavesdropping our connection. A hacker could intercept from this combination login, e-mail messages sent over instant messaging, and credit card details.
Avast SecureLine makes this information invisible to potential spies.
VPN is available through servers including countries like the United States, Britain, Japan, Germany, Netherlands, Czech Republic, Poland, and Singapore. Avast SecureLine VPN allows you also to playback video inaccessible from your country. The SecureLine service is available as a 7-day trial.
Avast Premier 60-day for free!
Avast Free Antivirus informs also about additional protection options available in paid security solutions. Download and activate Avast Premium 60-day trial version with access to modules like Firewall to control what goes in and out of your PC, Real Site to avoid fake websites so you will not provide them with passwords and bank details.
Sandbox to run suspicious files in a safe environment to prevent them to install viruses on your Desktop, Ransomware viruses, Webcam Shield to stop webcam spying, Data Shredder to securely delete files, and Sensitive Data Shield to protect sensitive files against snoopers.
You might also like