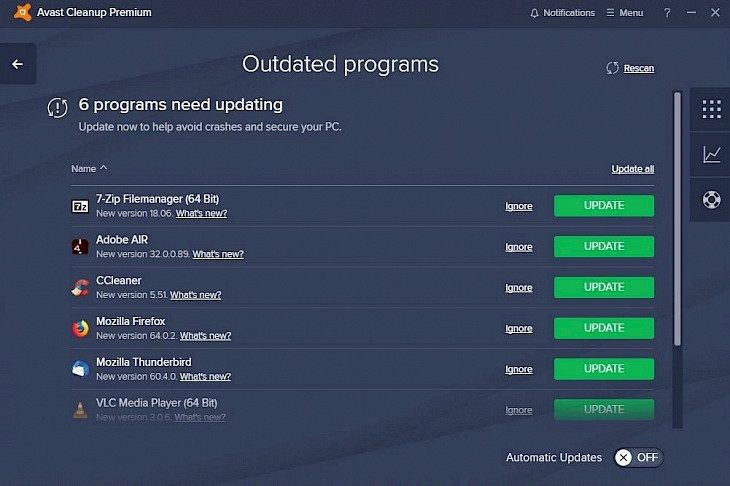 Download Avast Cleanup
Speed up your Windows PC and clean it up, upgrade your software and correct irritating issues! There's no getting any younger on your PC. Fix what's slowing you down with the revolutionary technology patented by Avast Cleanup. Avast Cleanup Premium, the fast remedy for a tired PC, comes packed with instruments to fix some of the most frustrating problems, crashes, and freezes for both novices and pros.
Are you running out of space on the disc? Don't worry about that anymore. Avast Cleanup Premium scans your PC from top to bottom to delete gigabytes worth of leftover junk files from more than 200 programmes, browsers, and even Windows. Outdated programmes will make your PC vulnerable to security threats, crashes, and bugs. The new Automated App Updater updates the most important programmes for you daily.
For three main factors, the more programmes you instal and use the slower your PC becomes.
Products for the Startup: When you turn your PC on several programmes run automatically, significantly slowing the startup time.

Processes in the background: And when you're not using them, your programmes could be running in the background, hogging the memory and processor of your PC.

Tasks scheduled: Your software also sets its own schedule, and your PC will come alive unexpectedly and slow down.
In the first place, your PC could be slowed down by programmes that you have not used in ages or never wanted, such as demo versions, unwanted toolbars, or applications preinstalled. They are a waste of space and speed, and may even pose a safety risk. The new Avast Cleanup software function gets rid of them once and for all.
Features of Avast Cleanup
The remarkable features of Avast Cleanup are mentioned below.
Sleeping Mode
To freeze any software that is slowing you down, turn on Sleep Mode. It will not take up any energy while sleeping. Start the programme that you put to sleep and let the smart algorithm automatically activate all its background operation. It immediately puts it back to sleep once you're finished using the software, to stop it from slowing you down. The more programmes you put to sleep, the less background running you'll have, and the faster your machine will be. To make your PC feel fresh again the patented tuneup approach positions all resource-draining software in hibernation.
Shortcuts Cleaner
Avast Cleanup removes dead shortcuts through Windows and other programmes from your desktop and history lists.
Maintains System Automatically
Your PC cleans and regularly tunes for you without raising a finger, thanks to Avast Cleanup.
Disk, Registry & Browser Cleanup
Avast Cleanup safely deletes Windows leftover files and more than 200 of the most common PC programmes, removes secret junk and addresses issues from the Windows Registry, and cleans traces and cookies of residual browsing from 25+ browsers, including Edge, Chrome, Firefox, and IE.
Download & Install Avast Cleanup for Windows PC
Avast Cleanup is available to be downloaded from the official Avast website or any other affiliate website for a trial version of 14 days. Once you download the setup file, launch the same to start the installation process.
The Avast Cleanup program gets installed on your Windows PC after you agree to the Avast user policy. You can now rest assured that your system junk will get removed regularly to keep the PC running smoothly forever. Enjoy!
You might also like