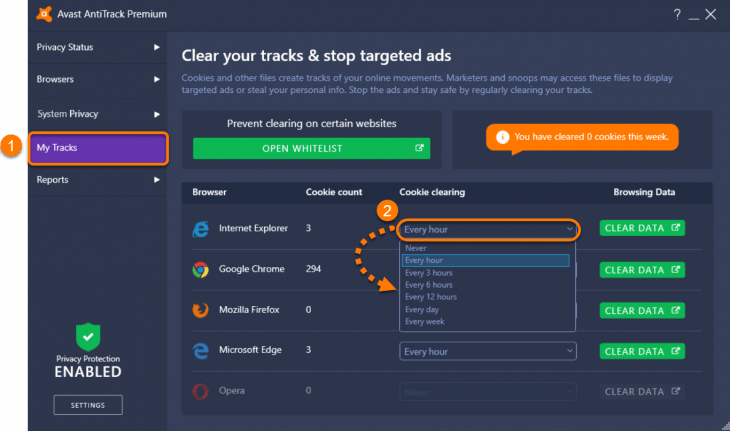 Download Avast AntiTrack
Are you annoyed with websites using your search habits and cookies to suggest ads that you don't feel comfortable about? Do you feel insecure that this info of yours might leak some valuable personal information about you and your loved ones to these entities? Fear no more, because Avast AntiTrack is here to protect you from such threats.
By tracking you, advertisers can sneak out a lot of information about you. Your browsing activities make up your unique digital fingerprint, along with your computer and browser settings, enabling marketers to distinguish you from a crowd of travelers, bombard you with targeted ads, or even use price discrimination to show jacked up prices for anything you've been studying, from plane tickets to healthcare or insurance policies.
Disguise your true identity with Avast AntiTrack Premium's great anti-tracking program. Websites gather information about you to build a specific online profile that can be identified by advertisers. Developed by AVAST Software, the anti-tracking program from Avast AntiTrack version 1.5.1 alerts you when snoopers attempt to pursue and avoid you. The software is available for both Windows and Mac users.
Features of Avast AntiTrack
Avast AntiTrack manages to keep you safe from numerous website trackers and vicious data miners by utilizing these features mentioned below.
Tracker Alert
Avast AntiTrack lets you realize when you are being tracked by automatically exposing and blocking the advertisers tracking your online activity every time they attempt to do so.
Identity Protection
Avast AntiTrack helps you to keep your real identity private by disguising your online behavior when you are browsing, allowing no one to realize that it is you.
Targeted Ad Blocker
You can draw the line for targeted ads using Avast AntiTrack. The Avast AntiTrack software masks your purchases while you're shopping online so that you don't see the same ads.
Protects Operating System Privacy
Avoid seeing, monitoring, and gathering information about your Windows 10, 8, or 7 PC from third parties by using Avast AntiTrack.
Uninterrupted Browsing
Avast AntiTrack lets you browse without annoying breaks. Without breaking webpages or causing intrusive alerts, stay private and secure.
Browse History Protection
With Avast AntiTrack software, hide your history of browsing. Your history, cookies, and other browser data are automatically removed by AntiTrack so that your browser cannot preserve and sell them.
Download & Install Avast AntiTrack for Windows PC
Download Avast AntiTrack for Windows PC
Avast AntiTrack can be easily downloaded from the official Avast website or any other trustworthy retail website for a free trial. After you start downloading the setup executable file, please wait for the download to end before double-clicking on it to start the installer.
Install Avast AntiTrack for Windows PC
Once the installer pops up on the screen, follow simple on-screen instructions to finish the process of installation.
Click on 'Next' until the User Agreement tab approaches.

Agree to the User Agreement.

Wait for the installation to end before clicking on 'Finish'.
Avast AntiTrack will now automatically launch on your Windows PC and start functioning to protect your online identity end-to-end fully. Stop browsing anxiously and insecurely with Avast AntiTrack installed!
You might also like