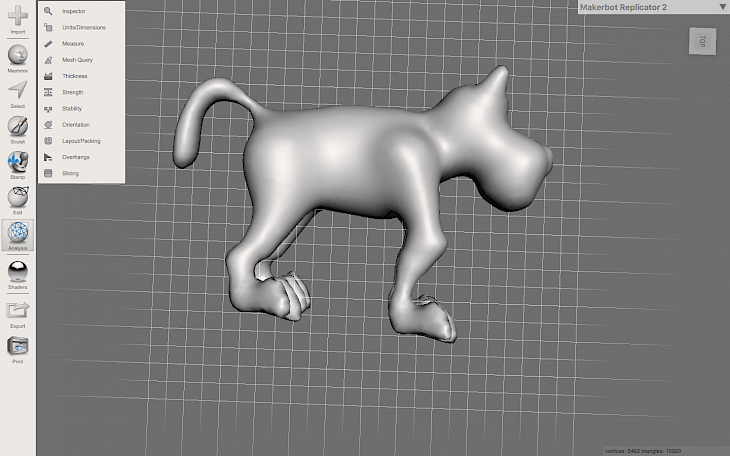 Download Autodesk Meshmixer
Use Meshmixer from Autodesk to clean up a 3D scan, create printing ready models, or design an object. Autodesk Meshmixer offers a lot of functions from 3D Sculpting, to robust Convert-to-Solid for 3D printing. Meshmixer download is available for Windows and Mac.
Autodesk Meshmixer features options to drag-and-Drop Mesh Mixing, automatic Print Bed Orientation Optimization, Layout and Packing, 3D Sculpting and Surface Stamping, robust Convert-to-Solid for 3D printing, 3D Patterns and Lattices, branching Support Structures for 3D printing, hollowing (with escape holes). Meshmixer offers professional tools including advanced selection tools including brushing, surface-lasso, and constraints, Hole Filling, Bridging, Boundary Zippering, and Auto-Repair, Plane Cuts, Mirroring, and Booleans, mesh Smoothing and Free-Form Deformations and more.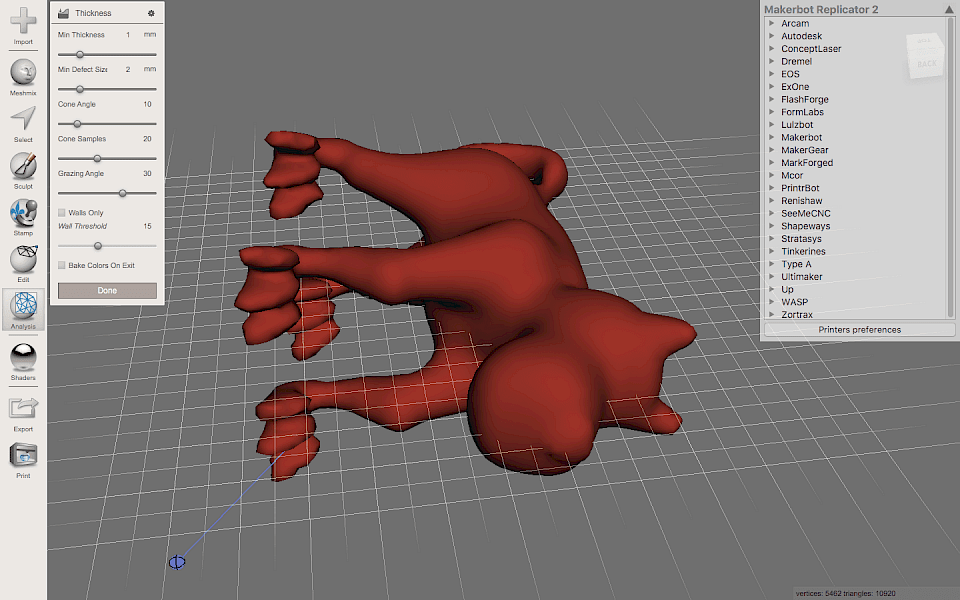 Moreover, Autodesk Meshmixer features remeshing and Mesh Simplification/Reducing, Extrusions, Offset Surfaces, and Project-to-Target-Surface, Interior Tubes and Channels, precise 3D Positioning with Pivots, automatic Alignment of Surfaces, 3D Measurements, Stability and Thickness Analysis tools. Autodesk created a Meshmixer Overview webpage where you can find some basic information about tools available in the software.
Autodesk Meshmixer is a free tool for Windows and Mac that allows you to clean up a 3D scan, do 3D printing, or design an object that fits something else. Meshmixer includes a suite of tools to help users evolve existing CAD projects into parts that are optimized for printing. Light-weight with 3D Patterns, create interior cavities with Hollow, or use our variational Smoothing to melt away unwanted mass.
Designing parts that fit other parts can be a huge challenge in traditional CAD. Autodesk Meshmixer has a suite of tools designed to solve this problem. Autodesk Meshmixer can design printable add-ons to explore design variations. Free Meshmixer download links are available on top of the page.
Changelog
Meshmixer 3.5
added ViewCube! See mmmanual.com/viewcube for more information.
added support for the 3MF file format. 3MF is an XML-based data format — human-readable compressed XML — that includes definitions for data related to manufacturing, including third-party extensibility for custom data.
added more fixes for crashes and bugs due to the outdated graphics card drivers
added a fix for Macs with retina displays in Meshmixer
Meshmixer 3.4
redesigned the entire Print workflow. See www.mmmanual.com/printing for details. We have eliminated 3rd party printing services that were not working properly and causing crashes. You can now easily add custom printers and use your printer software to do the actual print, or you can export your model as STL and send it to the printing services.
implemented Customer Error Report (CER) functionality. A report can now be sent to Autodesk when Meshmixer crashes, which will allow us to debug your issues in a more meaningful way. Please add your comments about how the crash happened.
added a hotkey for toggling printer bed rendering in Meshmixer
You might also like