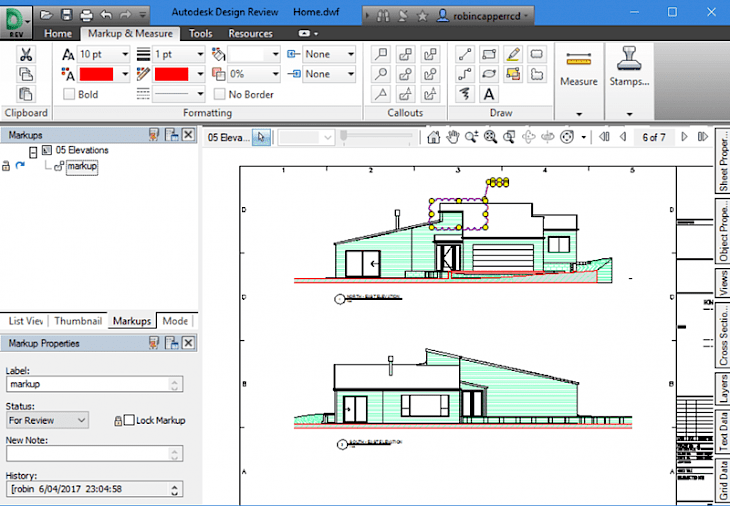 Download Autodesk Design Review
Autodesk Design Review is an amazing tool that provides a real-time view of your work. This free viewer is developed for Autocad DWF files and offered useful graphic tools that enable users to have real-time views of their designed 2D or 3D models, maps, graphics, and images.
This excellent software application can work with various file formats such as DWF, DWFx, DWG, and Adobe PDF. It can also perform with image file types like .jpg,.gif, PCX, .png, .cal, and many more.
FEATURES
Increase efficiency
You can use the practical and intuitive tools provided by this application to measure and review 2D or 3D design on your system.
Reduce Costs
It provides a clear view of your work including the 2D or 3D models, that help eliminate paper and avoid misunderstanding.
Effective Performance
You can enjoy the fantastic and enhanced features and tools for DWF viewers. This excellent platform allows you to record changes made to 2D or 3D files.
View
Autodesk Design Review provides a high-resolution view of your drawings, maps, or graphics. It represents and interprets the smallest of your objects, graphics, or models.
Enhance Communication
This great platform allows you to share your work with your team or colleagues. They can open the file shared even if they don't have the original design software in their system or desktop. It acts as an online sharing platform for the DWF files.
Track the Changes
While working on an important project, you can do multiple experiments on your designed model. This excellent software will manage, track and import the changes back to the original design software to complete the review cycle.
Multiple File support
Autodesk Design Review supports a wide range of file formats including DWF, JPG, RLC, BP, CAL, and many more.
User-friendly
You can efficiently operate this application, in just a few clicks it publishes from AutoCAD to other software applications for viewing purposes.
MINIMUM SYSTEM REQUIREMENT
Operating System: Windows 7, 8, 10

2 GB of RAM

Display Resolution: 1024 x 768

250 MB of free disc space
How to install Autodesk Design Review on your PC?
Autodesk Design Review is a writer, printer, and viewer, and you can use this excellent and useful platform on your Windows operating system. First, you will need to check whether your system meets the minimum system requirements and then proceed further with the installation.
Step 1: Open your browser and search "Download Autodesk Design Review for Windows" in the search box. You will get a list of websites on your search result page.
Step 2: You can choose any trusted websites from the search result page to download the setup or .exe file on your system.
Step 3: Once the downloading completes, you can now start installing the software to run it on your PC.
Step 4: During installation, follow the guidelines and instructions very carefully.
Step 5: Once done, you can now use this fantastic application on your device.
Autodesk Design Review is a fast-owing tool and provides a reliable powerful platform to Autodesk industry collections.
You might also like