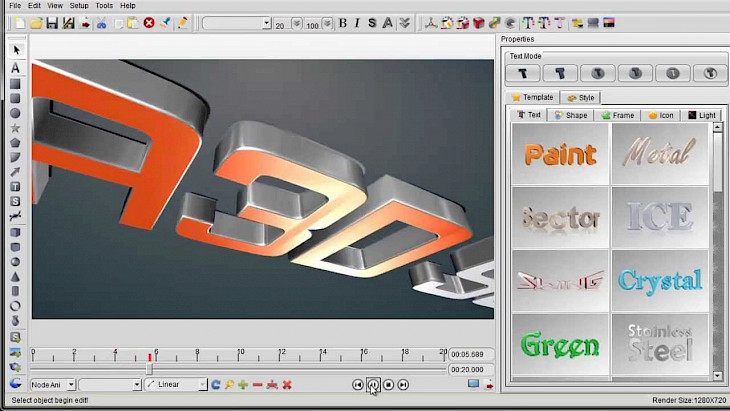 Download Aurora 3D Animation Maker
Nowadays, animations and graphics are getting popularized. You can make your presentation more pleasant and pleasing by using various excellent software developed by multiple developers. Aurora 3D Animations maker is a fantastic software that allows the user to use their creativity and make fascinating and eye-catching 3D animations.
Aurora 3D Animations Maker helps the user to control all aspects of their animations including length, playback speed, and more. The interface is well-organized and you can use the features conveniently. You will not need to master the 3D animations, you can start from the basics and develop your creative skills by using this fantastic platform.
FEATURES
Keyframe animation
You will not need to open multiple timelines to execute your work. A single timeline is enough. You heard that right, Aurora 3D animations maker allows the users to perform all their creative tasks on a single timeline and also enables them to control all aspects of your animations.
Particles Effect
You can make eye-catching animations by adding more splendid scene effects to your work. This includes space radiations, rain, snow, fireworks, etc. You can freely improve the scenes and make them more pleasant for the audience.
Internal Animation Style
Every object that you would use can be represented in various types of animations like rotate, swing, beat, wave, fade, typewriter, and pulse.
3D manipulator
You will need to drag the button at the right-bottom of an object, and you can extrude the text or shape by using this excellent and beneficial platform. The user can also control the object position, rotate and scale at X/Y/Z.
Animation Templates
It provides a lot of 3D titles and logo templates. The users can make their own 3D title animations in a few minutes for web and movie. You will not need to use the basics of 3D design.
Free-hand shape
Aurora 3D animations help you to create shapes easily. You can edit your shape by using various freehand shape tools. This fantastic platform allows you to import.SVG file to the canvas and edit the nodes of the shape.
Quick Styles
It is quite challenging to change the appearance. This amazing platform enables the user to change the object's appearance. You only have to select the object and click on the style color button. You will get your desired results quickly and effectively.
SVG and Picture import
This platform enables the users to import a 2D shape like an.SVG file, and import the SVG file to the freehand canvas and edit it. Alternatively, the user can import the pictures to the software and change them to 3D effects.
3D Graphic Mode
To quickly change the style of your design, you can change the graphic mode. You can have borders, a board, buttons, 2D and 3D text.
Text Edit
This animation maker platform helps the users to take full control of the text. Every text can effectively use different formats and colors.
Distort effect
You can represent the text and shape in multiple types of distortion including sector, curve, heave, sunken, wave, and arch.
How to install Aurora 3D Animations on your Windows Operating System?
To install Aurora 3D Animation maker on your PC you can follow the instructions and guidelines described below.
It is always preferred to install this software from the developer's official website.

Alternatively, open your browser and search "Download Aurora 3D animation maker for Windows" in the search box.
Now, you will get a list of websites on your search result page. You can select any trusted website like filehorse.com to download the setup or .exe file of this software.

Once you have downloaded the setup file, follow the step-by-step guidelines and instructions to start the installation process and run this software on your system.
You might also like