Audacity download for Windows, Mac, and Linux.
Category: Audio editing
Version: 2.3.2
Last update: May 13, 2019
OS: Windows, Mac, Linux
License: GPL
What is Audacity?
Audacity is a free audio editing software to record and edit multi-track recordings in WAV, AIFF, FLAC, MP2, MP3, AC3, M4A / M4R (AAC), WMA, and Ogg formats. Audacity can record live audio through a microphone or mixer, capture streaming audio, Import and Export WAV, AIFF, AU, FLAC and Ogg Vorbis files, edit and add effects to audio.
Audacity offers a lot of great features. You can use the software to convert cassettes to digital format, cut, copy, split, blend any portion of the audio tracks, apply a number of effects and more. Audacity is equipped with more than 50 generators and sound effects, including filters to remove noise, change the tempo and pitch, add echo, remove the vocals on the soundtrack, volume up, create transitions between songs, generate tones, silence, noise, instruments or rhythm track, adjust volume with Compressor, Amplify, Normalize, Fade In/Out, Studio Fade Out, Crossfade Clips, Crossfade Tracks and Adjustable Fade effects and much more.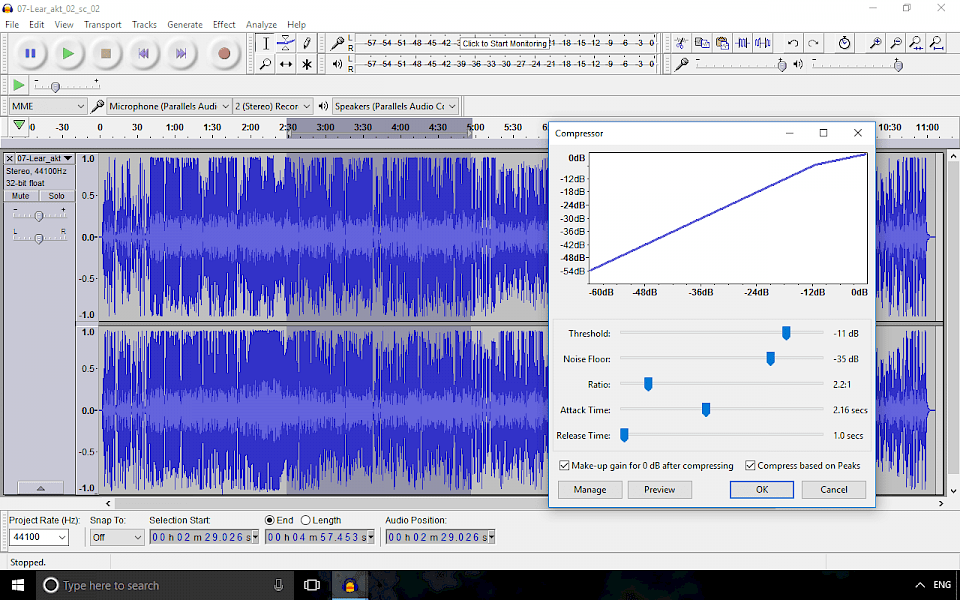 Audacity has also been equipped with features the recording of sound using a microphone input or input devices connected to your computer via USB and Firewire. The user can record several channels simultaneously and create a layer for the existing tracks. The application also displays handy sound level monitoring panel during the audio recording. Audacity supports 16-bit, 24-bit and 32-bit samples, sample rates and formats are converted using high-quality resampling and dithering and tracks with different sample rates or formats are converted automatically in real time.
In addition, the editor allows you to record CDs and ripping audio CD to formats such as WAV and AIFF. Audacity offers support for LADSPA, LV2, Nyquist, VST and Audio Unit effect plug-ins. Application possibilities can be expanded by installing additional plug-ins. To add support for the following formats to Audacity should install the LAME library system and ffmpeg. Audacity can be aslo used as an voice recorder and editor. The download contains the newest version of Audacity.