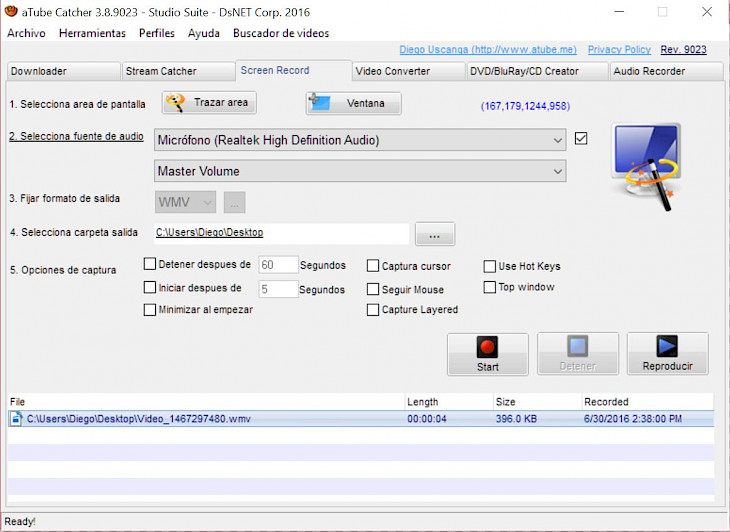 Download aTube Catcher
Are you in need of software that lets you download all videos you come across on the internet? You can save bandwidth and expensive computing resources with a Tube Catcher. Download and playback anywhere at anytime all of your favorite videos.
Developed by Diego Uscanga, aTube Catcher lets you download videos from social networks such as Vimeo, Youtube, Metacafe, Dailymotion, Spike, Yahoo, Globo, RTVE, and thousands of other places for video sharing. You can export the multimedia content to your device or mobile phone, IPAD, IPOD, PSP, tablet phone, Android device, DVD, VCD, or iPhone. Supported formats include 3GP, 3G2, AVI, XVID, MP4, MP3, MP2, WMA, WMV, GIF, FLAC, WAV, PSP, MPG, VOB, OGG, MOV, AVI, and many more.
Features of aTube Catcher
aTube Catcher also can burn your videos to DVD or VCD without using any other third-party apps. A built-in screen recorder can capture what you see on your screen, even video chat sessions from Windows Live Messenger, Yahoo Messenger, DVD movies, webinars, online meetings, etc., or make video/audio presentations, among other features.
The remarkable features of aTube Catcher have been listed below and elaborated.
Disk Burning
With aTube Catcher, you can burn any and every video to a CD, DVD, or Blu-Ray disk without having to employ any other software for this purpose.
Screen Recording
If you want to record all that you see on your screen while surfing the internet, be it a GIF or a series of videos, you can do so using aTube Catcher. This includes recording video conferences held via platforms like Google Meet, Yahoo Messenger, Windows Live Messenger, Cisco Webex, and Zoom.
Audiovisual Presentations
aTube Catcher enables you to create simple presentations having audio or video files embedded in them with ease.
Universal Video Downloader
The primary feature of aTube Catcher is to let you download any video you see on the internet, whether it is present on a social media platform or a private platform. It also doubles up as a download manager for these downloaded videos.
Download and Install aTube Catcher for Windows PC
Download aTube Catcher for Windows PC
To download the latest version 3.8.9841 of aTube Catcher, you can simply visit the official aTube website or head over to any third-party tech website to get it downloaded for free. Once the download starts, please wait for it to end before clicking on the downloaded setup file twice to start up the aTube installer.
After the aTube pops up on your Windows PC screen, you need to follow the simple on-screen instructions displayed by the installer to get the installation process completed.
Click on 'Next' until the User Agreement tab appears.

Agree to the User Agreement.

Let the download begin and attain completion.

Click on 'Finish' once the download ends.
You will now be able to see the aTube Catcher desktop icon appear on the screen of your Windows PC. You can launch it anytime you want to surf the internet to be able to download any video you come across while surfing. Enjoy!
You might also like