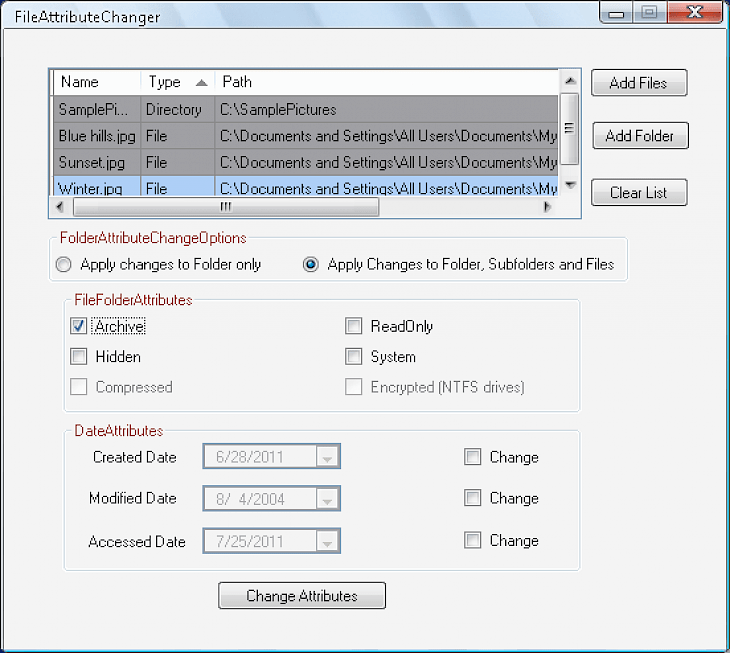 Download Attribute Changer
Attribute Changer is a freeware and reliable application that you can use as Windows Explorer Extensions to modify your file attributes, date, and time stamps. The software provides a powerful and amazing platform that guides and helps the users to manage their day-to-day tasks easily in their windows operating system.
Various features are offered by this software to make your working convenient, this includes automatic reports to track tampered files, simulation modes for previewing changes, the platform supports batch processing, and many more. The software proves to be a beneficial tool for those who are willing to make files in read-only mode to protect the data from modification. You can use this application to modify the standard attributes like Read-only, Hidden, Archive, Compress, and index on files and folders.
Attribute changer helps the user to make relevant changes in photo information by manually entering date and time values. You can also modify the detailed parts of the date and time stamps if needed. The software is a fabulous platform that enables the user to perform multiple tasks and functions. The file and folder filters in your system can instruct the Attribute changer to include or exclude objects on multiple criteria like date, time, size, attribute, etc. For most cases, ranges can be defined to work effectively and in an organized manner. You can apply multiple criteria by grouping and creating a set of conditions and applied the same to the files and folders.
FEATURES
Right-click extensions
The application is easy-to-use, you will need to right-click on the files and folder in Windows Explorer.
Photo-date and time
Attribute changer allows the users to modify the date and time information of your media files i.e., digital photos. You can freely and easily add and subtract the values and even synchronize with the file data and time.
Attributes, date, and time
The software is a fantastic tool that offers users to modify system attributes and manipulates the date and time of the files and folders with endless possibilities.
Filters
If you are willing to filter your data, then you can apply multiple criteria to include or exclude objects, these criteria include the date, time, size, attributes, and file or folders name wildcards.
Simulations
Attribute changer helps the users to preview all the modifications in a detailed reporting window before applying them.
How to install Attribute changer on your PC?
Attribute Changer is an excellent add-on that you can apply to your Windows Explorer. From shell extensions to the extensive, localized user guides in PDF format, you can perform a wide range of functions by using this application. To install the PC version of Attribute changer, follow the guidelines and instructions described below.
Step 1: It is always preferred to install this software from the developer's official website. To visit the site, click https://www.petges.lu/.
Step 2: Alternatively, open your browser and search "Download Attribute changer for Windows" in the search box.
Step 3: Now, you will get a list of websites on your search result page. You can select any trusted website like filehorse.com to download the setup file of this software.
Step 4: Once you have downloaded the setup file, follow the step-by-step guidelines and instructions to start the installation process and run this software on your system.
Step 5: After following all the steps, click on finish, and now you can use this fantastic software on your Windows operating system
You might also like