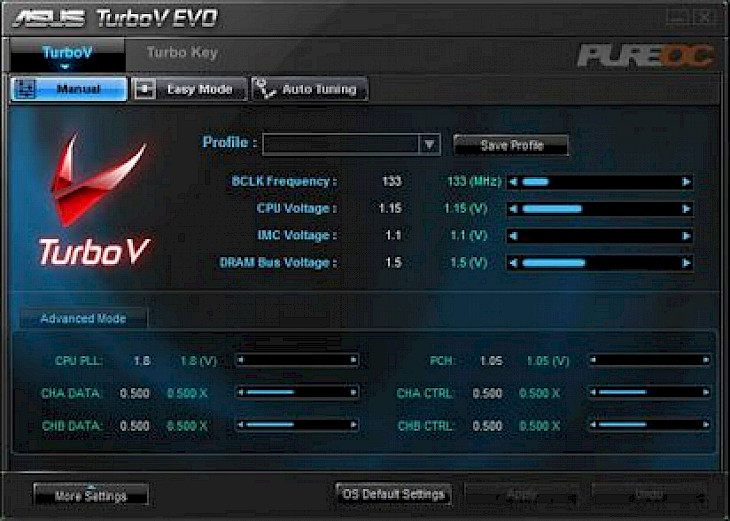 Download ASUS TurboV EVO
Do you want to unleash the beast in your Windows PC by unlocking the full potential of your CPU? Are you willing to take your gaming to the next level without spending a fortune on hardware? ASUS TurboV EVO does this exact thing for you - by making a few tweaks in your CPU.
To take full advantage of the hardware collection available on modern ASUS PC motherboards, ASUS TurboV EVO is a freeware overclocking manager. One of the main benefits of ASUS TurboV EVO is its emphasis on allowing advanced overclocking features directly from the Windows desktop, designed from the ground up for use by novices and experienced overclocking enthusiasts. That's right - with this app, countless visits to BIOS and UEFI boot interfaces are not needed.
The software focuses primarily on allowing processor overclocking. It offers manual overclocking resources inside the CPU - bus frequency and multiplier - and your motherboard for different subsystems - a wide array of power-regulation settings that are essential for running stable operations on higher CPU frequencies. The app can also handle your RAM overclocking, that is frequency and voltage.
Features ASUS TurboV EVO
OC novices will be happy to learn in addition to manual overclocking that ASUS TurboV EVO features a built-in automatic overclocking service that will steadily increase the operating frequency of your CPU and corresponding power delivery services and recognize reliable OC frequency for both gaming and productivity uses.
The features of ASUS TurboV EVO have been elaborated below.
Seamless Overclocking
ASUS TurboV EVO is the official overclocking of ASUS motherboards that lets you do manual and automatic overclocking of RAM and CPU.
Preset Manager
With ASUS TurboV EVO's Preset Manager, you can precisely control the power system of your ASUS motherboard. The revolutionary software lets you achieve a stable OC with automatic overclocking.
Focused User Interface
ASUS TurboV EVO provides a streamlined user interface (UI) with built-in monitoring tools so that you can get all the stuff you want to get done fast and easy.
Download & Install ASUS TurboV EVO for Windows PC
Download ASUS TurboV EVO for Windows PC
Downloading the latest version of ASUS TurboV EVO is very easy once you visit their official website or any other retail website on the internet. After the download, proceed with the installation process.
Install ASUS TurboV EVO for Windows PC
A tiny installation kit comes with the ASUS TurboV EVO that can be loaded into your device in just seconds. All you need to do is follow the on-screen directions and select the location of the hard drive where you want this software to be stored. A completely activated uninstaller comes with the app, making the removal of this app an effortless experience.
Upon your first boot, you will be welcomed into a very striking user interface that has elements that match with the current gaming aesthetic that are very boldly crafted. A small monitoring area of the present CPU frequencies and processing loads and several regions for controlling the OC tools are given in the main window. The manual and auto-tuning modes at the top of the window have their tab button, while different configurations and advanced settings can be accessed through buttons at the bottom of the window. Enjoy enhanced gaming with ASUS TurboV EVO!
You might also like