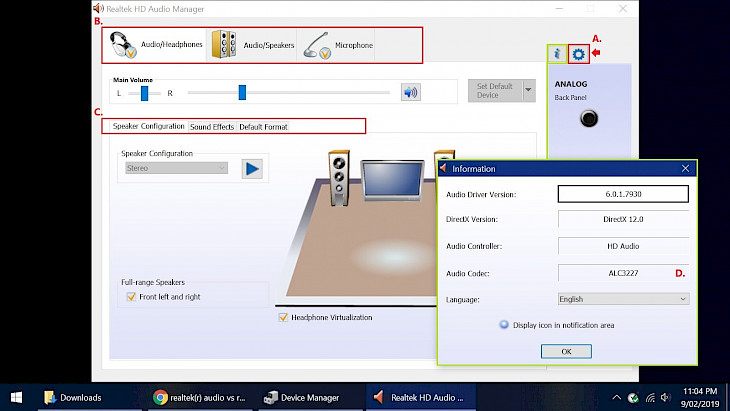 Download Asus Realtek Audio Driver
Computers are designed to provide users with the best of everything. Whether it's streaming multi-media content, or even viewing content, tasks as such can be accomplished at ease and help in getting the best of everything. With the being said, the only reason why we can do such things is all thanks to the integration of the software and the hardware.
The software is responsible for the little thing, and without them, the normal functioning of the computer isn't possible. Thus, if you are wondering what little things we are talking about, then we are talking about the sound and the audio that comes out of the computer. For the same, multiple drivers are required and one important driver which you need to have is given below. Take a look.
What is Asus Realtek Audio Driver?
Asus Realtek Audio Driver is the driver that is necessary for unlocking the full capabilities of the Realtek chipsets in the computer. It's more like getting the best usage out of these chips that makes the experience quite surreal and astounding. Moreover, with the driver, you can get an authentic feel of how your audio hardware functions and performs. Through the driver, you get a manager as well that helps in getting the most out of the hardware and manage the sound output of the system. Even optimizing the sound production can be extensively managed and get the best outcome possible. It's free and gets updated on its own when there is a newer update available.
Key Features of the Software
The driver provides exponential features that help in the regulation and the tweaking of the sound that is generated. It unlocked the true potential of Realtek drivers in the system which would have stayed dormant before this.
The software/driver is free to download, and you get regularly updated throughout such that you can easily manage your sound output and know what type of audio should be coming out.
Also, with the driver, you get a manager that helps in adjusting the sound profile along with the way you want every sound output to arise, making it relatively seamless and more comfortable to handle.
Minimum System Requirements
Storage – 100MB or higher

RAM – 1GB or higher

OS – Windows 7 or higher

CPU – Core 2 Duo
How to Download and Install Asus Realtek Audio Driver on PC
The drivers are exclusively available on multiple sites. You can get them from Asus's official website as well and download the audio drivers of your preference.
Once downloaded, then Open the installer and follow the on-screen set of instructions.
After successful installation, the computer might restart, and then you can use the manager to tweak the sound profile and audio output of your preference.
You might also like