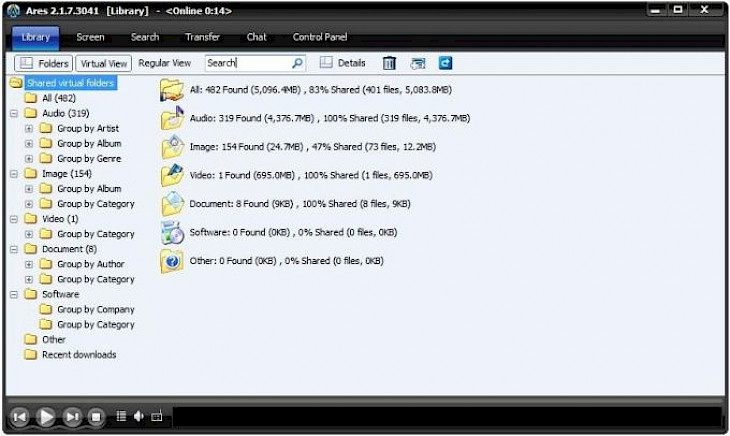 Download Ares 2.1.7
Ares, formerly known as Ares Galaxy, is a free BitTorrent open source and chat program that allows users to exchange digital files such as pictures, audio, video, apps, documents, etc. Via the Ares peer to peer network, you can now conveniently publish your files.
Ares is an application for open source peer-to-peer file sharing using its own decentralized supernode/leaf network. In 2002, it was spun off from the network of Gnutella and is now hosted on SourceForge.net. With a built-in audio/video viewer, the Ares has a simple, easy access interface. The BitTorrent protocol and Shoutcast radio stations both support the new versions.
The development of Ares started in mid-2002 and initially worked on the Gnutella network. Six months later, with a leaves-and-super node architecture, it migrated to its own network. Data sharing was allowed between two peers behind a firewall from version 1.9.0 onwards. This could be due to peer mediation.
As a virtual group member, you can scan and download just about any file that other users post. The new versions also support radio stations on the internet. You can enter chat rooms or host your channel with Ares and meet new friends.
Features of Ares 2.1.7
The unique set of features of Ares 2.1.7 have been highlighted in the following section.
Multi-source Easy Downloads
The app seeks more sources automatically and downloads files from several users at once. This will greatly improve the speed of your downloads. The tool resides behind firewalls and needs zero settings.
An Efficient Organizer for Libraries
Your shared files are grouped in a library section into groups. You can sort your files by type, by category, and adjust the sharing settings easily. By typing a keyword, a convenient quick-search function localizes your files.
Audio and Video Player Built-in
You can preview files and arrange a playlist made of your favorites while their download is in progress. Shoutcast internet radio supports the app player.
Chat Rooms for Filesharing
You can host your chat room and connect to other open channels. It has never been easier to build a chat channel, so you can now chat and make new friends as you download files. Channel-List Protocol was revised and updated in December 2008.
Download and Install Ares 2.1.7 for Windows PC
Ares 2.1.7 can be readily downloaded from this page by clicking on the 'Download' button on top of the page. You can then proceed with the installation once the download is completed by double-clicking on the setup installer.
Once the Ares installer appears on your Windows PC screen, follow the simple on-screen instruction to complete the installation process. After installing, the Ares desktop icon will appear on the screen of your Windows PC.
The Ares tool can now be run efficiently by double-clicking on the desktop icon whenever you want to share multimedia files with your friends in classic P2P style. Enjoy sharing!
You might also like