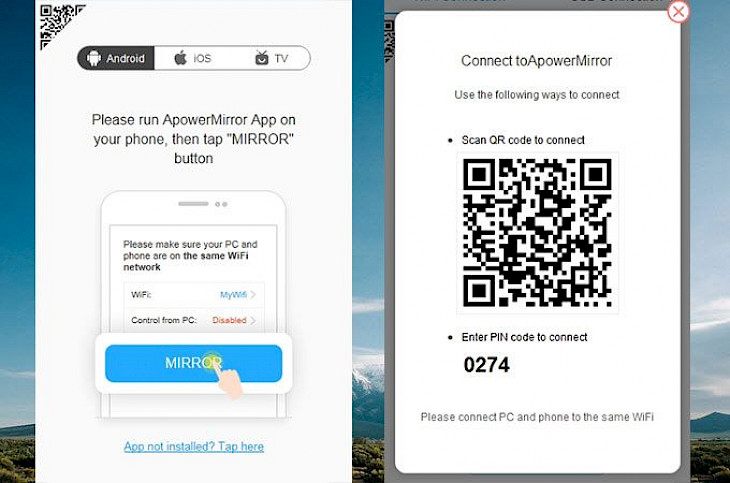 Download ApowerMirror
Technology can be altered and manipulated in any possible manner. It's more flexible than anything on this planet, and that's why it makes it quite vulnerable at the same time. Undoubtedly, the advantages are there, but the disadvantages do seem to be stacking up and proving that it can be misused. However, if you are looking to control things with technology, then physical objects cannot be controlled, but when it comes to software, then it's entirely possible.
Screen mirroring is quite a discrete feature that many smartphones these days offer. However, if you are looking for a way that a mirrored screen could be used for haptic touch and feedback, which can be used to control the smartphone, then one exciting agenda pops up. If you are looking to carry out functions as such, then an exciting application is given below. Check it out.
What is ApowerMirror?
ApowerMirror is a screen mirroring application but with a unique twist. With standard screen mirroring applications, users can simply screen share their content from the mobile device to desktops or TV. But with the application on your computer, users can seamlessly control their devices from the computer, which makes it attractive as you play games and do much more when you have the feasibility of a keyboard and a mouse.
Key Features of the Software
There are plenty of things that the application has to offer. These features include a screen mirror between devices, screen recording, display full screen—casting screen from one device to another, whiteboard screen sharing, and much more.
Easy to understand user interface
The application has an easy-to-understand user interface where with few click of a button can get the application to do what you want and does it exceptionally well without any hiccups.
No doubt the application is free. But then it's only on a trial basis. After the limited time, you will have to buy the application to unlock the fullest of potentials in terms of what it has to offer.
Minimum System Requirements
OS – Windows 7 or higher

RAM – 1GB or higher

Storage – 100MB or higher

CPU – 1.8GHz processor
How to Download and Install it on a PC
Download the software installer
The installer can be found on multiple third-party sites. You can get it from here or from its official website.
Once downloaded, then install the application by following the on-screen set of instructions.
After successful installation, having fun using the application to mirror all types of smartphones onto your computer.
You might also like