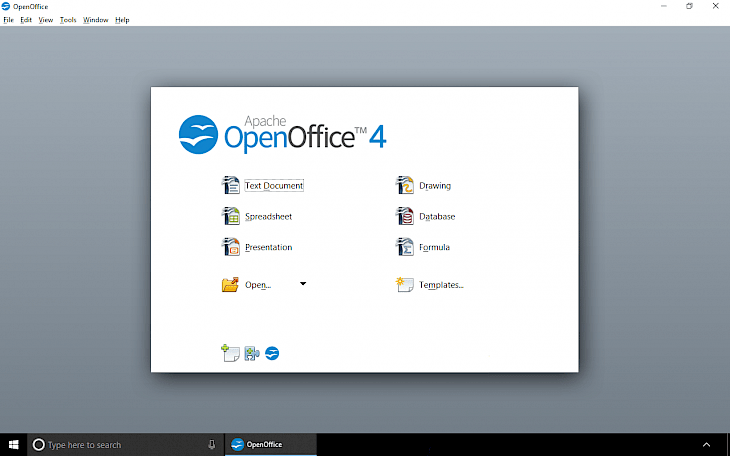 Download Apache OpenOffice
Apache OpenOffice is a free office suite packed with 6 office suite tools. Text editor, spreadsheet, tools for creating presentation and sophisticated mathematical formulas, and a database and drawing app. When you download OpenOffice you can use them for free.
OpenOffice Writer is a word processor with all necessary functions for editing text documents. Insert graphics, tables, charts, use style sheets in Writer documents. Writer offers an extensive dictionary spell checker, supports serial correspondence and offers some powerful formatting and indexing text.
Using Writer you can edit and read Microsoft Word documents.
Apache OpenOffice Calc is a full features spreadsheet where user can create formulas, calculating rates based on data collected online, create charts, format cells, or create own functions. OpenOffice Calc is compatible with Microsoft Excel documents.
Impress is a Microsoft PowerPoint free alternative designed to create presentations. Offers the ability to easily create transition effects, add to presentations raster graphics and vector like. Finished projects can be saved to executable files using OpenOffice Impress.
Create databases with OpenOffice Base. Manage tables, forms, queries, and reports. The program supports databases such as HSQL, dBase, MySQL, Adabas D, MS Access and PostgreSQL. When you download OpenOffice you will install also Draw.
The application is designed to create mind maps and all kinds of diagrams. The last tool included in the Apache OpenOffice is a Math allowing to generate sophisticated mathematical equations. Projects can be imported into other components tools available in Apache OpenOffice.
All documents in OpenOffice suite are exported to OpenDocument format, the new international standard for office documents. This XML based format offers substantial disk savings compared to common competitors' formats. It also means user can access the data from any OpenDocument compatible software.
Apache OpenOffice is the only full featured and open-source alternative for Microsoft Office. OpenOffice download installer comes with Writer, Calc, Impress, Base, Draw and Math. OpenOffice Writer is like Word, a almost perfect word processor, with auto correction, text formatting tools, option to add images, etc.
Use it to as default text editor to create web content, or advanced tool to built books and heavy text documents. The 2nd tool available when you download OpenOffice is Calc spreadsheet. It is a great Excel replacement app that works on Windows, Linux and Mac. Every tool available in OpenOffice integrates with other this way you can create complex documents.
OpenOffice supports Microsoft Office documents and this is a big plus.
OpenOffice download include all mentioned tools.
OpenOffice Writer

Every office suite need a word processor. There is no different in Apache OpenOffice. Witter offers everything that you would expect from a full equipped word processor. With Apache OpenOffice Writer create simple memos, and complex documents with diagrams, indexes, books and more. You can also download Writer templates or create your own using the word processor Wizards.
All documents created by OpenOffice Writer are saved to OpenDocument format (.odt), the international standard for office documents. OpenOffice Writer supports also documents created by Microsoft Word including .docx and .dox. Microsoft Office can also open .docx files created with Microsoft Office 2007 or Microsoft Office 2008 for Mac. Other features offered by free OpenOffice
Writer include style and formatting, auto correction, autocomplete (with common words and phrases suggest), table of content and references, multi-page display (also on multiple monitors), notes, text frames, or option to export documents to HTML, PDF, MediaWiki formats.
OpenOffice Calc

Apache OpenOffice spreadsheet application is a free Microsoft Excel replacement software. OpenOffice Calc is a professional solution for storing numbers and list with range of advanced functions. Using DataPilot available in OpenOffice Calc users can easily pull raw data from corporate databases, cross-tabulate, summarize, and convert it into meaningful information.
Apache OpenOffice Calc features functions like support for natural language formulas like those in Excel, intelligent sum function, Wizards guides for comprehensive range of advanced spreadsheet functions, style and formatting, scenario manage, calc's solver (automatically solving optimization problems), and support for multiple users (collaborative work on spreadsheet).
OpenOffice Calc also works on OpenDocument format, and you can access it in any compatible software. Import Microsoft Excel spreadsheets documents in .xlsx formats, and save documents to PDF if required.
OpenOffice Impress

Apache OpenOffice is packed also with a free presentation software similar to Microsoft PowerPoint. OpenOffice Impress will impress your audience with presentations you can create using this tool. Add 2D or 3D clip arts, special effects, animation, and use high-impact drawing tools to make your presentation to stand up.
Use Master Pages available in OpenOffice Impress to simplify task of preparing presentations, draw diagrams, and use available slide show animations tools to make your presentation more interesting for audience. Apache OpenOffice Impress supports .odp Standard that stands for OpenDocument format for presentation.
Moreover, OpenOffice Impress handles well .ppt and .pptx documents created using Microsoft PowerPoint software. Read and save to this format from OpenOffice Impress, and create Flash based presentation using Impress built-in ability for Flash support.
OpenOffice Draw
Apache OpenOffice is packed with drawing diagrams application. Use OpenOffice Draw to create sketch or complex drawings, technical posters with tools offered by Draw. Every product offered by Apache OpenOffice is compatible with OpenDocument format, and also Draw supports this format.
OpenOffice Draw offers styles and formatting tools, customize you drawing tools for quick access, manipulate object with available controls in two or three dimensions, add rings, cubes, spheres to projects, arrange object, ungroup, regroup and edit groups in Draw, or import graphics from supported formats like BMP, GIF, JPEG, PNG, TIFF, and WMF.
OpenOffice Base
OpenOffice Base is a full featured database management system that can be used as personal tracking solution to advanced corporate monthly sales reports. Base comes with Wizards that help users to design databases and create tables, queries, reports, forms etc.
OpenOffice Base offers support popular database engines like MySQL, Adabas D, MS Access and PostgreSQL. In addition, support for JDBC and ODBC standard drivers allows you to connect to virtually any database. Base offers the full HSQL relational database engine, configured for single user, with the data stored in the Base file, and support for dBase flat files.
OpenOffice Math

Apache OpenOffice offers also Math, a simple way to create equations and formulae for documents. Math is most commonly used as an equation editor for text documents, but it can also be used with other types of documents or stand-alone. When used inside OpenOffice Writer, the equation is treated as an object inside the text document.
You might also like