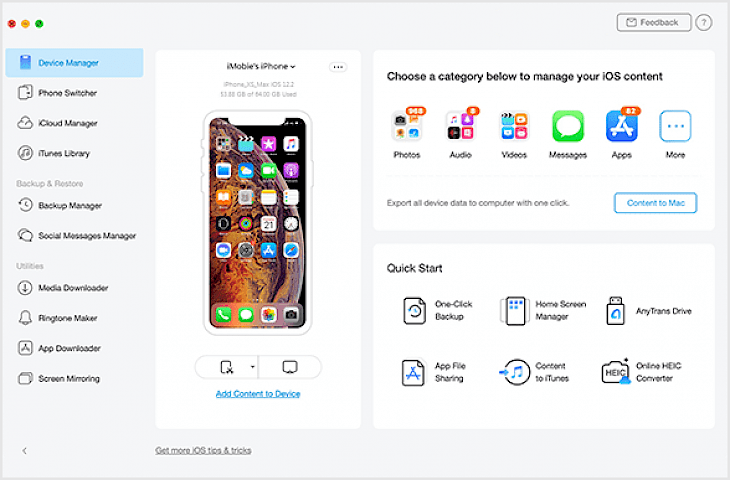 Download AnyTrans for iOS
AnyTrans for iOS is a software designed for PC that offers users a seamless iPhone, iPad and iPod management all in one program and also at a great price. The user can Put movies, music, apps and any other type of entertainment file directly into their Apple devices, iPad mini, including iPhone 5 and above, and all Apple iDevices. The software comes with a feature called iWizard to helps users to manage transfers of iPhone, iPad and iPod content.
This feature provides a direct and intuitive guide to backup audio and video files from iOS devices to a computer or the iTunes library before any of the transfer will start. AnyTrans iWizard automatically saves all the user's personal data such as tags, play counts, artworks, ratings, and more. The wizard usually fills up an iPhone, iPod and iPad from iTunes on several desktop and laptop computers and users no longer need to think of lost songs that previously were kept on the device.
Features of ANYTRANS FOR iOS
Device Transfers: The software allows the users to have a seamless iDevice-to-iDevice transfer without any kinds of hassles.

iTunes Library: The software now comes with a rebuild iTunes Library for more ease in-app functions.

Complete App Transfers: The software allows users to have a complete experience without any kind of interruption during app transfers.

Playlists: The software comes with renewed copy playlists and much more for a smooth experience.

IPod Music: The user can freely add any amount of music to their iPods without any kind of hassles.

Convert Video: Users can now convert their video on the fly as to any kind of format to their Apple devices.

Transfer Music Back-and-Forth: The software allows the users to transfer all their purchased or downloaded songs between iTunes and PC. User can also drag and drop audio files or import their favorite songs from iTunes to iPhone/iPad/iPod without any risky syncs or frustration.

Transfer Photos and Movies Back-and-Forth: The software allows users to have a 1-click Export Photos to PC function, which also allow users to transfer movies from their Apple Devices to PC, delete their files on their Apple devices from the comfort of PC, or easily access Camera roll, photos albums and iCloud shared albums.

Move Messages/Contacts: The software gives users a one-click features to transfer messages/iMessage or contacts between iPhone and Android devices. The user can also transfer contacts between iPhone and the computer and also backup those contacts.

Effective Management: This feature allows users to backup all their applications to their device, which helps save a lot of storage space and also will help uninstall multiple apps in batches.
Installation Requirements for ANYTRANS FOR IOS
To install the ANYTRANS FOR IOSon PC, make sure that the following requirements are met by the user in the PC desktop.
PC – Make sure that your PC is on Windows 7 or higher with at least 4 GB of RAM.

Compatibility Mode is enabled.
How to Download ANYTRANS FOR iOS on Windows
Follow the below steps to download and install the ANYTRANS FOR IOSon your PC:
Go to Anytrans for iOS's website, and go to Downloads.

Click on Download Now.

Select 'Save' to download the program. The file will be saved in the Downloads folder.

If you want to save in a specified folder on your desktop, then click on 'Save As' and select the folder you want the program to be saved.

After the download is complete click on the .exe file.

The installation process will start.

Run the installation package.

Wait until the update completes

Follow the Windows installation instructions and select options accordingly.

Click on Finish to complete the installation.

The program icon will appear on the desktop.

Select the icon to start the application.
You might also like