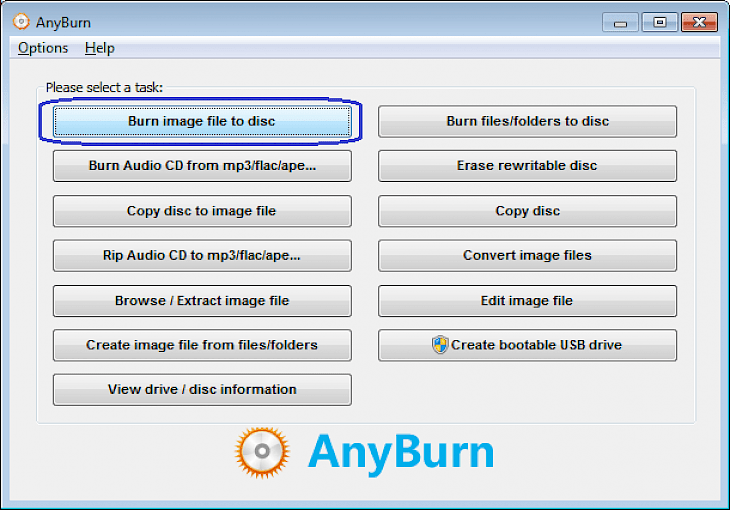 Download AnyBurn (32-bit)
If you are looking for professional CD/ DVD/ Blu-ray burning software, you should go with AnyBurn (32-bit). This excellent software provides a complete solution for burning and disc imaging. You can use this application free of cost without spending a single penny.
AnyBurn software allowed you to burn iso files and other optical disc files like Dmg, Cue, Mdf, Daa, etc. The users can use its unique features to erase the disc before burning if the destination disc is re-writable and not empty. This fantastic software is compatible with your Windows operating system.
FEATURES
AnyBurn software enables the user to copy an optical disc to an ISO file and store it on your hard drive. ISO file is one of the most popular disc images which contains all your information. You can also burn the ISO file when needed to a blank disc to create a copy of the original disc.

Nero application created a type of compact disc image file called Nrg file, which is used to backup all your information and content of the compact disc. This application helps the user convert the Nrg file to an ISO file or directly burn the Nrg file to a compact disc and optical disc.

Backups and adds files and folders to CD, DVD, or Bluray Disc.

The sector method available on this application helps to copy a disc using sector.

The user can create image files from hard disc files or CD/DVD/BD discs by using this fantastic application.

The users can create bootable USB drives for their Windows operating systems.

You can test disc sectors.
Minimum System Requirements
AnyBurn (32-bit) is completely free for home as well as business use. Before downloading this application on your system, you will need to check the minimum system requirement to avoid any interruption.
Operating system: Windows 7, 8, 10

Processor: Intel Platinum 166MHz and later

Memory: 64 MB

10 MB of free hard disc space

CD, DVD, or Blu-ray device
How to Download AnyBurn (32-bit) for Windows?
The PC version of this excellent software is available easily on various trustworthy websites and online platforms. To perform multiple functions including editing the ISO file, you can download it on your Windows operating system. AnyBurn provided multiple tools and features to its users to burn CD, DVD, and Bluray disc, copy the disc to image file, convert image file, browse and extract Image file, Burn Audio CD, etc.
To install this software on your PC, you can follow the guidelines described below.
Step 1: Open your browser and search "Download AnyBurn (32-bit) for Windows" in the search box. You will get a list of websites on your search result page. Alternatively, you can directly download this software from the developer's official website.
Step 2: You can choose any trusted websites from the search result page to download the setup or .exe file on your system.
Step 3: Once the downloading is completed, you can now start installing the software to run it on your PC.
Step 4: During installation, follow the guidelines and instructions very carefully.
Step 5: Once done, you can now use this fantastic application on your device.
You might also like