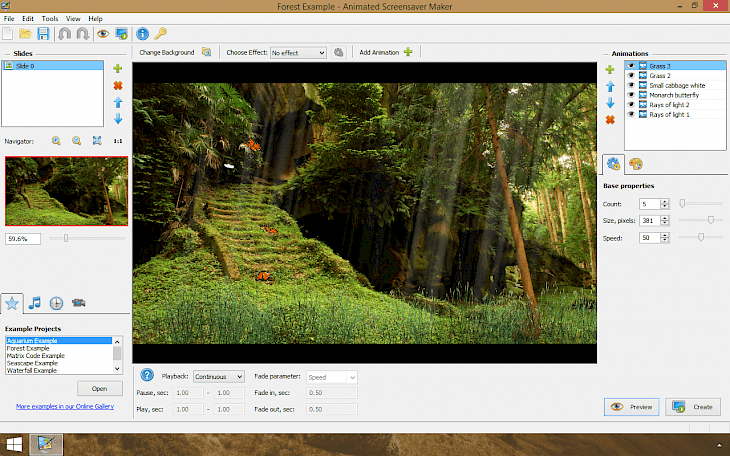 Download Animated Screensaver Maker
Animated Screensaver Maker gives you a rich toolset to create animation design and screensaver for Windows. The program offers in its database several effects allowing you to turn any static photos into animated scenes.
With Animated Screensaver Maker you can to turn any photo into live animated scenes with fire, water, or optical effects and then enliven them with flaring lightings, pouring rain, falling leaves and many other options. You can also import your own animated GIF files. Then you can save the result as a screensaver in one click and easily share it with your friends and family. Using the software, you can create an aquarium with fishes, seascapes, bonfires, galaxies, moving vehicles, etc.
Animated Screensaver Maker supports image files in formats like GIF, BMP, JPG, TGA, PNG. You have also access to powerful animated objects including clouds, plants, explosions, smoke, grass, fish, ghosts, and much more. Moreover, you to generate atmospheric effects like rain, falling snow, wind, fire, water and the effect of grass swaying or falling leaves, etc. Users can also freely edit the settings of individual effects. You can affect the animation speed, size generated molecules, etc.
Animated Screensaver Maker lets you preview the project in the form of a slide show. Screensavers can be saved in .SCR format or installed it on your computer instantly. The demo version works fully functional, but a watermark is displayed on the screen.
You might also like