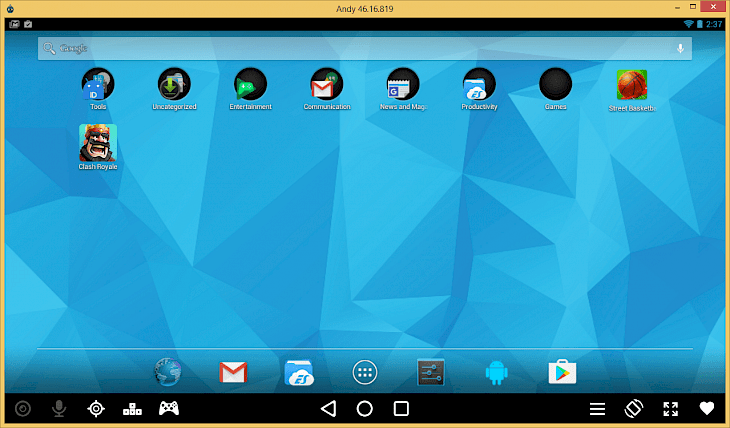 Download Andy
Two decades ago, the idea of playing fun mobile games like the classic snake game on a computer system would have sounded virtually impossible. Today, however, it is reality. In fact, it is a notch higher than that. With the creation of magical devices known as emulators, users are able to project their mobile's working environment onto the computer screen. This comes with full access to apps that are thought to be mobile exclusive. Andyroid is a prime example of these magical devices. Popularly known as Andy, Andyroid is an android emulator designed to bridge the gap between mobile and computer. It lets you operate on android features using your computer. Just think of all the fun mobile games that you can play on your system once you have downloaded Andy. Sure, the PC has surplus entertainment in its browsers but there is something uniquely exciting about running mobile games and apps on the system. Imagine, you can run the original Subway Surfers on your big screen. You don't have to resort to low-quality .apk files available in the web browser. Andy lets you pick games straight from the Play Store!

Key Features Of Andy
Run Any Mobile App
One of the prime features of an emulator is to run any mobile app you want on the system. This can be a utility app like Uber, a social media app like Snapchat or simply a game. The download procedure of such apps is the same as it is on your phone. You need to go to Andy's inbuilt Play Store and download it from there.
Computer-Smartphone Sync
When you launch an emulator, you are essentially transforming your OS into an Android-powered ecosystem. Here, you get full access to mobile features like widgets, sensors and native apps. If you are tired of using your phone the touch screen away, you can use it the keyboard way by projecting it onto your system.
Turn Your Phone Into Controller
Like a remote control is used to switch channels on cable television, you can use your phone to switch between apps on the computer screen. So even if you are sitting a good distance away from your computer, you have control over your system. Wouldn't it be fun to cause mischief when your sibling is using the computer? Try doing so!
System Requirements Of Andy
Ensure that you system meets the following requirements before you try to install the software.
It should have Windows 7/8/10 64-bit operating system

It should have a dual-core AMD or Intel processor

It should have a GPU that supports OpenGL 2.1
How To Download It On PC
The given procedure entails instructions to download Andy on PC:
Click on the 'Download' button. This will redirect you to another page where the .exe file of the software starts to download.

Once it finishes downloading, run the file on your system. Follow all the installation instructions that show on the setup window.

When you reach the end of this process, Andy will successfully get installed on the system.
You might also like