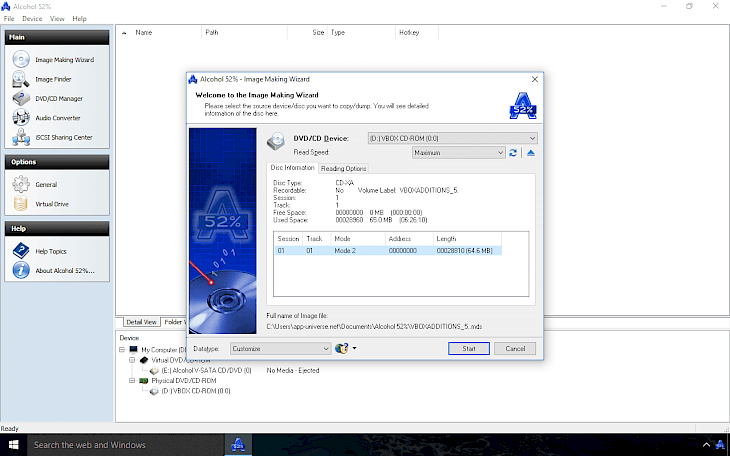 Download Alcohol 52% Free Edition
Alcohol 52% Free Edition is a great tool designed to backup Blu-Ray, DVDs. Alcohol 52% is a small version of Alcohol 120% without the burning engine. It can create image files, and mount those images on up to 6 virtual drives.
The program is designed primarily to backup CDs, DVDs, Blu-Ray secured with technologies like Laserlock, DVD-COPS, SafeDisc, SafeDisc2, SafeDisc4, Securom 7, StarForce 1.x / 2.x and VOB VOB ProtectCD ProtectCD v5. Alcohol 52% Free Edition is also offers function to create virtual drives, through which it is possible to play disc images without burning them on the media. It is not necessary to insert the CD and DVD discs if users want to play PC Games in their computer
Alcohol 52% Free Edition can be used to rip CD / DVD to MDS file format, erase rewritable discs, mount images in popular formats like MDS, MDX, BWT, B5T, B6T, CCD, CUE CDI, PDI, NRG, ISZ, ISO to virtual drives and more. Alcohol 52% displays detailed information on the drives installed in your computer, Alcohol's Image Finder allows you to find all images from files stored on the hard drive, and with Audio Converter you can convert music files.
You might also like