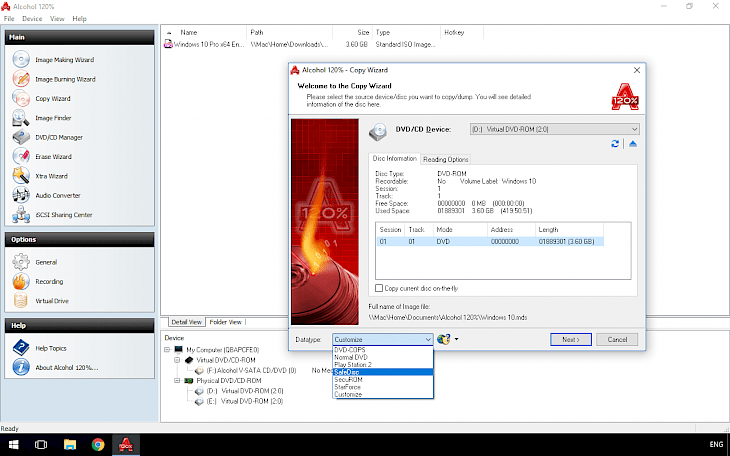 Alcohol 120% Free Edition create virtual CD/DVD-ROM drives and manage images.
Alcohol 120% Free Edition is a freeware version of one of the best tools for copying and burning Blu-ray, DVD, HD DVD discs. The application is also equipped with a driver to emulate CD / DVD, allowing you to create up to 2 virtual drives.
Download Alcohol 120% Free Edition for Windows and copy-protected DVDs and CDs. The program works on a 32-bit and 64-bit system and was tested to operate from Windows 7 and up to Windows 10. Due to the present legal restrictions DVD titles protected with CSS protection can not be backed up.
Using Alcohol 120% Free Edition you can create an image file from a source CD/DVD disc, burn an image file to a recordable CD/DVD disc, copies a source CD/DVD to a recordable CD/DVD disc, searches for image files on the hard disk drive, shows information about CD/DVD devices and discs, erases CD-RW/DVD-RW/DVD+RW/DVD-RAM, create image files from you own files using Xtra Wizard, change the Settings for Alcohol's Virtual Drives, and emulation settings in Alcohol.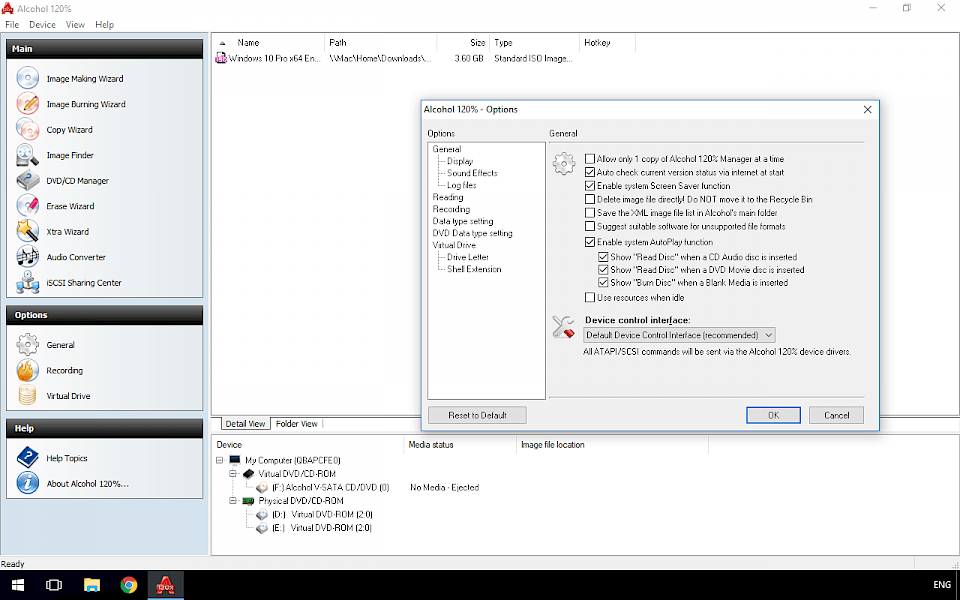 The program is designed primarily for backup secured CDs, DVDs, Blu-Ray technologies like Laserlock, DVD-COPS, SafeDisc, SafeDisc4, Securom 4/5/7, StarForce 1.x / 2.x / 3.x and VOB VOB ProtectCD ProtectCD v5. Alcohol 120 Full Version Free can create up to 2 virtual drives, through which it is possible to play disc images without burning them on the media. Moreover, Data-Type Analyzer can detect protected media and select the right profile to copy secured data CD/DVD.
Other features include an option to rip CD / DVD erase rewritable discs, mount images in popular formats like MDS, MDX, BWT, B5T, B6T, CCD, CUE CDI, PDI, NRG, ISZ, ISO to virtual drives and more.
Alcohol 120 Full Version displays detailed information on the drives installed in your computer, Alcohol's Image Finder allows you to find all images from files stored on the hard drive, and with Audio Converter you can convert music files.
You might also like