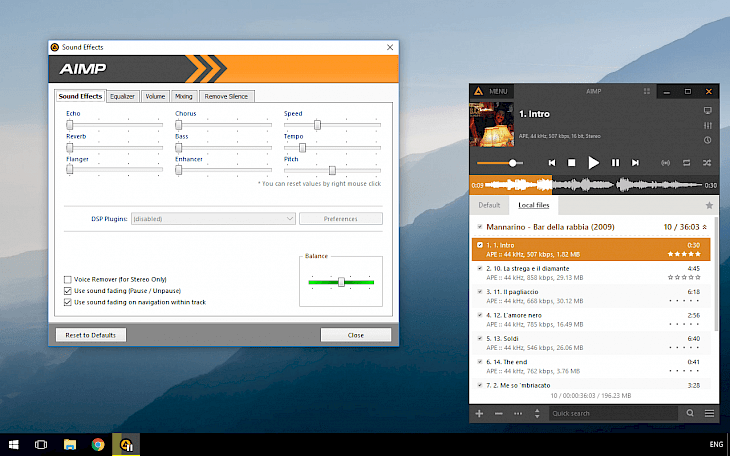 Download AIMP
AIMP is a free audio player that supports streams broadcast and audio formats like OGG, WAV, MP3, AAC, and AAC +. You can also capture radio transmission stream to APE, FLAC, OGG, WAV, WV, WMA, and MP3 format.
AIMP music player offers features such as support for multiple playlists at once, convert music between supported formats, import audio data from Audio CD, edit metadata files, automatic volume improvement for albums, built-in alarm clock, ability to automatically shut down the computer, function of update the playlist according to selected criteria, synchronize playlists or organize and manage your media database, view statistics of played songs and rate songs.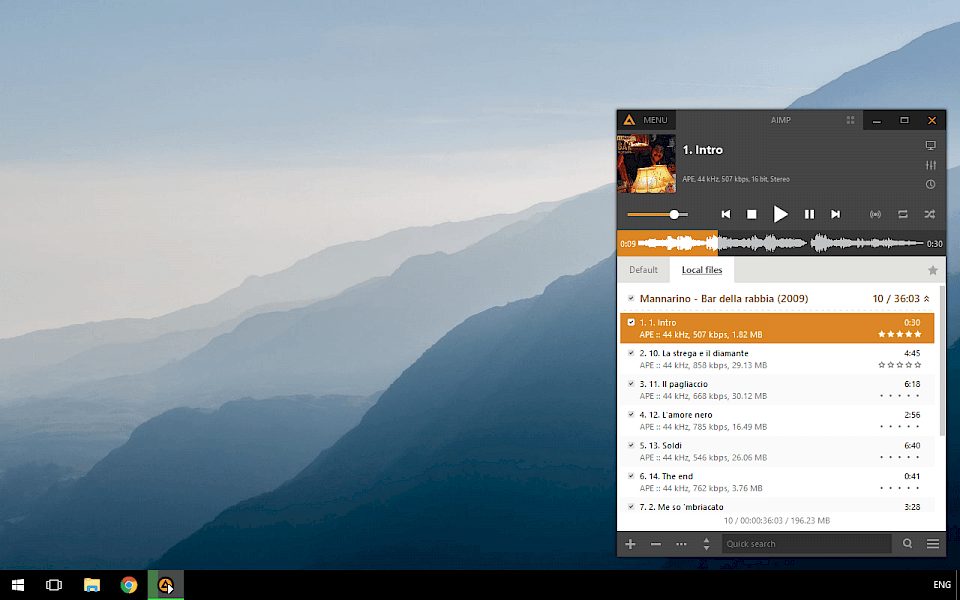 The sound engine offers 18-band equalizer and built-in sound effects including Reverb, Flanger, Chorus, Pitch, Tempo, Echo, Speed, Bass, Enhancer, Voice Remover. AIMP Music Library Represents the music files organizer, which allows you easily organize your music, set marks for listened Tracks, keeping playback statistics.
There is also an option to search files on all opened playlists, ability to block content from changes and edit ID3v1, ID3v2, APE, Vorbis, WMA, M4A tags.
You can encode music to APE, MP3, FLAC, OGG, WAV, WMA, OPUS, MusePack, and WavPack formats.
AIMP music player supports audio formats such as .CDA, .AAC, .AC3, .APE, .DTS, .FLAC, .IT, .MIDI, .MO3, .MOD, .M4A, .M4B, .MP1, .MP2, .MP3, .MPC, .MTM, .OFR, .OGG, .OPUS, .RMI, .S3M, .SPX, .TAK, .TTA, .UMX, .WAV, .WMA, .WV, .XM, .DSF and .DFF.
Music Player is packed with decoders for the WebM and Matroska Audio formats, support for MKA, AA3, AT3, OMA, YouTube file formats, support for lyrics in the .LRC and .SRT file formats (skin must support lyrics too), new options "jump 5 sec back on start if playback is paused for more than 15 seconds", "jump to next track on deleting playing file from playlist" and "restore playback position for each playlist".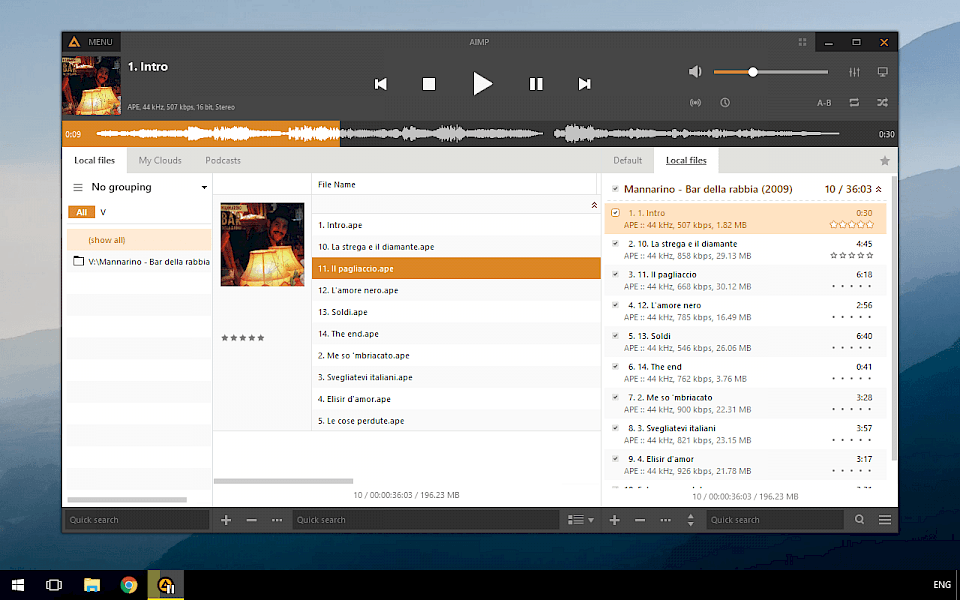 The Audio Converter module offers access to statistics. AIMP's Tag Editor offers an option to download lyrics from the Internet (additional plugins are required) and the Lyricist, Mood, Conductor, Catalog, Compilation, ISRC, Rating and Encoder tag fields have been added. Also, the potential abilities of Skin Engine have been extended.
The developer-focused on extending options available in Music Library. Some of the more important changes in Music Library include new DB engine that improved performance by 10 times, an ability to size group details area in the default skin, an option to reset stats for selected files only and reset stats for selected files only.
AIMP Music Player is my favorite audio player for Windows. The software offers everything what would you expect. It works fast, offers support to play all popular audio files, and it's a great Winamp alternative. Moreover, AIMP is packed with decoders for the WebM and Matroska Audio formats, support for MKA, AA3, AT3, OMA, YouTube file formats, and can read lyrics file formats including .LRC and .SRT. From the developer webpage, you can also download AIMP for Android devices. I like also that the app offers an option to convert audio files and edit tags.
You might also like