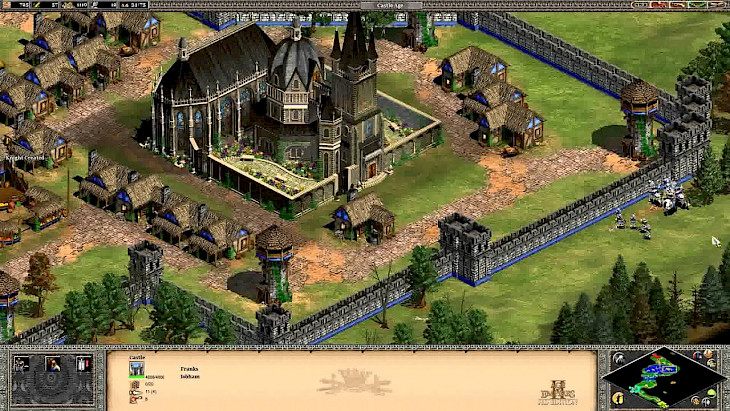 Download Age of Empires II: HD
Age of Empires 2 also known as Age of Empires II: Age of King is a strategy-based video game published by Microsoft Corporation. In this fantastic and enormous game, the players built towns, gather essential resources, and create their army to give an intense fight to the opponents.
This excellent game is the sequel of the award-winning game Age of Empires. You can experience a variety of challenges including the five-historical single-player campaigns and fully-featured multiplayer features. When you win a fight, you will be promoted and pass from one historical era to another. Thereby, you will get better and advanced technologies and structures.
You can play Age of Empires 2 alone or in multiplayer mode conveniently with AI models. This fantastic game has five campaigns located around different civilizations. Every campaign has its scenario and progressive storyline to fascinate and entertain the players. When you start playing the game, you begin with the tutorial celts campaign and then you will learn to control and operate the essentials like units, armies, and other resources. When the town is attacked, units can hide to save themselves.
Each campaign is followed by another more difficult real-time scenario that enhances the player's interest and gaming experience. There are various ways to win this game either kill the monarch or control all relics on the game's map for a certain amount of time. You can also win by making a unique building called wonder and use it as a shield to stand against the enemy.
The detailing and user interface of this game are fabulous and interactive. The building appears in sharp 3D before converting to 2D building sprites. Every era has its way of presentation with unique dress styles, structures, and language. The audio and soundtrack quality is just incredible that provide a real-time gaming experience.
Minimum System Requirements
It is always convenient to check the system requirement to avoid any instability and interruption.
Operating system: Windows 7, 8, 10

1 GB of RAM

2GB of free hard disc space.
How to install Age of Empires II: HD on your PC?
Playing Age of Empires II: HD on the big computer screen is a fantastic experience. You can have this magnificent strategy game on your Windows operating systems by using a reliable and straightforward step-by-step downloading procedure.
Step 1: You can download Age of Empire II: HD directly from its official website. To visit the site, click https://www.ageofempires.com/buy-now.
Step 2: Alternatively, open your browser and search "Download Age of Empire II: HD for Windows" in the search box.
Step 3: Once the downloading is completed, click the setup or .exe file twice to start the installation process.
Step 4: Follow the instructions and guidelines very carefully.
Step 5: When the process is finished, the Age of Empire II: HD icon will appear on the desktop.
Step 6: Click on the icon to play this superb strategy game on your system.
Age of Empire II: HD is available for a trial period. After the end of the trial version, you have to buy it from the developer's official website. You will enjoy this real-time strategy game. The fascinating and high-quality graphics and soundtrack enhance the gaming experience. This classic game is simply a masterpiece and reliable game for enthusiast gamers.
You might also like