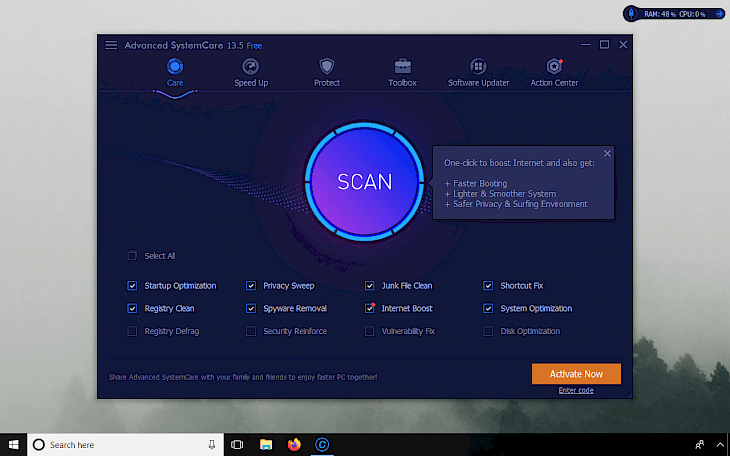 Download Advanced SystemCare Free
Advanced SystemCare Free is a great all-in-one PC utility that can repair, clean, optimize, and speed up Windows. The software offers also a packed real-time RAM, CPU & Disk monitor. Advanced SystemCare installs the Free version, but if you are interested to activate more features you can upgrade to Pro.
Download Advanced SystemCare for Windows and protect your system with the lightweight firewall. The program works on a 32-bit and 64-bit system and was tested to operate from Windows XP and up to Windows 10. Advanced SystemCare 13 offers many new features that are added to further optimize your PC.
This latest version of Advanced SystemCare also has either rebuilt, improved, or added numerous tools and features including the Startup Manager, Resource Manager, Hardware Accelerate, MyWin10, Large Files Finder, Surfing Protection, Startup Optimization, and more to make your computer run like new again.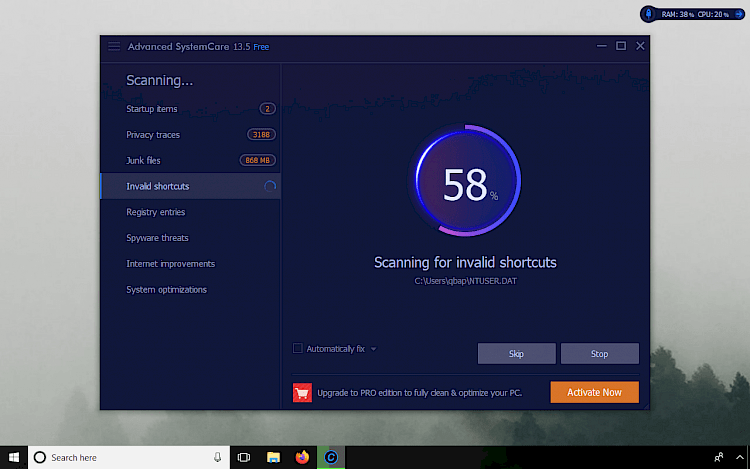 Advanced SystemCare 13 includes a powerful one-click approach that helps you quickly clean your system. The program will take care of startup optimization, privacy traces sweep, junk files removal, registry clean, spyware removal, invalid shortcut fix, internet boost, and system optimization, registry defrag, security reinforce, vulnerability fix, and disk optimization.
From the program settings users have full control of how each module works. For example, for the Registry Clean the user can select objects to scan, and Pro users can also enable Deep Clean to improve operating system performance and stability. There is also an option to control modules like Junk File Clean, Security Reinforce, set notifications settings, etc.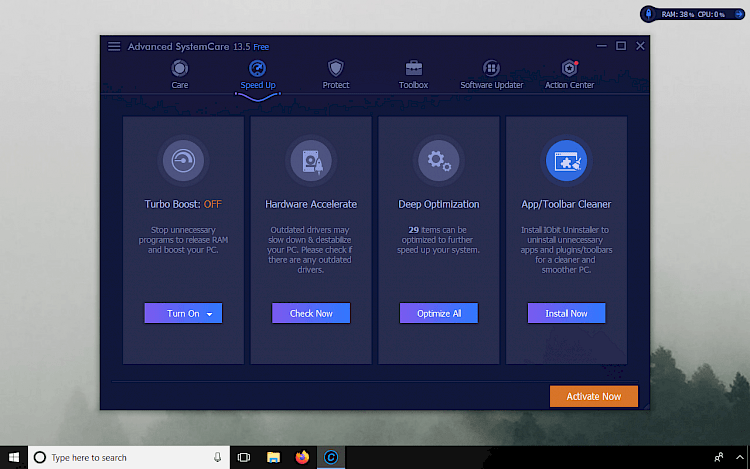 Advanced SystemCare Speed Up is packed with four tools. Turbo Boost module is used for quick optimization of the system (work, economy, game modes). With a single click of the mouse, ASC turns off unnecessary processes and frees RAM memory. This solution enables you to deliver more powerful computing for more demanding programs or games.
Hardware Accelerator detects outdated drivers found in the system. You can install Driver Booster to update all drivers without the need to find all files manually. The module displays basic information about outdated drivers, current and the newest version available. Deep Optimization offers quick access to system hidden features to optimize disk, programs, and overall system performance. The users can restore settings to default if required.
Advanced SystemCare 13 Free can also protect your browser against online threats, phishing attacks, cryptocurrency mining pages, and annoying ads. The program offers also a home page advisor that protects your browser against unwanted modification of the home page and search engine. You can also install a FaceID tool to catch unauthorized intruders.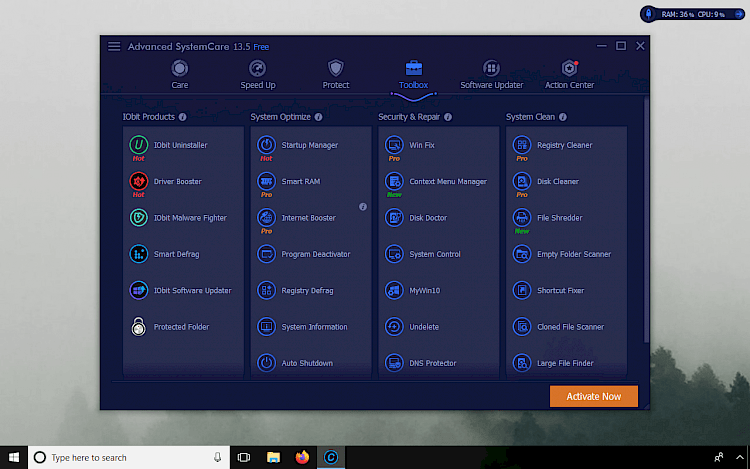 ASC Toolbox offers access to a lot of useful tools to optimize, repair, and clean the system. Among them, Program Deactivator, Auto Shutdown, Context Menu Manager, Disk Doctor, MyWin10, Undelete, DNS Protector, Process Manager, File Shredder, Clone File Scanner, and many others. Some of the tools must be downloaded when you lunch them the first time.
Advanced SystemCare Pro
Advanced SystemCare Pro is a more advanced edition of the same program. If you need an even better level of protection and more professional tools buy the program. Activate the Pro version directly from the Free edition.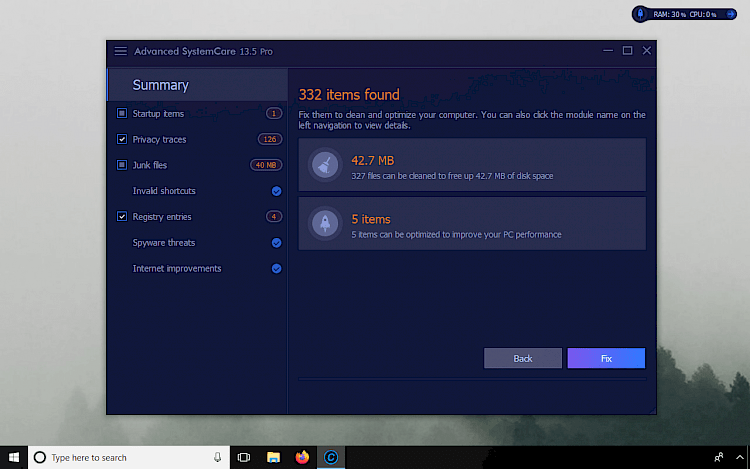 The Pro version offers additionally Private Shield that protects your sensitive data and programs, Real-Time Protector that scans and removes spyware components, and Browers Anti-Tracking with automatic browsing data cleaner and digital fingerprint protection.
What's more, Advanced SystemCare Pro Toolbox comes with even more useful tools including Smart Ram, Internet Booster, Win Fix, Registry Cleaner and Disk Cleaner. All other modules can also find more junk files, and optimize more features of the system. Download Advanced SystemCare and give it a try.
Overall, Advanced SystemCare Free is an amazing product that offers a lot of features to optimize Windows. Everything works fast, and even other commercial products don't offer as much as you can find in Free Advanced SystemCare. The Free version is good enough for everyone, but to be honest the Pro version brings optimization to the next level. This is my must-have tool for Windows.
Changelog
Version 13.5
Enhanced Privacy Sweep to add cleaning for the latest Chrome 81.0, Chromium Edge 81.0, and Firefox 75.0
Enhanced Software Updater to update Chrome to its latest v81.0 to fix a critical security flaw, and update Firefox to its latest v75.0
Improved Registry Clean to remove more redundant registry entries for higher system performance
Expanded the database of Startup Optimization and Startup Manager to further speed up PC boot time
Enlarged the database of Spyware Removal to better protect your computer
Strengthened Surfing Protection & Ads Removal for a more secure and ad-free online browsing experience
Improved multiple languages for better localization
Fixed all known bugs
You might also like