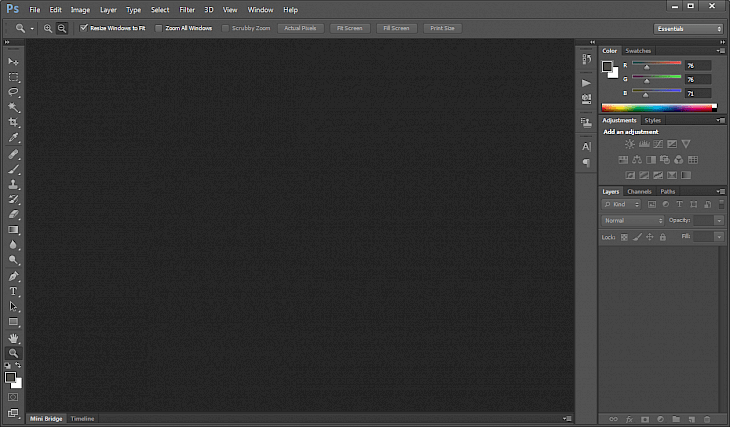 Download Adobe Photoshop (64-bit)
Do you handle vector and raster graphics regularly? Are you aware of the king of all photo editing software? Presenting the Adobe Photoshop - a tool for the best graphic designers to create the best graphics through photo manipulation.
Adobe Photoshop is a Windows and macOS raster graphics editor developed and released by Adobe Inc. Thomas and John Knoll first founded it in 1988. Since then, not only in raster graphics editing but in digital art as a whole, the software has become an industry standard.
Photoshop can edit and compose multi-layer raster images and supports RGB, CMYK, CIELAB, spot color, and duotone masks, alpha compositing, and multiple color models. To support certain features, Photoshop uses its own PSD and PSB file formats. Photoshop has limited ability to edit or render text and vector graphics, in addition to raster graphics, as well as 3D graphics and video.
Features of Adobe Photoshop
Add-on programs called Photoshop plugins can expand the functionality of Photoshop. Adobe develops some plugins, such as Adobe Camera Raw; however, according to Adobe's specifications, third-party companies produce most plugins. The salient features of Adobe Photoshop are elaborated precisely below.
Redefined Neural Filters
Explore several innovative ideas inspired by Adobe Sensei with new re-imagined philters. Colorize your old black and white images, change facial expressions, or edit your portraits dramatically.
Sky & Background Replacement
Pick and replace the sky in a picture easily, automatically changing the colors of your scenery to match the new sky. Even if the shooting conditions are not ideal, get the mood you want in your pictures.
Pattern Previewing
Envision how as a pattern, your concept will come to life. With Pattern Preview, you can now easily imagine and create seamless repeating patterns in real-time. With custom drawing brushes, elevate your digital art or jump-start your work with preset PS brushes.
Unwanted Objects Removal
Level up your skills with photo retouching. Add clarity to your work by using Content-Aware Fill in Adobe Photoshop to cut out distracting parts of the image. Use Content-Aware Fill in PS to clean up images and retain the emphasis on your desired subject, from a stray arm poking into the frame to a Jeep ruining your safari shot.
Download & Install Adobe Photoshop (64-bit) for Windows PC
Download Adobe Photoshop (64-bit) for Windows PC
To download the latest version, Adobe Photoshop CC 2020 22.10.1.73 can be downloaded easily for a free trial from the official Adobe website. Otherwise, you can also do the same from a plethora of retail websites on the internet. Once you select a suitable source and download the Photoshop setup file, double-click on it to run the installer.
Install Adobe Photoshop (64-bit) for Windows PC
Once the Photoshop installer starts running on your PC screen, follow the simple steps below to complete the process.
Click on 'Next' till the User Agreement pops up.

Agree to their User Agreement.

Choose the location where Adobe Photoshop is to be installed.

The installation process should start and usually takes a little time to finish.

Once the above process completes, click 'Finish'.
That's it! You're all set now to manipulate images like a professional photo editor out there to create amazing aesthetic visuals. Enjoy photoshopping!
You might also like