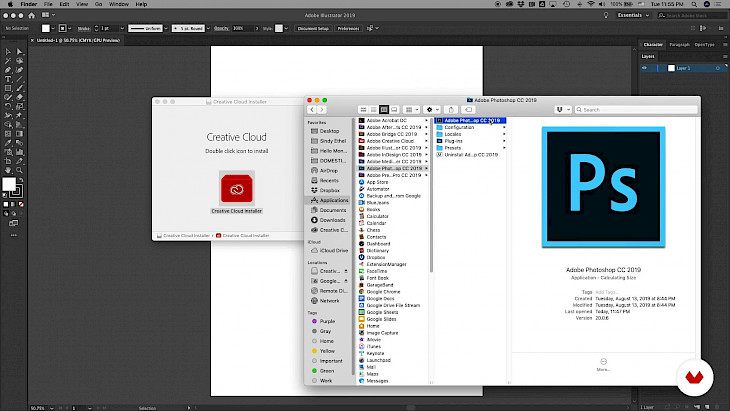 Download Adobe Photoshop (32-bit)
The 21st century has bought along multiple tools to alter our digital image to a whole new level. Through such software, you can be whoever you want to be and even have a total transformation if you deem necessary. However, such software and applications don't come cheap but cost a pretty penny where they offer way more than how much they cost.
For the same, if you're someone that is looking for a photo editing tool that is 100 times powerful than the nominal photo editing software, then we have one particular choice that wouldn't disappoint. Take a look.
What is Adobe Photoshop?
Adobe Photoshop is a software that is concentrated on photo editing and bringing out an image's true colors. You can do multiple things to a photo through the software, which helps showcase them in ways that you might have thought are impossible. Through the software, things like graphic design, painting, animations, editing, filter changes, color correction, color gamete correction, and much more are quite possible. It's a tool that almost all photographers use to enhance the way their images look and feel. It's more of a tool that allows for detailing the minute areas in achieving a realistic outcome.
Key Features of the Software
Through its unique object removal tool, you can remove certain things and objects from your background, and it does it beautifully where people wouldn't know whether it's a fake or original picture. Even adding images is quite possible through the software.
If you are looking to have a pattern in which you know which are filters and effects are to be stored, you can have present patterns where with one click, you could get numerous filters, shades, texture designing added onto the image.
Through the Adobe cloud, access all your saved files, ongoing work files, and much more through the cloud feature and get them anywhere either phone, tablet, laptop, or computer.
Minimum System Requirements
CPU – 2GHz processor or faster

RAM – 8GB or higher

Storage – 7GB or higher

OS – Windows 10 or higher
How to Download and Install it on PC
The software is broadly available on Adobe's official site. Get the latest version after you pay a subscription fee for using its services.
After the software has been downloaded, open the contents, and set up the installer. Leave it to install, and should take a couple of minutes to finish.
Once installed, enjoy editing pictures according to your preference for a wholesome editing experience.
You might also like