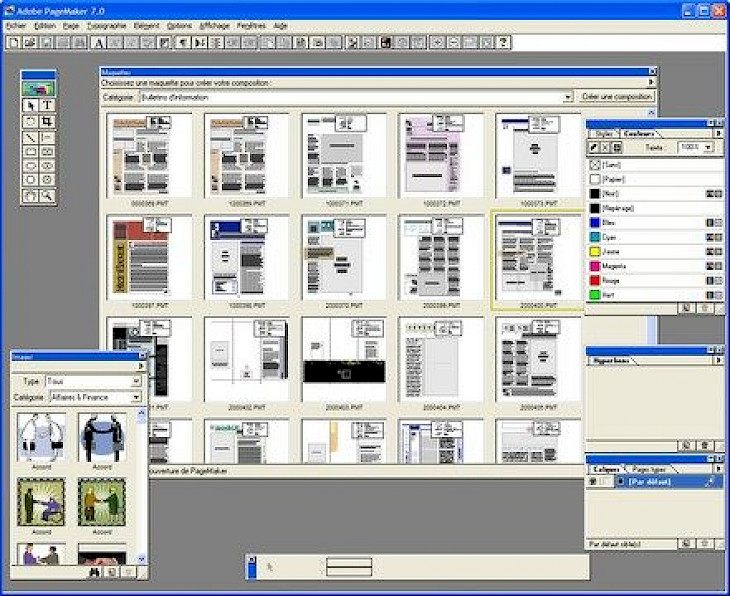 Download Adobe Pagemaker
Adobe Pagemaker was a commonly used desktop publishing program that made it possible for users to design content for printing purposes. Reports, posters, and flyers provide some examples of this material.
Adobe Pagemaker 7.0. was the last version of the program to be released. After that, Adobe InDesign CS4 maintained the program's features. For several reasons, it was loved by desktop publishers, including the ability to export projects to the PDF file format and other Adobe applications.
On July 9th, 2001, Adobe Pagemaker was initially published. You will see how obsolete it is if you use this app now. Initially, the creators of this app felt that it would get the most use from business professionals and small business owners.
Features of Adobe Pagemaker
Although there are some good features in this desktop publisher, modern users may want something a little more up-to-date. Pagemaker 7.0.0 can still be reached by fans of classic desktop publishing programs.
Learning the Software
We have already established that Adobe Pagemaker is out-of-date, which is a big downside. The other downside is having to learn how to use a nearly 20-year-old piece of software. If you're used to using modern apps, then learning and using Pagemaker 7.0 would be uncomfortable.
Running the Software
Also, the operating system of your machine is possibly too new to run the program. Adobe Pagemaker, for instance, has a Mac version that only supports macOS 9 and all previous versions of it. It does not support Mac OS X. If you're running Pagemaker on Windows, you can't have a version of Windows that is newer than Windows XP on your computer. So, if you have Windows Vista or later, you can't update or use the program.
Key Components
Its native support for Adobe Systems' PostScript page description language was a key component that contributed to the success of PageMaker. Version 6 was published after Adobe bought the majority of Aldus' properties, including FreeHand, PressWise, PageMaker, etc., in 1994 and eventually phased out the Aldus brand. Through the early 1990s, the software remained a dominant force in the high-end DTP industry, but new features were slow to arrive. It faced growing competition from QuarkXPress in the mid-1990s.
Download and Install Adobe Pagemaker for Windows PC
Adobe Pagemaker can be downloaded from the link in the download button above. Once downloaded, installing the software is easy. Simply run the Adobe PM setup installer and follow the on-screen instructions to get the job done.
After installation, Adobe Pagemaker will appear as a desktop icon on your Windows PC. You can launch the software at any moment to create and illustrate webpages as you wish, albeit if your Windows PC system still supports this outdated and redundant software.
Adobe Pagemaker has a lot of standard features, but also a few changes. You should tag PDF files to view your text and graphics on your Mac, personal computer, or PDA. They can also be seen on your mobile. Good luck using this software!
You might also like