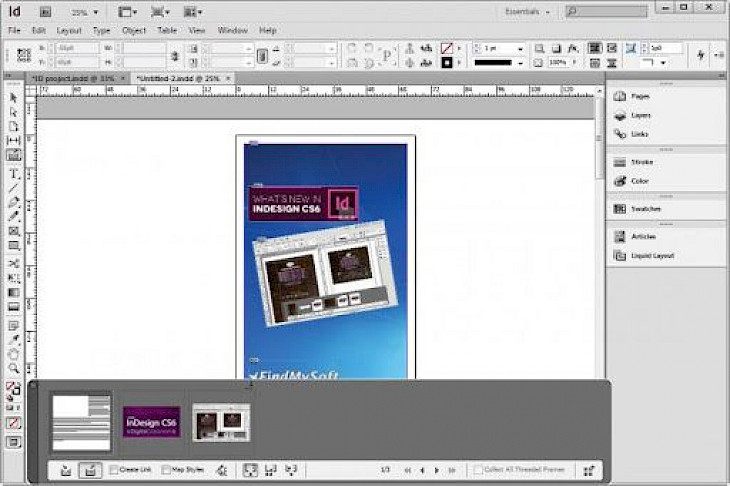 Download Adobe InDesign
Adobe has been a leading pioneer in creating design software. Since its inception, it has emphasized the importance of design in every domain possible, rebuilding normal tools with cool functions. Designers are always on the lookout for formidable tools of creation and since InDesign's release, there have been no qualms about their joy. InDesign is extensively crafted to cater to every designing need, be it for books, magazines, posters, etc. It is used to produce creative content for digital platforms. It is regularly updated so it never loses touch with new media platforms. Users will be hard-pressed to find a designing tool that is as versatile as Adobe InDesign. Its unique features which you will read about in the next section speak for themselves.

Key Features Of Adobe InDesign
Customizable Workspace
Tired of looking at the standard white-colored workspace? No worries, you can switch between themes to give it a fresh perspective. The tools are neatly arranged in a panel that sits on top of the workspace. You can cause it to float around if you are too lazy to move your cursor upwards again and again. Adobe InDesign wants to make your workspace as comfortable as possible so it gives you full liberty to revamp it.
Cool Editing Tools
Adobe InDesign does not provide a luxurious assortment of tools. It only provides the important ones. You have a reverse spell checker that automatically alerts you when you make a typo. You have the option of switching between print and editing layout, both of which provide typography and formatting tools that are unique to them. This gives you a better picture of how the overall document looks. Apart from these tools, you can add elements like shapes and pictures to your document. And you can wrap text around them.
Easy Publishing
You can choose from over 500 different styles to incorporate into your document. Using the smart inbuilt word processor, you can perfect the font size and its other settings. Once you are satisfied with the document overview, you can proceed with publishing it in multiple languages.
System Requirements Of Adobe InDesign
Make sure your system meets the following requirements before you try to install InDesign:
It should be compatible with Windows 7/8/8.1/10 operating system (64 bit)

The embedded processor should be Intel Pentium 4 or AMD Athlon processor
How To Download It On PC
The following instructions outline the steps to be followed to install the software:
This site provides a virus free download link for InDesign.

Clicking on the download button directs you to another page. Click on the download button you find here to initiate .exe file's download.

After the download completes, run the .exe file. A setup window pops up when you do. Follow the installation instructions given on it.

When you reach the end of the above step, Adobe InDesign finally gets installed on the system.
You might also like