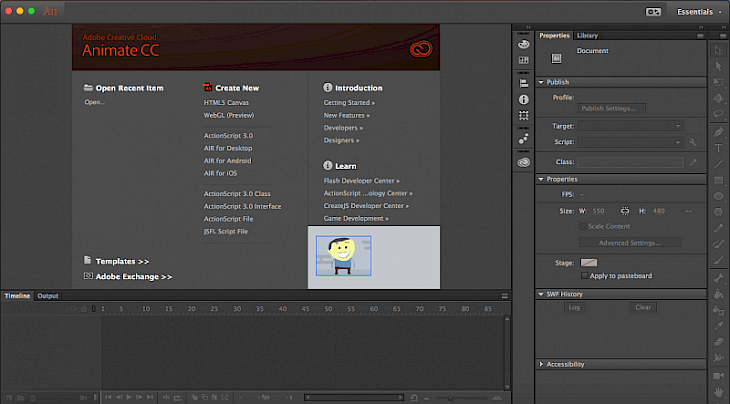 Download Adobe Animate
Adobe is synonymous with the domain of design. Every tool they build has a strong emphasis on design, providing users with an expansive workspace to let their creative juices flow. So when they came up with the penultimate Adobe Animate, long time Adobe users knew they were in for a thrilling experience.
The foundation for Animate was laid in 1996 but it was only in 2016 that it rose to prominence. Regardless, it has drawn a sizeable user database over the years. This is solely because of the ease with which it allows designers to create vector illustrations and animate them later. Such animations are worthy of gracing the television screen (and they have too!). They are also pivotal in the creation of video games, interactive web applications, and videos for kids. Needless to say, Adobe Animate is every animator's dream software. Its versatile tools help make creative cartoons in no time at all.

Key Features Of Adobe Animate
Character Creation
Adobe Animate comes with an impressive variety of brushes and tools that help breathe life into your canvas. Pick a brush to outline your sketch. Then use other brushes to fill your sketch with a wonderful blend of colors. Watch your art slowly come alive as you keep adding layers to it. Once the character is ready, frame-by-frame animations can be added to give it cool motion effects.
Animate Your Environment
No matter what space you are working in, you deserve to liven it a bit. This not only increases visual appeal but also tends to keep you engrossed for a longer period of time. That is to say, you don't get bored of scrolling through the site. So create loads of interactive content for your web and mobile browsers. Add audio effects to make your illustrations more realistic.
Easy Exporting
Once you are satisfied with your mini-cartoon, you can get it exported to different platforms like Flash, WebGL, and SVG. This doesn't mean you just get to view your cartoons. No, you can also view the source code that went into building it. If you wish to make changes to the code on a specific platform, Adobe Animate lets you do so.
System Requirements Of Adobe Animate
The following requirements need to be met so that you can run this software smoothly on the system:
It should have a Windows 7/8/8.1/10 operating system

The embedded processor should be Intel Pentium 4/Centrino/Xeon/Core Duo with a 2 GHz speed or higher.
How To Download It On PC
The following instructions outline the steps to be followed to install the software:
Click on the download button to get directed to another page. Click on the download button you find there to initiate .exe file's download.

After the download completes, run the .exe file. A setup window pops up when you do. Follow the installation instructions given on it.

When you reach the end of the above step, Adobe Animate finally gets installed on the system.
You might also like