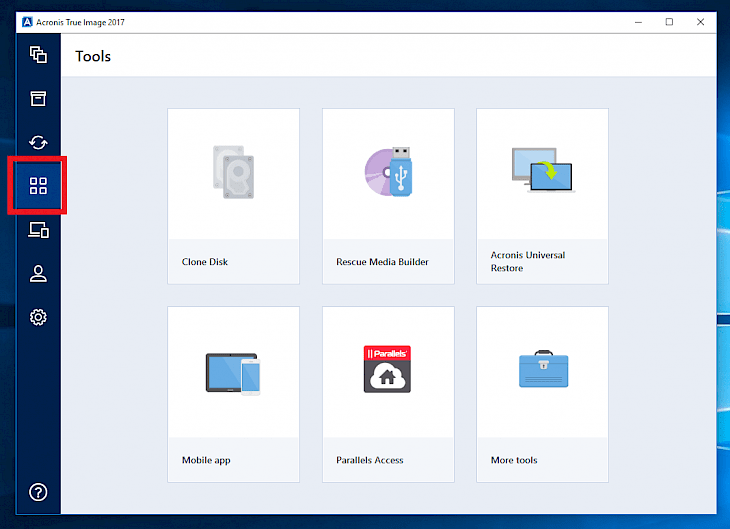 Download Acronis True Image 2017
Acronis True Image is a data protection software developed by Acronis. The software was developed for users who want to protect their data, backup, restore or manage their data. The software was launched in 2003 and have received much positive response. By the end of December 2014, the company claimed to have more than 5 million consumers and 500,000 business users. The company was first started as a division of SWSoft and later emerged as an independent company in 2013. The name Acronis is the business name; True Image is the software name for home users. There are several editions of the software that are available. Acronis True Image Cloud is a subscription-based software plus service that allows users to have both local and online backup with unlimited cloud backup, and also offers backup to users for a selection of mobile phones and tablets. Successive versions of the software are the local backup editions that are both editions are available at retail outlets.
Features of Acronis True Image 2017
Take a look at the below features to understand why Acronis True Image 2017 is such a excellent tool to download protect your data.
Machine Backup: The software is enabled to do an entire machine backup for your PC.

Boot: The software can install a program called Acronis Startup Recover Manager that starts up during boot and restores files.

Recovery: The software can install a recovery disk called the Acronis Rescue Media that is a bootable DVD which contains the copy of Acronis True Image. This will help restore data for computers which do not boot in a usual way.

Compatibility: The software supports multiple file systems like FAT32, NTFS, ext2, ext3, ext4, HFS+, APFS, ReiserFS and also LinuxSwap.

Virtual Disk: To backup or restore data, the software can create a virtual disk that can be mounted as a disk drive, containing the same features as any other disk drive.

Backup: In order to backup data in mobile devices, the Acronis True Image Cloud helps users to backup or restore their data. All kinds of iPhone and Android devices are supported in this feature.

Try and Decide: The 'Try and Decide' feature in this software helps users to install potentially harmful or unauthorized software and can revert to normal function if any damage occurs.

Multi-Device Feature: Multiple devices can be connected to the software.

Dashboards: All the data from these devices can be managed by the online dashboard.
Installation Requirements for Acronis True Image 2017
To install Acronis True Image 2017 on PC, make sure that the following requirements are met.
PC – Make sure that your PC is on Windows 7 or higher with at least 2 GB of RAM.
How to Download Acronis True Image 2017 on Windows
Follow the below steps to download and install Acronis True Image 2017 on your PC:
Go to the Acronis True Image 2017 official website Go to Acronis official website and sign in to your Acronis account at account.acronis.com. You can create a new account if your new to the website.

Click Downloads under Acronis True Image.

Click Installation File

Select 'Save' to download the program. The file will be saved in the Downloads folder.

If you wish to save in a specified folder on your desktop, then click on 'Save As' and select the folder you want the program to be saved.

After the download is complete click on the .exe file.

The installation process will start.

Run the installation package (starts automatically if downloaded from the product) and click Update:

Wait until the update completes

Follow the Windows installation instructions and select options accordingly.

Click on Finish to complete the installation.

The program icon will appear on the desktop.

Select the icon to start the application.
You might also like