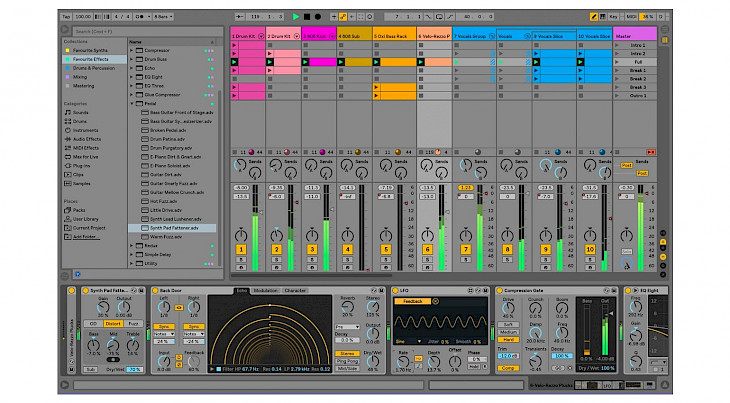 Download Ableton Live
Are you a DJ or a music composer looking for software to remix your songs? Look no further than Ableton Live. Now with all new updates in the latest release i.e. Ableton Live 10.1, you can own your very own digital recording studio. It comes furnished with an elaborate soundboard and controls system that lets your compose, arrange and mix your demo tapes. You can become a professional music editor whilst sitting at your home. Additionally, you can create remixes of certain tracks like a pro DJ. So now when you are hosting parties at your place, you can wow your friends by belting out your remixes through the speakers, courtesy of Ableton Live.
Key Features Of Ableton Live
Impressive Audio Effects
Live 10 has all the tools required to fine-tune your composition. There are analog filters and emulators, DJ mixer tools, chorus addition, beat repeating modules and so much more. Manipulate independent delay lines using reverb and redux options. Turn your composition into lo-fi beats or enhance it with the acoustic compressor.
Manipulate MIDI Clips
Live 10 provides a cozy layout for you to drop your MIDI clips in. This layout is divided into sections where each one resonates with a different pitch, like bass, lead melody, and pad sections. You can make essential changes to your music by enhancing and diminishing certain pitches. Every combination will lead to the formation of a new sound.
Never Lose Data
Remember the hit Queen song 'Under Pressure' with its iconic bassline? The bassist came up with that tune while tinkering with his guitar. Funnily enough, he forgot all about it the next day. If he never remembered it again, we would have lost one of the most popular basslines in rock history. What we are trying to say here is that you too can form catchy tunes of your own, and conveniently forget about it later. Ableton Live logs your tinkering sessions into its history. So now, you will never lose a potential piece of musical history.
System Requirements for Ableton Live
Ensure that your system meets the following requirements in order to run Ableton Live smoothly.
It should have a Windows 7/Windows 8/Windows 10 operating system (64-bit).

A 64 bit AMD multi-core processor or an Intel Core processor.

To optimise the audio, ASIO audio hardware for Link support should be enabled.
How To Download It On PC
Depending on what package you opt for, you can download either the trial version or the premium version of Ableton Live 10.1. The trial version lasts upto 90 days.
Click on the Download button.

Extract the contents of this zip file. Run the setup .exe file that you will find in it.

Follow the installation instructions on the setup window.

When you finish the above process, Ableton Live will be installed on your PC console.
You might also like