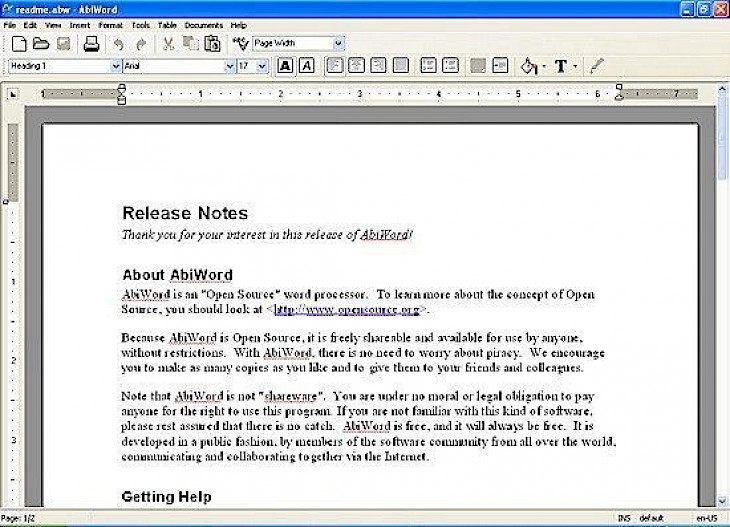 Download AbiWord
It is not every day that one finds interesting alternative to the all powerful text editing software called Microsoft Word. Each one of us is extremely familiar with that app. It is our go-to editor whenever we are in need. While we can't argue over the significance of MS Word in our lives, we sure don't mind venturing out and exploring alternatives to it. You will be surprised to know how many softwares are modelled after MS Word. One prominent example is AbiWord. It is a freemium word processor that caters to documentation needs. The one feature that distinguishes it from the rest is that it is cross platform software. You can run it on Linux, Windows, Solaris and many other systems. Additionally, you can transfer content from documents with formats like XML, HTML, Palm, etc. This way, AbiWord acts as an all-in-one word processor.

Key Features Of AbiWord
Simplistic Yet Advanced
The layout of AbiWord is typical of a word processor. It consists of a blank page with tools systematically arranged on the top. It appears simple at first but when you start using the tools, you realise its simplicity is merely a guise. It includes all the professional tools that you find in the MS toolbox like tables, headers and footers, column differentiation, search tool and more.
Grammer Nazi
As much as you resent a grammar Nazi, you can't deny their significance. AbiWord has one in store. It makes sure you don't fumble over spellings or use incorrect grammar as you furiously type along.
Useful Plug-Ins
There are few editors out there that integrate as many plug-ins as AbiWord does. Dictionary, Wikipedia and Google are a few examples. Plug-Ins prove to be handy when you want instant answers to your queries. If you want to add more plug-ins, you can do so by clicking the Plug-Ins options.
Automatic Save
You need never fear losing your data. AbiWord constantly saves your progress. On account of power disruption or system failure, AbiWord will load all your data to its directory. When you resume using the editor, it will pick up right where you left off. Thank god for little miracles like auto-save!
System Requirements Of AbiWord
Make sure your system fulfils the following requirements before you download the app:
It should have an operating system enabled with Windows 95b version or greater.

It should have a 486dx processor or better.
How To Download It On PC
Follow the instructions below to download the app successfully on your system:
Clicking on the download button directs you to another page. Click on the download button here as well. This takes you to the site where the downloadable file of AbiWord can be found. Click it to initiate download.

The setup file gets downloaded. Run it on your system by following all the installation instructions that show in the setup box.

When you reach the end of this process, the app finally gets installed on your system
You might also like